BEAUMONT, Texas — Residents in far Southeast Texas and western Louisiana felt the impacts of Hurricane Laura late Wednesday and into Thursday morning. Laura is now a tropical depression, maximum sustained winds of 35 miles per hour. The storm is moving north-northeast at about 15 miles per hour, according to the 10 p.m. update from the National Hurricane Center.
The storm was about 50 miles north of Little Rock, Arkansas as of the 10 p.m. update. All coastal watches and warnings have been discontinued.
The storm officially made landfall at 1 a.m. in Cameron Parish, Louisiana, Thursday, according to a tweet from the National Hurricane Center. Landfall officially happens when the center of the eyewall moves over land.
Where is Hurricane Laura going?
The storm is expected to continue weakening and has already become a tropical depression Thursday evening.
Laura's has moved through Arkansas on Thursday and will move through the mid-Mississippi valley Friday before moving over the mid-Atlantic states on Saturday according to the update. There's still a flood threat according to the National Hurricane Center.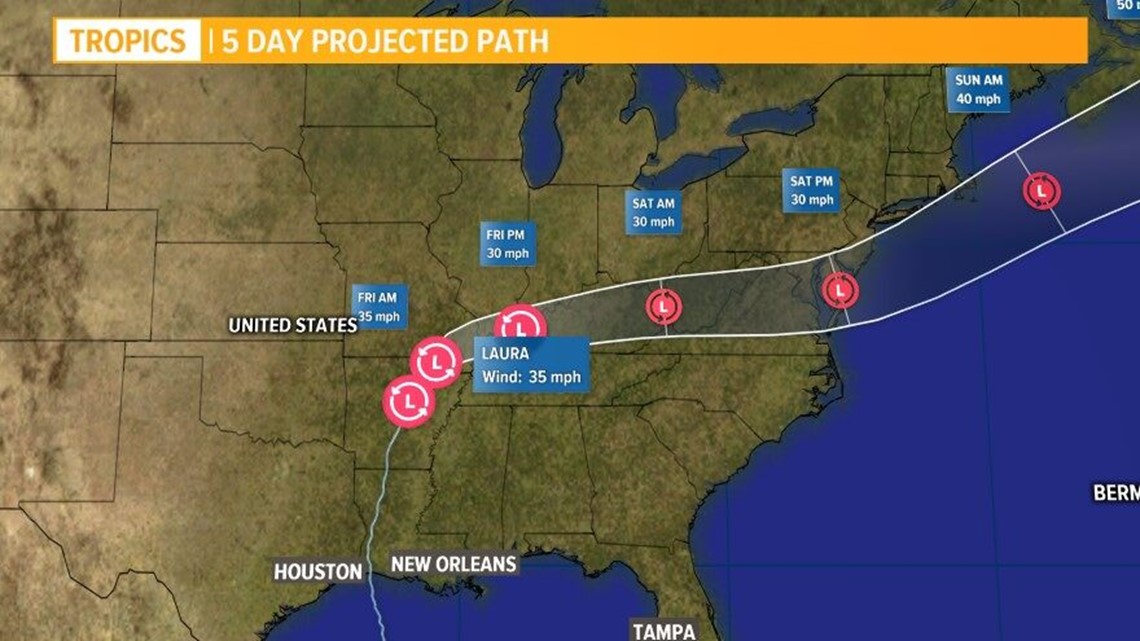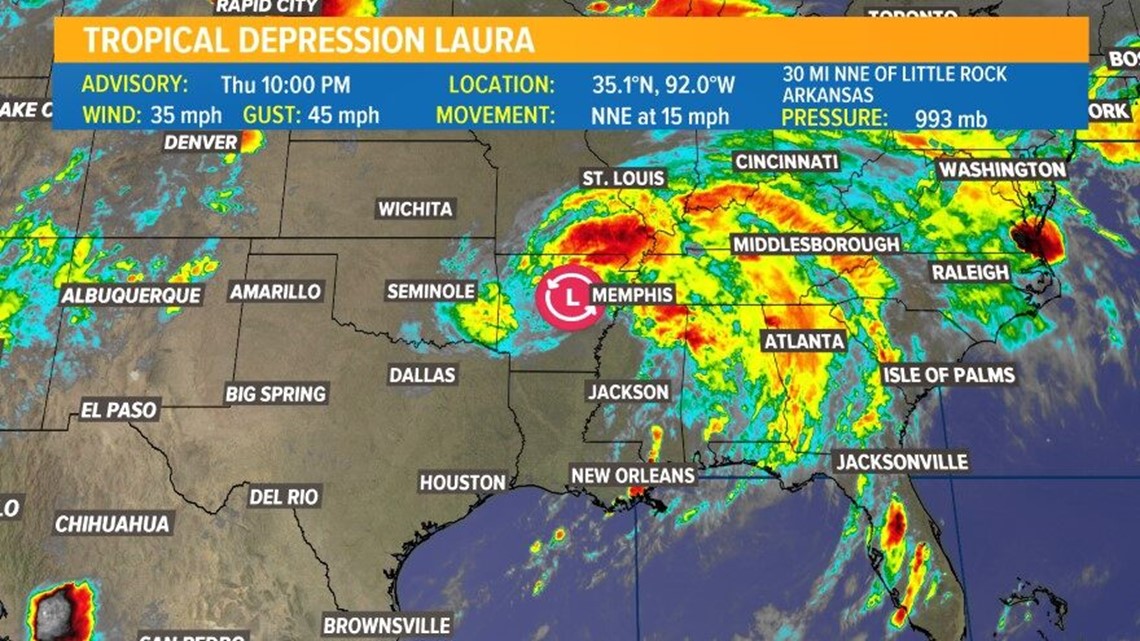 Where is Hurricane Laura now?
As of 10 p.m., Laura is about 50 miles north of Little Rock, Arkansas. It's moving north-northeast at 15 mph.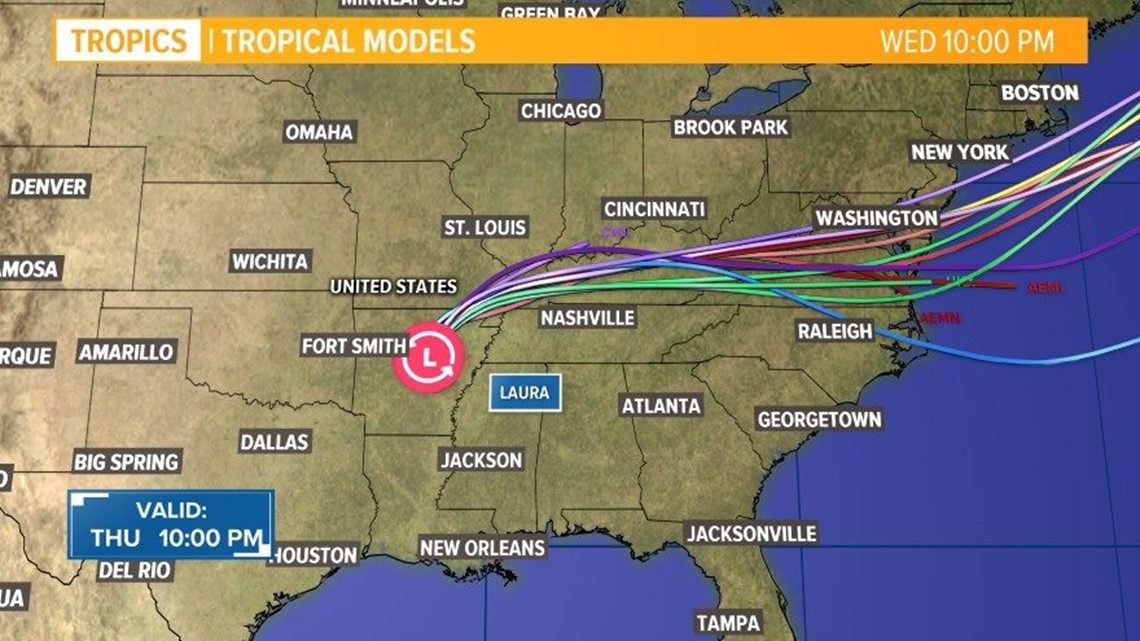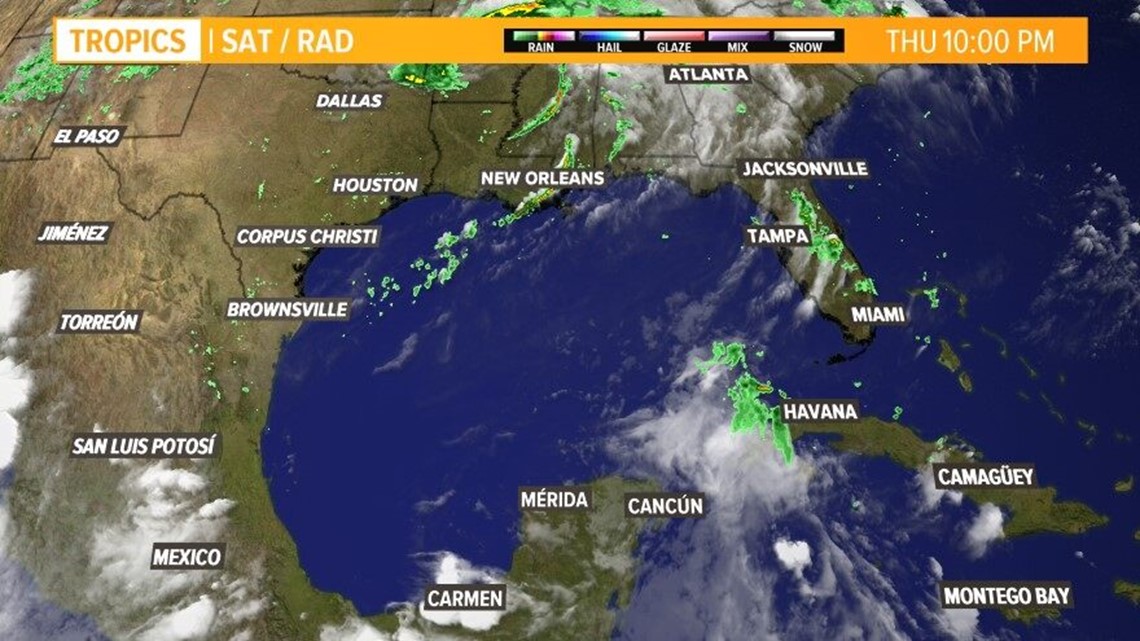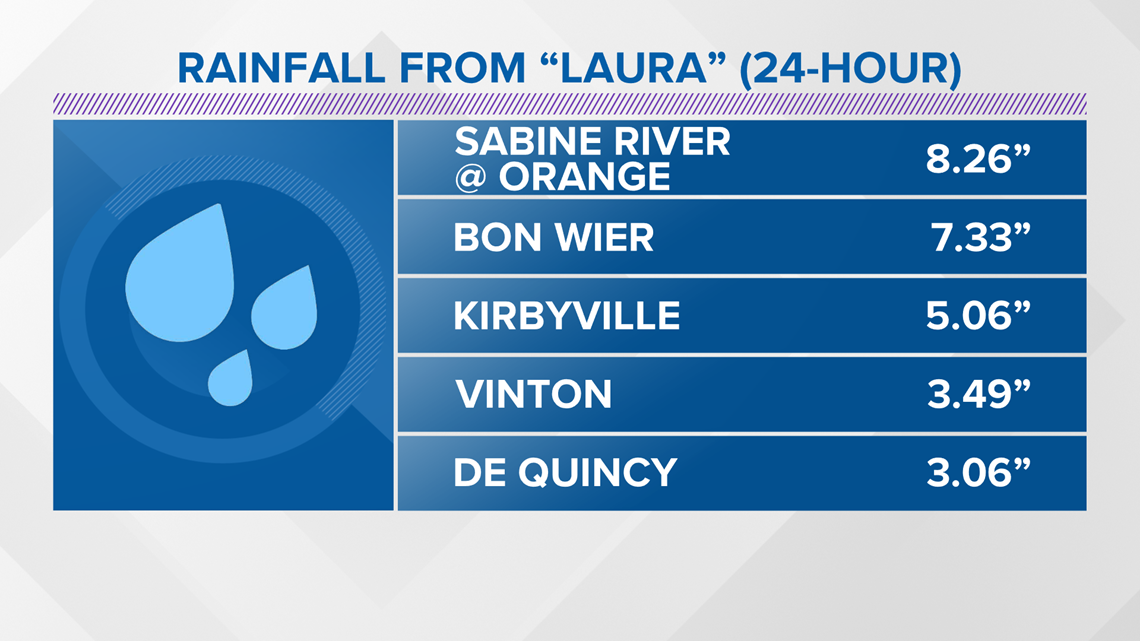 2020 HURRICANE SEASON
This is the first hurricane season in recorded history that nine tropical storms have formed before Aug. 1. Isaias is also the earliest "I" storm ever recorded, breaking the old record set by Hurricane Irene, which first became Tropical Storm Irene on Aug. 7, 2005.
Related Articles
The Atlantic hurricane season began on June 1, and it was an early start to what is forecast to be a busy year for the tropics.
T.S. Arthur and T.S. Berta both formed before hurricane season officially began, making 2020 the sixth hurricane season in a row with at least one named storm before June 1.
T.S. Cristobal became the earliest third name storm on record in the Atlantic Basin when it formed in the Gulf of Mexico on June 1.
NOAA has forecast an above-average hurricane season with 13 to 19 named storms (winds of 39 mph or higher), of which 6-10 could become hurricanes (74 mph or higher).
NOAA forecasts that there could be between three to six major hurricanes (Storms that reach category 3 or above).