BEAUMONT, Texas — Some Southeast Texas cities and counties are issuing evacuation orders as the area braces for possible impacts from the tropics.
Travel Plans
If you're thinking of leaving the area, you might be wondering exactly which way is the best route.
Harris County Judge Lina Hidalgo has granted free passage to motorists on the Harris County tollway system to support evacuations along the Gulf coast.
Jefferson County
Jefferson County issued a county-wide evacuation order on Monday night. The order, issued by Jefferson County Judge Branick, will begin at 6:30 a.m. on Aug. 25.
"Please take extra precautions to pack up your home and family and finalize your plans," the Jefferson County Sheriff's Office posted on Facebook. "Monitor your local weather authorities on hurricane updates. Pay attention to anticipated wind speeds and their duration along with storm surge predictions."
Evacuations by bus in Beaumont will be shut down at 10:30 a.m. Wednesday. Those who need transportation out of the are must be at one of the assembly sites or at Westbrook High School by 10:30 a.m.
Evacuation bus assembly sites
West Brook High School (Evacuation Hub), 8750 Phelan
Beaumont United High School, 3443 Fannett Rd
MLK Middle School, 1400 Avenue A
Smith Middle School, 4415 Concord
Charlton Pollard, 825 Jackson
Guess Elementary, 8055 Old Voth Rd
Jones-Clark Elementary, 3525 Cleveland
Lucas Elementary, 1750 E. Lucas
Martin Elementary, 3500 Pine
Pietzch-Macarthur Elementary Schools, 4301 Highland
Port Arthur
The mayor of Port Arthur told 12News he's calling for a mandatory evacuation of the city, effective at 6 a.m. on Tuesday, Aug. 25.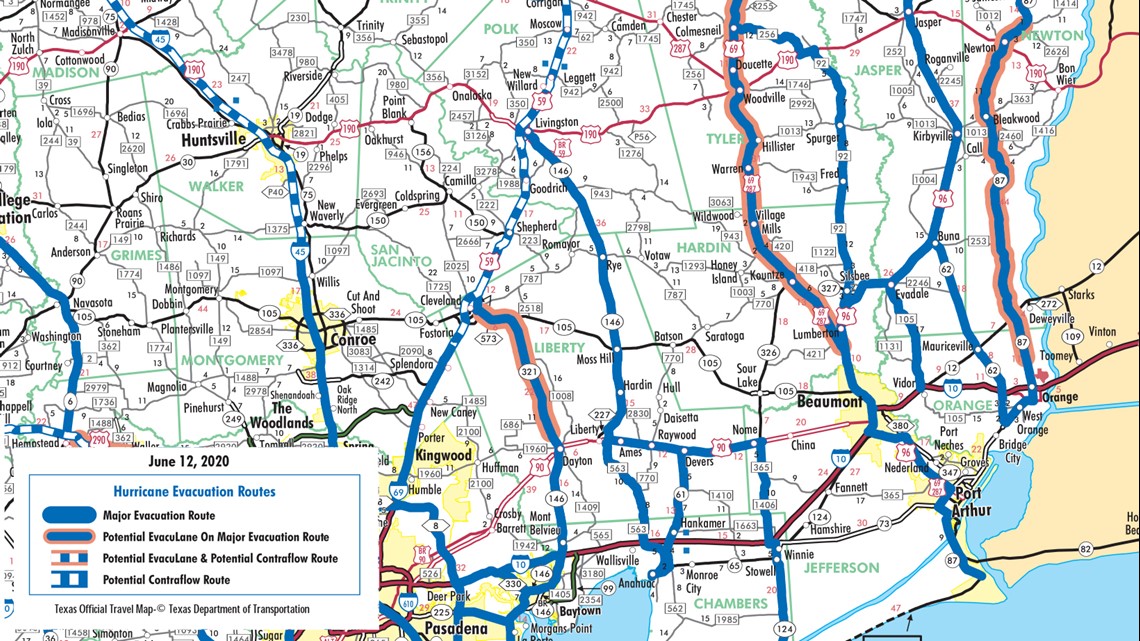 The Evacuation Tips and Hurricane Preparedness Port Arthur officials are requiring all citizens who may need transportation to safety to call (409) 983-8767; or (409) 548-3316, to arrange for pickup to be able to move to a safe location.
All residents needing bus rides out of the Port Arthur Area must be registered at the Bob Bowers Civic Center by noon to catch the last busses out of the area.
Everyone's temperature will be checked at the Civic Center by healthcare workers and all evacuees are required to wear face coverings, according to Mayor Bartie.
Passengers are limited to one bag each and pets are allowed, but only in crates or carriers.
Orange County
Orange County is issuing a mandatory evacuation for the entire county.
The order was issued for all residents, with a few exceptions. Essential oil terminals, pipelines and oil supply facilities employees, healthcare providers and government workers were exempt from the evacuation order.
The order became effective on Tuesday, Aug. 25 at 6 a.m.
Hardin County
Hardin County issued a voluntary evacuation order for the entire county Tuesday morning.
Newton County
Newton County, Texas, issued a mandatory evacuation order on Tuesday. The order goes into effect at 5 p.m. on Aug. 25 until further notice.
"Just a few inches can float a vehicle," according to the Texas Department of Transportation.