The NOAA report takes into account damage from tropical cyclones, floods, droughts, heat waves, severe local storms, wildfires, crop freeze events and winter storms. All 10 events this year that have reached the billion-dollar threshold were severe storms, which resulted in a combined total of 80 deaths, the agency reported.
The annual average for the years 1980 through 2019 is 6.6 billion-dollar events. However, looking at a smaller window of time causes that average to more than double. The annual average over the last five years (2015-2019) was higher at 13.8 events, which cost an average of $107.1 billion each year.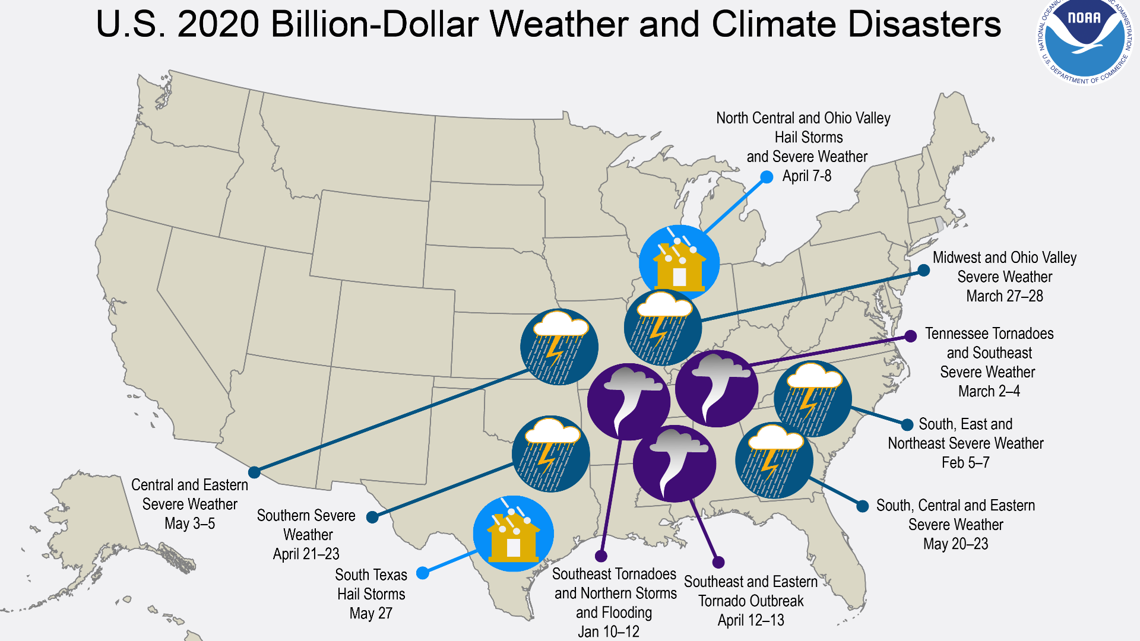 Changes taking place with the planet's climate are "likely playing a role in the increased frequency of disasters," AccuWeather Senior Meteorologist Brett Anderson said. "With a warming planet there is more water vapor available for storms to produce even heavier precipitation."
"Extreme warming in the far northern latitudes may also be playing a role of slowing the jet stream in the mid latitudes, which in turn may be causing extreme storms to move more slowly, which can mean a longer period of heavy precipitation and a greater risk for flooding," Anderson said.
These billion-dollar events account for 80% of U.S. losses for both severe weather and climate-related events each year.
From 1980 to the present day, the years that have seen more than 10 billion-dollar weather disasters have been 1998, 2008, 2011, 2012, and the period from 2015 through 2020. According to climatologist Adam Smith from NOAA, the U.S. may continue to see more severe weather than ever before during the remainder of this year.
"The big story is the fact that we haven't even gotten to the hyperactive hurricane season, which is widely predicted in the Atlantic Ocean and the Gulf Ocean states," Smith told CNN. "We also haven't gotten to the wildfire season out West. For California, particularly Northern California, Oregon and Washington, the wildfire season could be another strong season." AccuWeather forecasters have been calling for a "very active" Atlantic hurricane season, and the basin has already had six named tropical systems as of mid-July, with record-breaking Tropical Storm Fay being the most recent.
The first billion-dollar weather event of 2020 was an outbreak of tornadoes in the South and Northeast flooding and storms that struck Jan. 10 to 12. The most recent were hailstorms in South Texas on May 27. The data does not yet include information from July.
According to Anderson, flooding can wash away infrastructure, damage homes, wash away top soil to the point where fields cannot be used for farming and even damage water supplies, which could eventually lead to disease outbreaks. Erosion is also a concern.
Tornadoes can also cause "catastrophic damage," he said, but because they are very localized, they do not cover as large of a land area as other forms of severe weather.
"The last thing we want is to have another 2017 or 2018 type of year in the fall, where we have these historically damaging and costly hurricanes and wildfires. And there is potential for that," Smith said.
Anderson said new building designs have been able to minimize damage through the use of stilts on beach homes or metal roofs that limit snow and hail damage. But, buildings that are not up to these new design codes are still susceptible to the dangers of severe weather.
"New building codes have reduced damage, such as features that prevent a roof from being easily lifted off during a hurricane or tornado," he said. "Unfortunately, there remains a high percentage of homes that are not built with any measures to limit damage from flooding or wind storms and the results can be catastrophic."