BEAUMONT, Texas — Residents in far Southeast Texas and western Louisiana are bracing for the worst of the impacts of Hurricane Laura, which is forecast to be a major hurricane at landfall late Wednesday into early Thursday morning.
In its 10 a.m. update Wednesday, the National Hurricane Center said Laura had max sustained winds of 125 mph and "continues to rapidly strengthen"according to the National Hurricane Center.
At 130 mph Laura will be a category 4 storm.
"Unsurvivable storm surge with large and destructive waves will cause catastrophic damage from Sea Rim State Park, Texas, to Intracoastal City, Louisiana, including Calcasieu and Sabine Lakes", the National Hurricane Center tweeted Wednesday morning.
The Category 3 storm is expected to bring "Potentially catastrophic storm surge, extreme winds, and flash flooding expected along the northwest Gulf Coast tonight. Steps to protect life and property should be rushed to completion in the next few hours."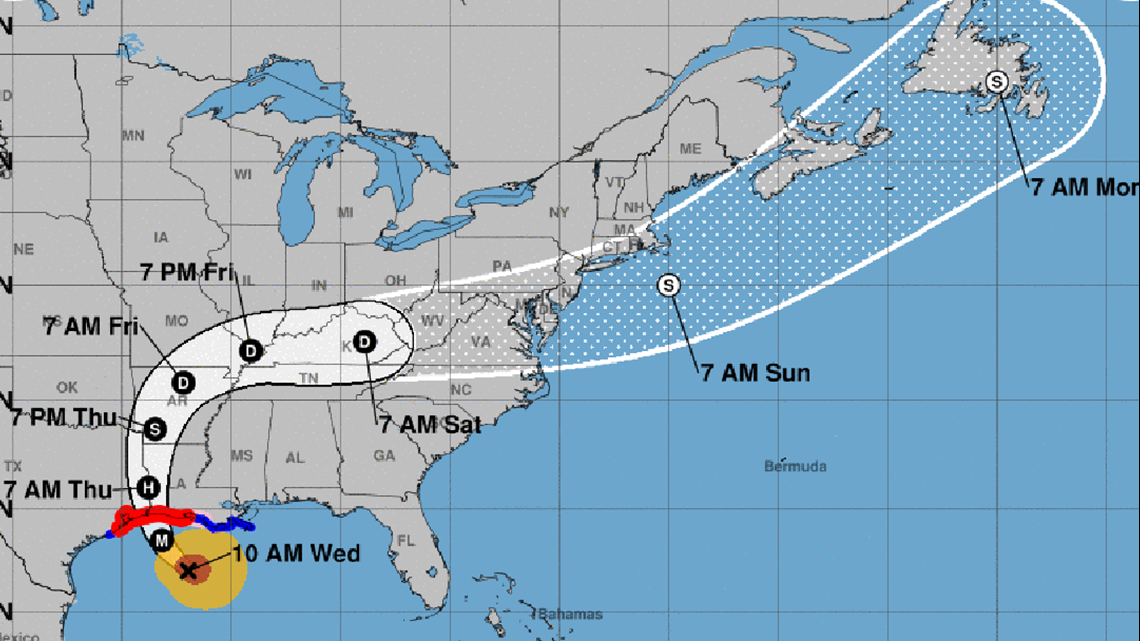 Where is Hurricane Laura going?
The National Hurricane Center's latest track for Hurricane Laura has it making landfall, likely as a Category 3 or Category 4 hurricane. The models are coming to an agreement about where it will come ashore, and it looks to be right along the Louisiana-Texas border.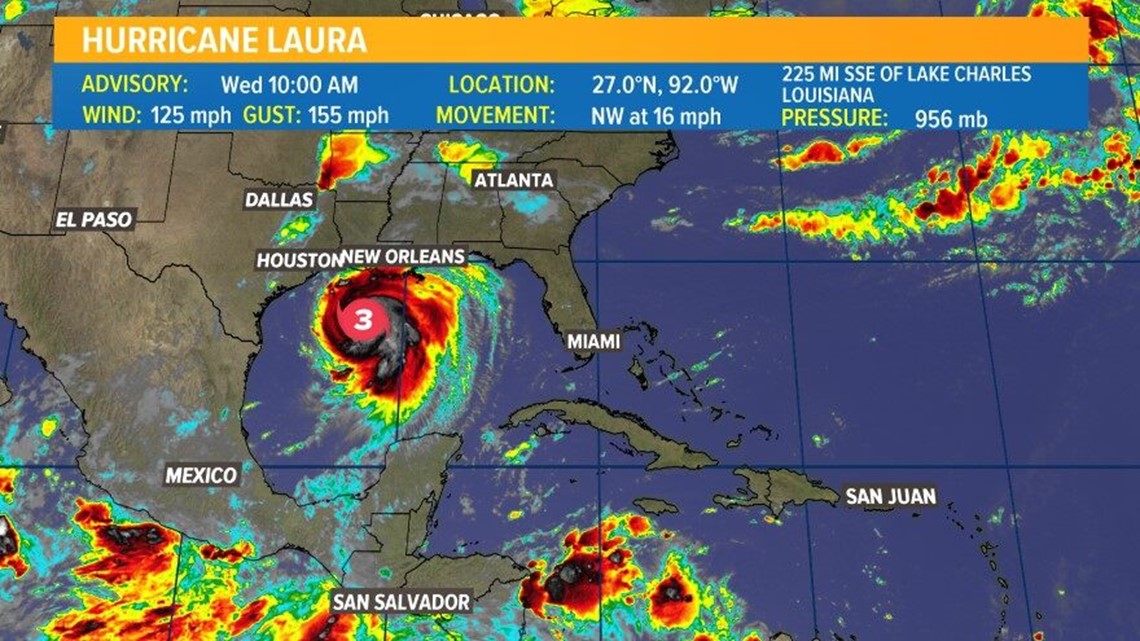 But a slight shift in either direction could mean a big difference in what we see here in the Houston-Galveston area, so we still need to watch it closely throughout the day.
Laura is expected to become a Category 4 storm later today, which means winds will be at least 130 mph. The National Hurricane Center believes just before landfall, Laura may weaken back to a Category 3, which is still a major hurricane.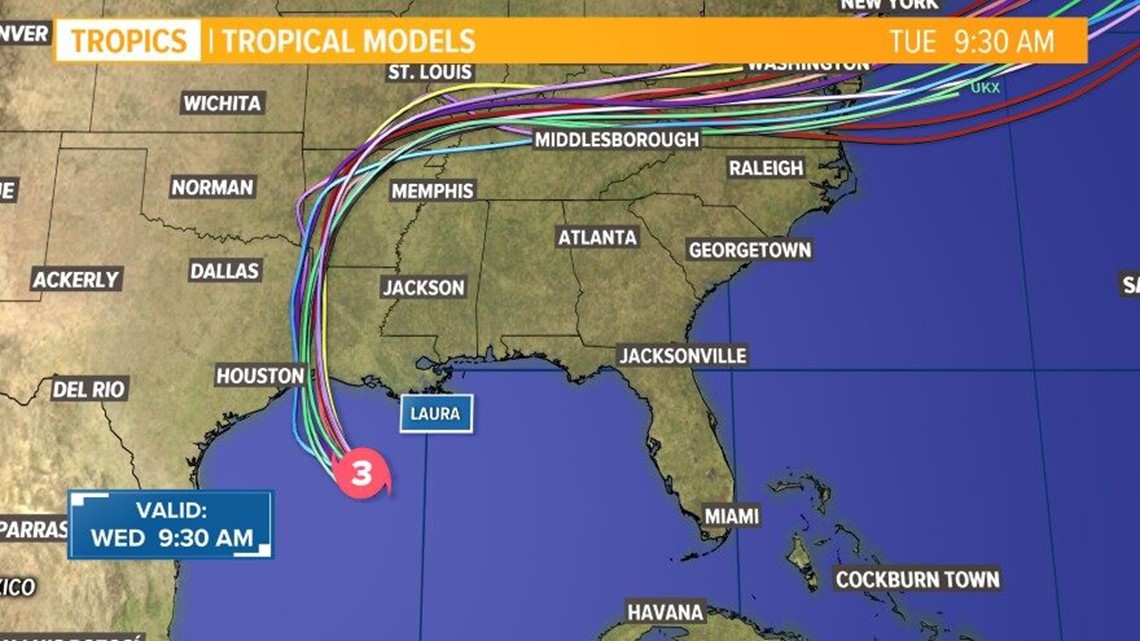 Where is Hurricane Laura now?
As of 7 a.m., Laura is about 225 miles south-southeast of Lake Charles and about 375 miles southeast of Galveston, moving northwest at 16 mph.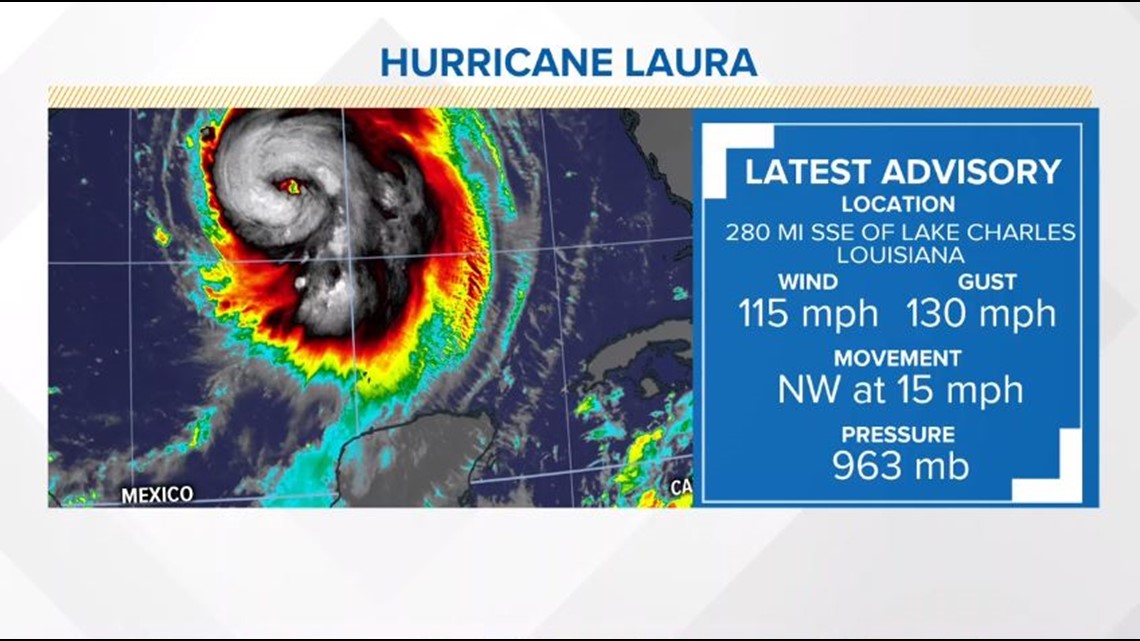 Right now, new forecast cones come out every six hours. The 10 p.m. update kept the path in nearly the same spot as the 4 p.m. update - as did Wednesday's 4 a.m. The cone is getting narrower the closer the hurricane gets to shore, which means most of the Houston area is no longer in the cone of uncertainty. The next cone update will happen at 10 a.m. Wednesday.
All communities inside the cone should remain alert and watch for updates through landfall.
What is the danger from Hurricane Laura?
Storm surge is among the worst of the dangers followed by the wind. Yes, there will be rain, but this will not be a Harvey-like flooding event.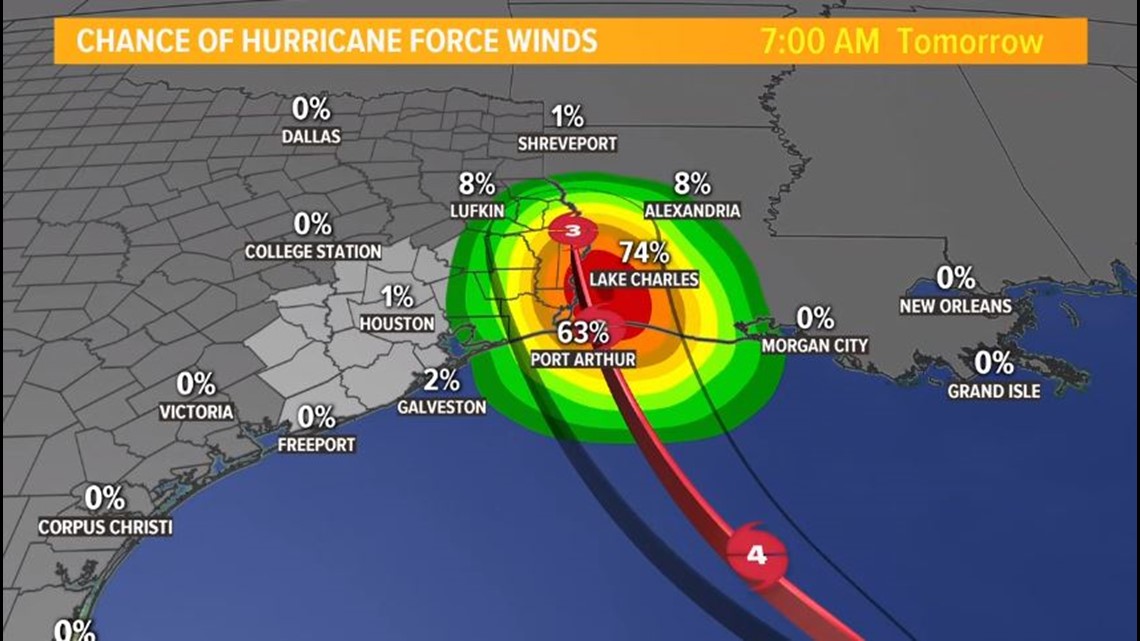 Galveston can still expect about a five foot storm surge (well within the limits of the seawall) while closer to Beaumont and into Lake Charles there will be about a 10 foot storm surge: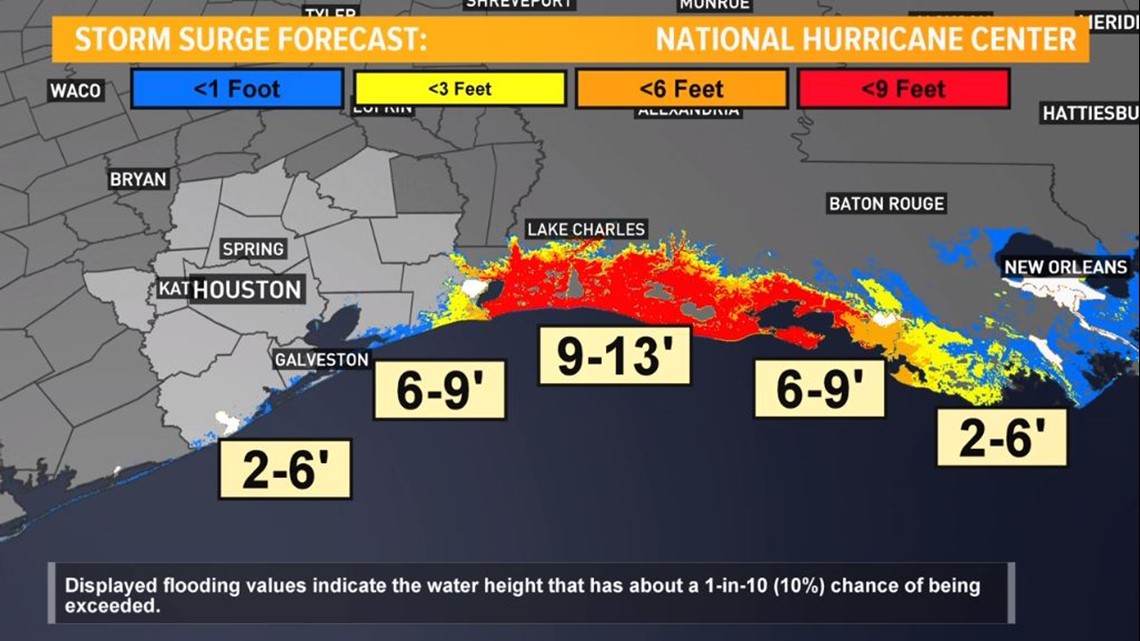 A surge could penetrate up to 30 miles inland from the southwest Louisiana coastline and far southeastern Texas.
Hurricane-force winds are expected Wednesday night in the warning area from San Luis Pass to west of Morgan City, Louisiana. The strongest winds near the eye wall will occur somewhere in that area.
Damaging wind and gusts are expected to spread well inland into parts of eastern Texas and western Louisiana early Thursday.
There's also the possibility of widespread flash flooding along small streams and roadways in far east Texas, Louisiana and Arkansas.
The hurricane will not linger and should be cleared of the landfall area after about 12 hours.
2020 HURRICANE SEASON
This is the first hurricane season in recorded history that nine tropical storms have formed before Aug. 1. Isaias is also the earliest "I" storm ever recorded, breaking the old record set by Hurricane Irene, which first became Tropical Storm Irene on Aug. 7, 2005.
The Atlantic Hurricane season began on June 1, and it was an early start to what is forecast to be a busy year for the tropics.
T.S. Arthur and T.S. Berta both formed before hurricane season officially began, making 2020 the sixth hurricane season in a row with at least one named storm before June 1.
T.S. Cristobal became the earliest third name storm on record in the Atlantic Basin when it formed in the Gulf of Mexico on June 1.
NOAA has forecast an above-average hurricane season with 13 to 19 named storms (winds of 39 mph or higher), of which 6-10 could become hurricanes (74 mph or higher).
NOAA forecasts that there could be between three to six major hurricanes (Storms that reach category 3 or above).