BEAUMONT, Texas — The citizens of Beaumont cast their ballots and had their voices heard in the city's 2023 municipal election. Now, both new and returning faces are set to take their oath of office soon.
On Tuesday, May 16, 2023, Beaumont's new mayor and six council members will swear in. The following will take office in their respective positions:
Mayor
Councilmember-At-Large

Randy Feldschau
Albert 'AJ' Turner Jr.

Councilmember Ward I
Council Member Ward II
Council Member Ward III
Council Member Ward IV
Roy West beat incumbent Mayor Robin Mouton and candidate James Eller Jr. after gaining 52 percent of the votes.
This was West's second time facing off against Mayor Mouton. After the 2021 elections ended in a runoff, he lost to her by a small margin.
West made a successful comeback, winning the 2023 mayoral election by gaining more than 8,000 votes.
The Beaumont native went to West Brook High School and later graduated from Lamar University. He previously told 12News he plans to focus on downtown development, drainage issues and improving the lives of Beaumont youth.
West said he would like to work on drainage, bring families back to downtown Beaumont and provide area youth with after-school programs, summer programs and life skills programs.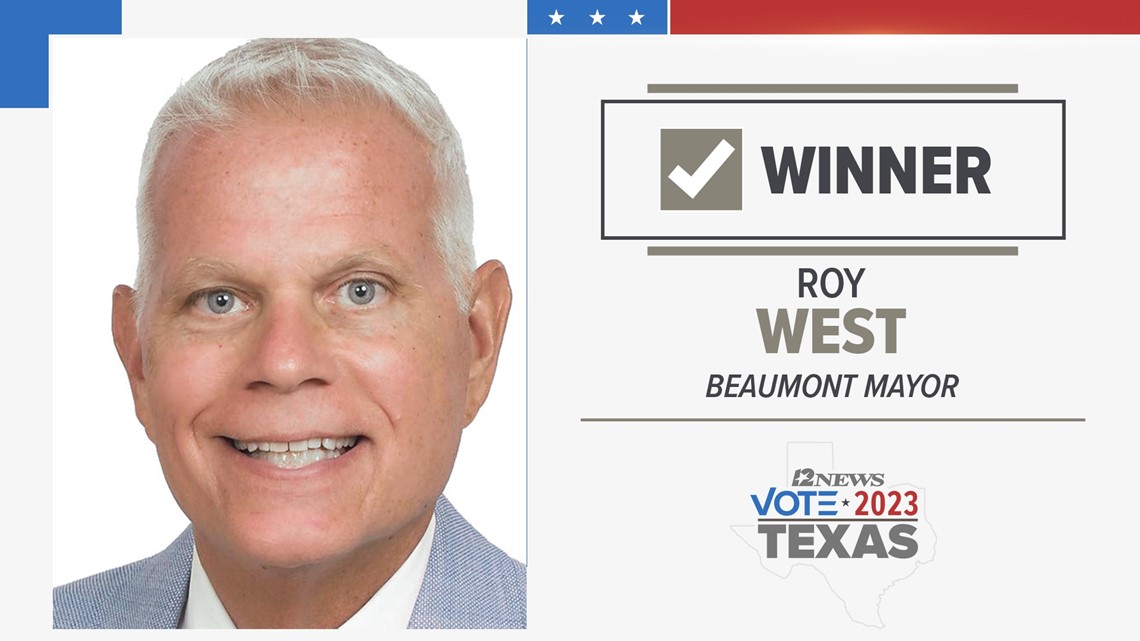 With five candidates battling for two seats, Beaumont's at-large councilmember race was the most crowded race on the city's ballot.
Incumbents Albert "AJ" Turner and Randy Feldschau beat their challengers Biguita Hernandez-Smith, Michael Cooper and Terry Preston Roy. Turner won with 39.5 percent of the votes, and Feldschau with 30.3 percent of the votes.
Councilman Feldschau sought a third term after gaining the seat in 2019. He hopes to continue his progress on public works and is committed to the city's growth and development.
"I believe these next 10 years are going to take experience leadership," Feldschau said.
Councilman Turner gained the seat in 2021. He previously worked as a parole officer with the Texas Department of Criminal Justice for seven years.
Turner believes throughout his first term, he's made tremendous strides.
"Like putting a grocery store in a food desert that was in the North End, like youth engagement," Councilman Turner said. "I stepped up, and I led a youth council as well as had other youth initiatives like a talent show. I think it's important that we look at the tangible things."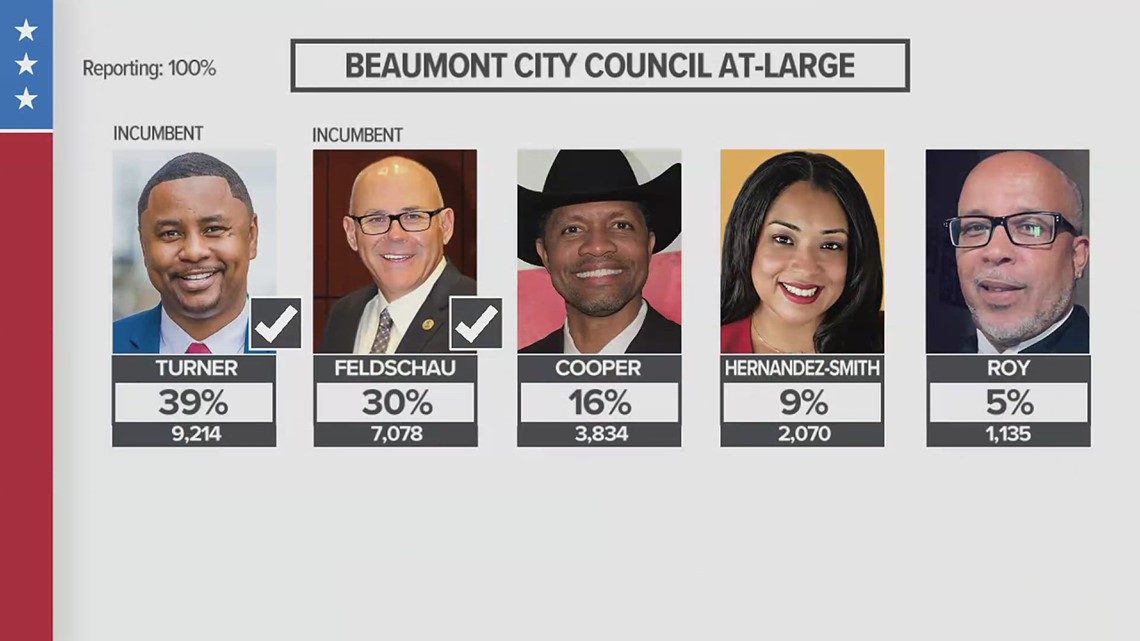 Audwin Samuel is the longest-serving Beaumont council member having served from 1984 - 1993 and then from 1999 until now. He beat Dr. Carlton Sharp and Geary Senigaur Jr. after gaining 55 percent of the vote, winning Beaumont City Council's Ward Three seat.
Ward Three represents the north and northeast side of the city. Samuel said he wants to focus on downtown development and Riverfront Park.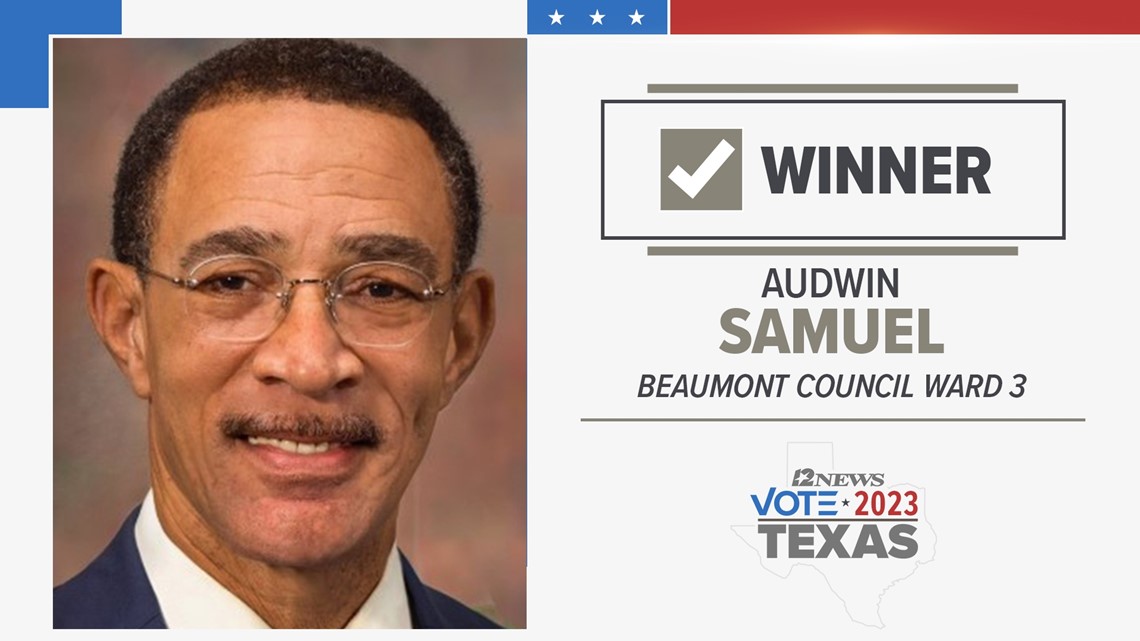 Taylor S. Neild Sr. beat Taher Quraishi after gaining 75 percent of the vote, winning the race for Beaumont City Council's Ward One seat. Ward One represents the West End of Beaumont.
Neild, who will be serving his third term on the council, said he hopes to continue to be a part of city leadership guiding and directing growth.
The Beaumont businessman and father of five focused on retaining youth and making them a part of future decision-making. He also said he wants to reduce crime and support EMS and better emergency response in the city.
Mike Getz and Charles "Chris" Durio, Jr. in Ward Four will continue in office and did not have to defend their seats.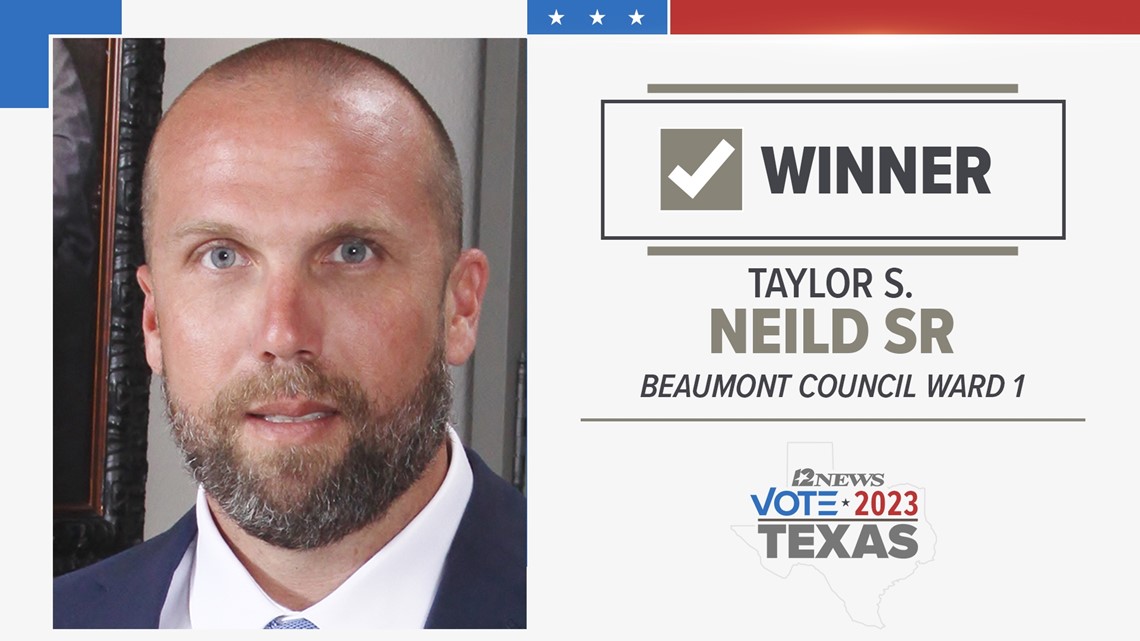 Also on 12NewsNow.com ...