BEAUMONT, Texas — The citizens of Beaumont have spoken, and the city will soon be under new leadership.
Roy West will become the next mayor of Beaumont after beating current Mayor Robin Mouton and candidate James Eller Jr.
This is West's second time facing off against Mayor Mouton. After the 2021 elections ended in a runoff, West lost to Mayor Mouton by a small margin.
West made a successful comeback, winning the 2023 mayoral election with 52 percent of the votes.
West announced his run for mayor in November of 2022.
The Beaumont native went to West Brook High School and later graduated from Lamar University. He previously told 12News he plans to focus on downtown development, drainage issues and improving the lives of Beaumont youth.
"Beaumont is my home," West previously told 12News. "I love Beaumont and I want it to thrive. I want my grandchildren to want to live here in 20 years."
West said he would like to work on drainage, bring families back to downtown Beaumont and provide area youth with after-school programs, summer programs and life skills programs.
"There are too many young people in our community that are growing up without direction and they need love," West previously told 12News.
The soon-to-be mayor said he believes the city is doing a good job but also believes there is always room for improvement.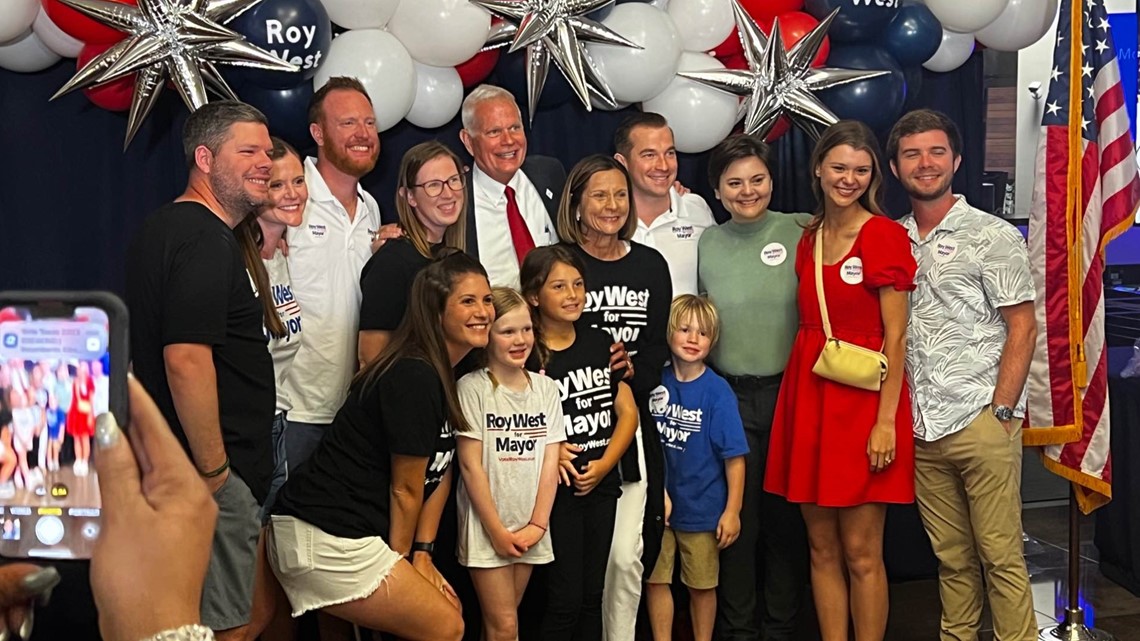 Voters in Beaumont also made decisions on four council seats, including the two at-large positions.
Roy West will become the next mayor of Beaumont after beating incumbent Robin Mouton with 52% of the vote or 8,427 votes.
In the At-large race incumbents Randy Feldschau and Albert "A.J." Turner will retain their seats with 39% and 30% of the vote respectively.
The city's council will now be entirely made up of men for the first time in many years.
Taylor S. Neild, Sr. glides into a third term as the Ward One councilmember by beating Taher Quraishi with 75% of the vote.
Mike Getz ran unopposed and will continue to hold the Ward Two council seat in Beaumont.
Getz has been an attorney in Beaumont for more than 30 years. He has served on city council for more than 20 years having first taken office in 2011.
Ward Three councilmember Audwin Samuel will continue in his spot after beating Dr. Carlton Sharp and Geary Senigaur Jr. with 55% of the vote or 1,434 votes.
Samuel holds the title of longest serving councilmember, having served from 1984 – 1993 and from 1999 to now.
Charles "Chris" Durio, Jr. also ran unopposed and will continue to hold the Ward Four council seat in Beaumont.
Durio took office in 2021 taking Robin Mouton's seat after she was elected mayor. He spent more than 30 years serving the City of Beaumont as a firefighter retiring as a captain in 2017.
Following Saturday's election and once any new members are sworn in the makeup of Beaumont's city council will be…
Mayor
At-Large Councilmembers

Albert "A.J." Turner
Randy Feldschau

Ward One Councilmember
Ward Two Councilmember
Ward Three Councilmember
Ward Four Councilmember

Charles "Chirs" Durio, Jr. (unopposed)
Also on 12NewsNow. com ...