BEAUMONT, Texas — This article contains ongoing updates on the aftermath and cleanup following Tropical Storm Laura, including closures, opening, event cancellations and more. Here are some key updates for Thursday, September 3, 2020, and the current week. You can find more details by scrolling through the story, which we are updating throughout the day and night. The newest items will be at the top.
Thursday
Sept. 3, 8:30 p.m. — About 2,923 Jasper-Newton Electric Cooperative customers are still without power Thursday night, after crews worked to restore more than 18,000 homes and businesses. "Crews are concentrated in the hardest hit areas, Deweyville, Northern Orange County, Newton, and Bon Wier, which total about 2,600 meters without power," the company said in a news release. "JNEC crews are responding to individual outages in areas where power has been restored. If you are still without power, please contact JNEC to report your power outage."
Sept. 3, 10 a.m. — Nederland ISD announces the district will welcome students back to campus on Tuesday, September 8, 2020.
Sept. 3, 10 a.m. — A curfew for all unincorporated areas of Orange County is being lifted today according to a news release from the county.
The county's disaster declaration has been extended by the commissioner's court until September 30, 2020, when the court will consider another extension the release said.
Thursday is the last day distribution PODS will be open in the county. The county's debris clean-up mission will begin on Monday, September, 7.
Wednesday
Sept. 2, 8:17 p.m. — Jasper-Newton Electric Cooperative says there are still 4,200 customers without power out of 21,000 that lost power. 17,000 meters have been restored. Deweyville, Newton and Bon Wier have the greatest concentration of outages.
Sept. 2, 5:00 p.m. — Most of Jefferson County has had power restored. Only about 500 homes and businesses are left without power as of 5 p.m. according to Entergy's outage map.
Sept. 2, 10:45 a.m. — Distribution PODS are open today and Thursday in Orange County from from 10 a.m. to 6 p.m.to distribute water, ice, MREs and tarps at the following locations...
Orange Boat Ramp – 408 Pier Road, Orange
Bridge City Intermediate School – 1029 Roundbunch Road, Bridge City
Mauriceville – 11916 Highway 62 North, Orange
Vidor – Turning Point Church, 3600 North Main St., Vidor
On Tuesday 2,484 cars visited the PODS and received 2,400 cases of water, 2,632 MREs and 2,400 bags of ice. Read more here.
Sept. 2, 8:20 a.m. — A newly formed group, "Love thy Neighbor Bmt," has partnered with the Beaumont chapter of the NAACP to collect supplies for residents of Orange following Hurricane Laura.
The groups will be collecting items such as water, non-perishable foods,all sizes of clothing for men, women and children as well as adult and children's diapers.
Items will be collected Wednesday and Thursday evening from 6 p.m. - 8 p.m. at the NAACP headquarters at 4155 West Cardinal Drive in Beaumont.
The groups plan to bring along food trucks Friday when the items will be distributed in Orange.
Tuesday
Sept. 1, 8:30 p.m. — Jasper-Newton Electric Cooperative says power's been restored for more than 15,100 meters. That leaves about 6,000 customers still without power. More than 21,000 customers were without power after Hurricane Laura.
Sept. 1, 7:20 p.m. — A post from Groves Fire Department says if your power hasn't been restored yet, you won't be getting lights on Tuesday. While powering up, Entergy "encountered some unforeseen issues with the fragile system." Plans are tentative for full restoration on Wednesday by 6 p.m.

Sept. 1, 5:00 p.m. — Beaumont's Reaud, Morgan & Quinn L.L.P is teaming up with local businesses to help those affected by Hurricane Laura.
The firm will be passing out hot lunches, water, ice, bleach and mosquito spray among other supplies in the parking lot of Sam's Club in Lake Charles, Louisiana. The event will happen on Wednesday at 11 a.m. until supplies run out.
Sept. 1, 4:30 p.m. — TxDOT plans to start picking up debris on state roadways in Orange and Newton counties on September 2. Debris should be placed along state right of way for pickup. "The right-of-way is the area of residential property that extends from the street to the sidewalk, ditch, utility pole or easement," according to TxDOT. Woody, burnable debris should be kept separate from construction and demolition debris. They'll be picked up separately. "Clear bagged and loose debris will be collected. Any household hazardous waste, roof shingles or tires resulting from the storm, may be eligible for removal and should be separated at the curb. Pick up of hazardous materials and appliances will follow approximately one week behind other debris collection.
Do not place near water meter, fire hydrant or any other above-ground utility. Only debris placed on the right of way will be eligible for collection."
Sept. 1, 4:00 p.m. — Entergy Texas says 31,703 customers are without power, compared to 291,300 customers at the storm's peak.
Customers without power in Beaumont will have lights back on Sept. 1 according to Entergy. Port Arthur, Port Neches, Nederland and Groves are expected to have lights by Sept. 2. The Orange area is still expected to get power back by September 4.
Sept 1, 3:00 p.m. — Entergy says the majority of Groves should have power at some point starting Tuesday evening according to Lance Billeaud, Fire Chief & Emergency Management Coordinator in Groves.
He says they'll be powering up small areas at a time through the night so the system isn't overloaded. This could last until 12 a.m. If a residence has damage to its service loop, that home probably won't get power and should call Entergy at 1-800-9OUTAGE or 1-800-968-8243.
Sept. 1, 9:40 a.m. — A 48-year-old Orange man died after being found unresponsive by family in his home in Orange early Friday morning.
A generator was located in the garage of the home in the 500 block of Bluebonnet.
Sept. 1, 8:50 a.m. — Orange County has met the damage threshold for activate individual assistance from FEMA according to Orange County Judge John Gothia.
FEMA has yet to determine what assistance will be offered to Orange County residents Gothia told 12News.
Monday
Aug. 31, 8:00 p.m. — Jasper-Newton Electric Cooperative says power has been restored to 11,100 meters, after Hurricane Laura knocked out power for 21,000 of the coop's customers. There are still about 9,964 without power.
Aug. 31, 5:30 p.m. — Jasper-Newton Electric Cooperative reports crews have repaired the transmission line that cause the outage just before 2 p.m. on Monday. Power's been restored to those who were affected by the interruption in service. Crews continue working to restore power to 21,000 customers who lost power in Hurricane Laura.
Aug. 31, 4 p.m. — Orange County Commissioners have extended a emergency declaration for the county through September 30.
All non-emergency county offices are closed until further notice due to damages from Hurricane Laura.
Aug. 31, 3:30 p.m. — Lamar Institute of Technology has delayed the opening of the campus until Wednesday, September 2 due to lingering effects of Hurricane on students and staff according to a news release for the school.
Aug. 31, 3 p.m. — Business operations at Lamar State College Orange will resume on September 3 and classes will resume on September 4 as long as power is restored according to a news release from the school.
Updates will continue to be available on the school's website and social as well as via emails to students and staff.
Aug. 31, 1 p.m. — The first bus load of evacuees from Port Arthur returned to the Bob Bowers Civic Center just before 1 p.m. Monday.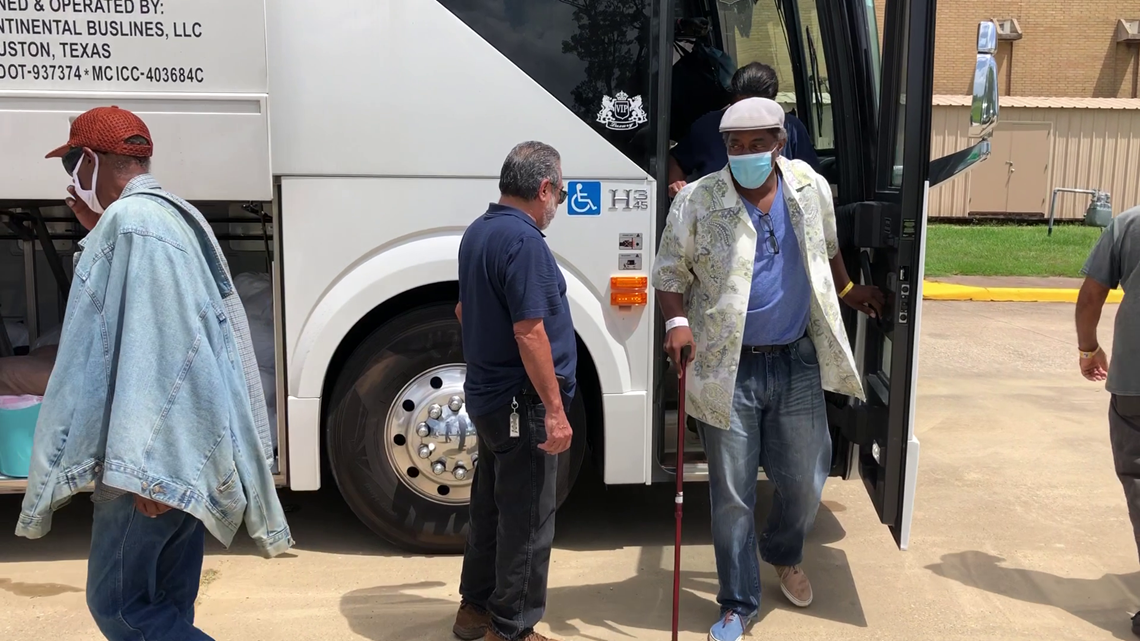 Aug. 31, 12:50 p.m. — The Salvation Army's mobile kitchens will be serving lunch AND dinner Monday at the following locations:
Market Basket: 2005 Texas Ave Bridge City, TX
Sam Houston Elementary: 3245 36th Port Arthur, TX
1950 MLK Drive Orange, TX
114 W. Bolivar St, Vidor TX
Newton Church/Food Bank: 501 Main Street, Newton, TX
Jasper Court House Annex: 271, E. Lamar, Jasper, TX
3134 Fairdale Rd., Hemphill, TX
Deweyville High School – 171 TX-12, Deweyville, TX
Mauriceville Middle School – 19952 FM 1130, Orange, TX
Aug. 31, 10 a.m. — Here's some headlines from stories we were working on Sunday afternoon and evening...
Entergy Texas said utility workers have restored nearly 60 percent of the electrical power outages caused by Hurricane Laura.
"Our workforce will continue its safe, quick work until everyone's power is restored," the company said on their website.
-------------------------------------------------------------------------------------------------
The Southeast Texas community is rallying around a lineman who was injured while working to restore power to the community after learning his home was destroyed by Hurricane Laura.
Justin Smith asked for the help of Beech Grove Volunteer Fire Department in the Jasper area to remove a "huge oak tree" that had fallen on his roof during the high winds from Hurricane Laura according to a Facebook post from the department.
-------------------------------------------------------------------------------------------------
One family in Southeast Texas is trying to piece their life back together after Hurricane Laura damaged their home.
Michael Odell lives in Orange. He says his home was ruined by the powerful category 4 storm that moved through Thursday morning.
-------------------------------------------------------------------------------------------------
Deweyville ISD is encouraging its students and staff to use the upcoming week to "put things back in order" after Hurricane Laura knocked down stadium lights, with one landing on a school bus.
There won't be any classes or remote learning for the upcoming week, as crews work on both the district's campuses removing debris and the downed stadium lights.
Also on 12NewsNow.com...