BEAUMONT, Texas — This week voting for the 409Sports Band of the Week matches the Jasper High School band against the Little Cypress-Mauriceville High School band.
Little Cypress-Mauriceville High School took this week's title with 96% of the 582 votes cast.
Jasper - 23
Little Cypress-Mauriceville - 559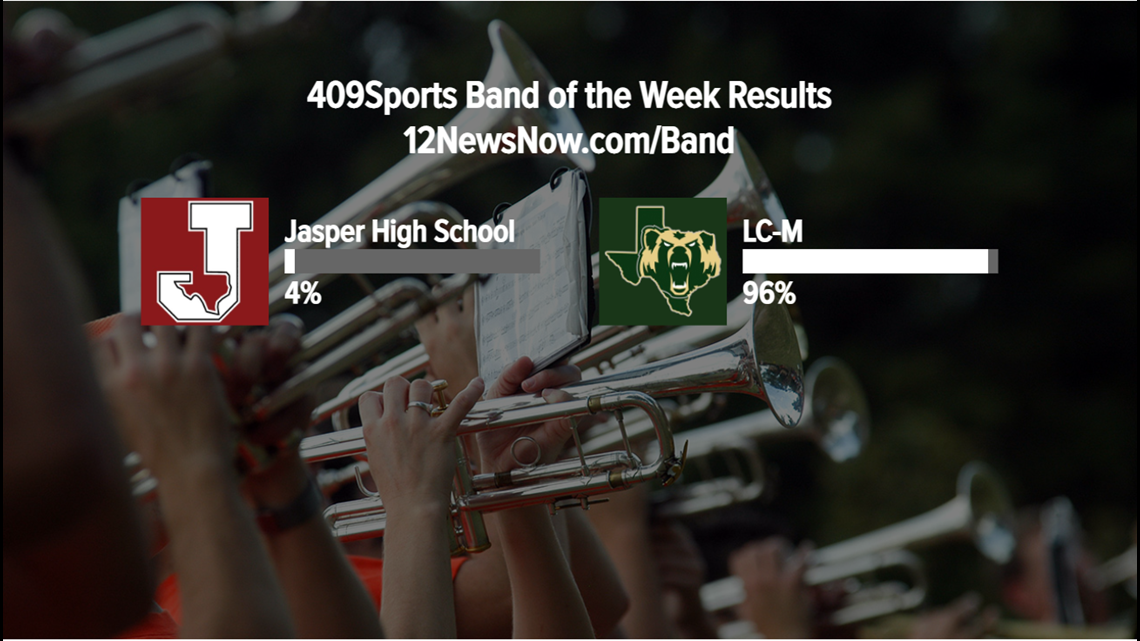 Make sure your voice is heard and vote now. Voting ends at about 3 p.m. Friday.
Watch #409Sports Friday evening at 6 p.m. on 12News for the formal announcement of the winner.
The Band of the Week winner will win bragging rights for being the most popular band this week in Southeast Texas so be sure to share it out on social media and ask all your friends, classmates and family to vote.
Don't miss your chance to vote!
Here's some of our previous bands of the week from this year and past seasons...
We are heading to Orange County Friday night as Little Cypress-Mauriceville plays host to Jasper in the 409Sports Blitz Game of The Week!
While this is a non-district matchup there is still plenty excitement expected with LCM trying to defeat Jasper for the first time since 1979.
The Bulldogs are coming off a tough 8-7 loss at Vidor, while LCM took down the second ranked private school in Texas, Houston Kinkaid.
Weather permitting the 409Sports team will be live in Battlin' Bear Stadium to preview the game Friday night at 5, 6 and 6:30 before the 409Sports Blitz gets started at 10:20 pm.
409Sports Blitz Game of The Week
Jasper Bulldogs (1-2) at Little Cypress-Mauriceville (3-1)
Series: Jasper leads 25-2-1
Last Meeting: 2020, Jasper 35-0
First Meeting: 1970, Jasper 21-6
Last LCM Win: 1979, LCM 10-7
Streak: Jasper 7 wins
Season Results
Jasper Bulldogs
at Port Neches-Groves, L 14-7
vs Hardin-Jefferson, W 33-3
at Vidor, L 8-7
Little Cypress-Mauriceville Battlin' Bears
at Hamshire-Fannett, W 26-6
at West Orange-Stark, L 33-20
at Katy Jordan, W 32-6
vs Houston Kinkaid, W 49-20
History
1970: Jasper, 21-6
1971: Jasper, 18-6
1972: LCM, 7-0
1973: Jasper, 14-7
1974: Jasper, 27-21
1975: Jasper, 41-28
1976: Jasper, 28-7
1977: Jasper, 29-7
1978: Jasper, 27-19
1979: LCM, 10-7
1980: Jasper, 28-7
1981: Jasper, 17-14
1982: Jasper, 21-10
1983: Jasper, 16-14
1984: Jasper, 27-14
1985: Jasper, 55-9
1986: Jasper, 54-7
1987: Jasper, 41-7
1990: Jasper, 6-3
1991: Jasper, 17-7
1992: Tie, 7-7 (Bi-District, Jasper advanced on penetrations)
1995: Jasper, 28-6 (Bi-District)
2014: Jasper, 29-13
2015: Jasper, 34-14
2016: Jasper, 25-13
2018: Jasper, 46-6
2019: Jasper, 42-14
2020: Jasper, 35-0