Election Day is November 5. Here's what you will be voting on.
School bonds, horse racing and 10 proposed Texas constitutional amendments on the ballot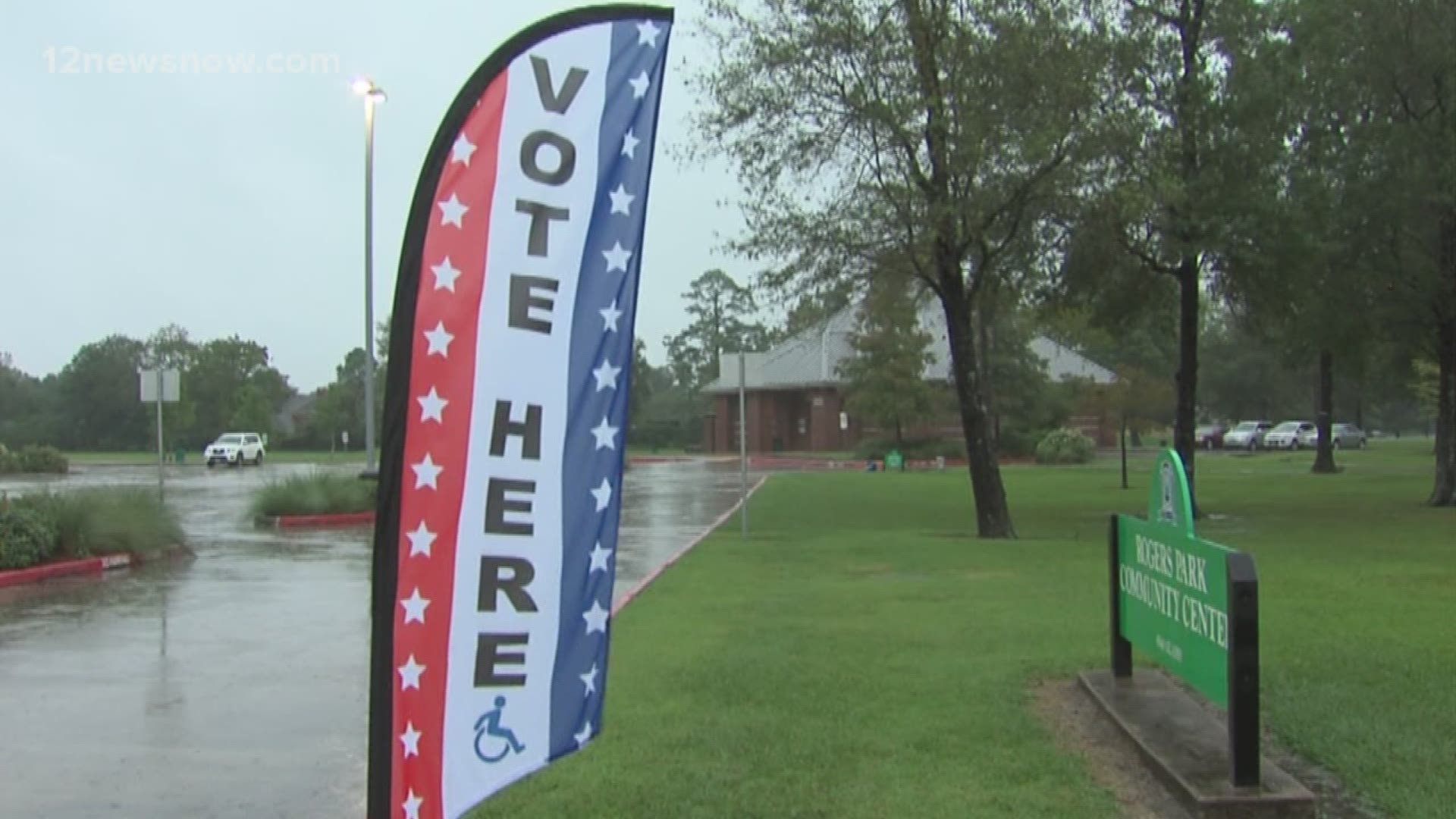 Election Day is November 5.
Voters will be deciding on a ten state propositions, local school bonds as well as local city council seats and county propositions.
Here is your one-stop for everything you need to know about Election Day -- to where you vote to what you are voting for.
Chapter 1
:
Where do you vote?
Voting across Texas takes place from 7 a.m to 7 p.m.
You must have registered to vote by October 7, 2019, in order to vote on November 5.
Texas Driver License issued by the Texas Department of Public Safety (DPS)
United States Passport (book or card)
United States Military Identification Card containing the person's photograph
United States Citizenship Certificate containing the person's photograph
Texas Handgun License issued by DPS
Texas Election Identification Certificate issued by DPS
Texas Personal Identification Card issued by DPS
Once polls close, you can find all of your election results HERE.
Here is a county-by-county breakdown on where you vote and what you are voting on (some precincts have been moved due to Tropical Storm Imelda):
Jefferson County
Orange County
Hardin County
Tyler County
Galveston County
Chambers County
Jasper County
Chapter 2
:
PNG Bond
A massive $130 million school bond is on the ballot for Port Neches-Groves ISD.
The district wants to use the money to combine six of its current elementary schools into four, new elementary schools.
The plan would mean building new new schools in Port Neches and two new schools in Groves.
If the bond passes, construction would start as early as 2020 with a completion date set tentatively for 2023.
The preliminary sites are:
Current Woodcrest site

Current Ridgewood site

Current Groves Elementary site

Current WGEC site
The district says most of the current elementary school buildings were built in the 1950s.
Chapter 3
:
Lumberton Bond
$78 million is on the line for the Lumberton Independent School District this November.
Voters will consider Proposition A, which was approved by the Lumberton ISD Board of Trustees in August.
The money, according to the district, will be used to renovate classrooms, upgrade security throughout the district and parking improvements.
More than half of the money from the bond is allocated to go toward re-purposing the existing Intermediate School into new Middle School for grades 6, 7, and 8, additions/renovations to the existing middle school, and additions/renovations to the early childhood campus.
"The middle school is 52 years old," the district explained in literature about the proposed bond. "As building age, they become more expensive to maintain. After reviewing these factors, the CAC (Citizens Advisory Committee) recommended replacing the oldest portion of the campus with new construction."
Nearly $13 million dollars is expected to go to adding a Career and Technology building at Lumberton High School. This includes new robotics, nursing, culinary arts, criminal justice and welding labs.
The district is also planning to use $7.5 million to renovate the Early Childhood campus. There is also money set aside for parking and traffic improvements at school campuses.
The district says money from the bond is also needed to deal with overcrowding across the district. The district says 200 students have been added to the district in the past five years and 300 more are projected to be added over the next five five years.
Chapter 5
:
Horse Racing in Jefferson Co.
Voters in Jefferson County will have the opportunity to decide on horse racing propositions.
There will be two separate propositions on the ballot for voters.
Prop A: Would okay bringing a race track to Jefferson Co. where people can place bets on those races.
Prop B: Legalizes wagering on 'off track' horse races, similar to horse races that are happening across the country.
Kevin Johnson is part of a private group working to bring horse racing to the county.
"We are working on getting a proposition passed here in Jefferson County because there has never been one in regards to opening up a track license for the county," Johnson said.
Johnson said the private group is looking to foot the bill for the whole project so it wouldn't cost taxpayers anything.
The group is looking for 14 acres of land along a major highway. Ford Park has been part of the discussion. The group is also looking at land on the western end of Beaumont near I-10 and Hwy. 365.
There's no timeline on when the race track would open in Jefferson County.
Chapter 4
:
State Propositions
Voters will see 10 state propositions on the ballot.
Each is a proposed amendment to the Texas Constitution and require voters statewide to vote "for" or "against" each of them.
Here is a breakdown on what each proposition is and how it will appear on the ballot.
Proposition 1 (HJR 72)
Proposition 1 deals with municipal judges. If passed, it would let an elected municipal judge serve as a judge in more than one municipality at the same time.
The Texas Constitution currently prohibits a person from holding more than one public office at the same time. The proposed amendment would allow elected municipal judge to be added to a list of exceptions (which currently includes county commissioner, justice of the peace, notary public, postmaster, among others).
Here's how Prop 1 is worded on your ballot: "The constitutional amendment permitting a person to hold more than one office as a municipal judge at the same time."
Proposition 2 (SJR 79)
The proposed amendment would give the TxWDB the money to finance water and wastewater infrastructure projects in areas where the median income is 75% less than the state's median income.
Here's how Prop 2 is worded on your ballot: "The constitutional amendment providing for the issuance of additional general obligation bonds by the Texas Water Development Board in an amount not to exceed $200 million to provide financial assistance for the development of certain projects in economically distressed areas."
Proposition 3 (HJR 34)
This proposition deals with taxes in disaster areas.
If passed, it would allow the Texas legislature to temporarily exempt from ad valorem taxation – or taxation based on property or transaction value – a portion of certain property located in an area covered by a disaster declaration by the governor.
Local lawmakers would choose whether to adopt the temporary exemption and how long it would last.
Here's how Prop 3 is worded on your ballot: "The constitutional amendment authorizing the legislature to provide for a temporary exemption from ad valorem taxation of a portion of the appraised value of certain property damaged by a disaster."
Proposition 4 (HJR 38)
Proposition 4 would make it even harder for the Texas Legislature to add a personal state income tax.
Texas is one of seven states that does not have an individual income tax. The Texas Constitution prohibits the legislature from implementing one unless voters approve it.
Prop 4 would require a two-thirds vote of the legislature and a statewide vote before a sales tax is implemented. It would also get ride of a clause in the Constitution that requires most of the tax revenue be used to fund education should a state income tax is ever implemented.
Here's how Prop 4 is worded on your ballot: "The constitutional amendment prohibiting the imposition of an individual income tax, including a tax on an individual's share of partnership and unincorporated association income."
Tax money from sporting goods current goes to the state's General Fund.
If passed, lawmakers would keep the authority to determine how this money would be used and how it's allocated to the two organizations.
Here's how Prop 5 is worded on your ballot: "The constitutional amendment dedicating the revenue received from the existing state sales and use taxes that are imposed on sporting goods to the Texas Parks and Wildlife Department and the Texas Historical Commission to protect Texas' natural areas water quality and history by acquiring, managing ad improving state and local parks and historic sites while not increasing the rate of the state sales and use taxes."
Proposition 6 (HRJ 12)
CPRIT was created in 2007 to promote and fund cancer research in Texas. It uses bond money to award grants for cancer research and prevention.
Here's how Prop 6 is worded on your ballot: "The constitutional amendment authorizing the legislature to increase by $3 billion the maximum bond amount authorized for the Cancer Prevention and Research Institute of Texas."
Proposition 7 (HJR 151)
Currently, they're allowed to distribute $300 million per year.
Here's how Prop 7 is worded on your ballot: "The constitutional amendment allowing increased distributions to the available school fund."
Proposition 8 (HJR 4)
This proposition would create a special Flood Infrastructure Fund in the state treasury, using a one-time distribution of money from the "rainy day fund" (officially known as the Economic Stabilization Fund).
This special fund would provide additional resources to implement plans to mitigate flood damage, including authorizing the Texas Water Development Board (TWDB) to use the money for drainage, flood mitigation or flood control projects.
Here's how Prop 8 is worded on your ballot: "The constitutional amendment providing for the creation of the flood infrastructure fund to assist in the financing of drainage, flood mitigation and flood control projects."
Proposition 9 (HJR 95)
This proposition would allow lawmakers to create a property tax exemption for precious metals kept in a depository the state oversees.
Texas opened a precious metals depository in 2018. It is operated by a private company with state oversight.
Here's how Prop 9 is worded on your ballot: "The constitutional amendment authorizing the legislature to exempt from ad valorem taxation precious metal held in a precious metal depository located in this state."
Proposition 10 (SJR 32)
Proposition 10 would allow law enforcement animals, like police K9s, to retire in the care of the handler or another qualified caretaker with no adoption fee.
Currently, these animals are considered public property and they are not allowed to be transferred to a private citizen or organization for free.
This amendment would allow free adoptions when the animal retires.
Here's how Prop 10 is worded on your ballot: "The constitutional amendment to allow the transfer of a law enforcement animal to a qualified caretaker in certain circumstances."