In total, the Astros will give out 1,332 rings to players, coaches, owners, staff, seasonal associates, Hall of Fame players and broadcasters.
The ring has numerous small details that make this piece of history so unique:
The "H" local in the middle is made of 11 custom-cut diamonds that represent the team's 11 postseason wins.
The 101 diamonds on top of the ring represent the team's number of regular-season victories.
The 56 round diamonds surrounding the logo represent the 56 seasons of the franchise leading up to its first World Series title. The Roman numeral "LVI" on the side of the ring also represents the 56 seasons.
In each ring, the recipient's name and Astros wordmark are above the Houston skyline lifted up by the left-field wall, signifying what the championship meant to fans affected by Hurricane Harvey.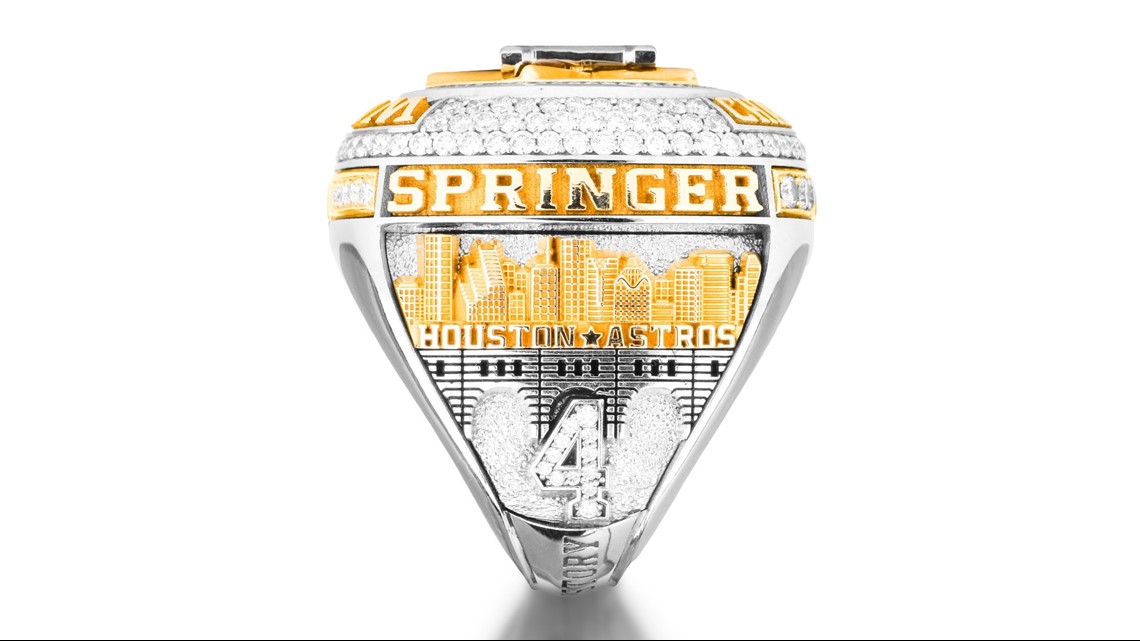 The phrase "Houston Strong" is on the ring in yellow gold, symbolizing the strength of the team and the community that rose up together after Harvey.
The single diamond on top of the Commissioner's Trophy in the ring represents the franchise's first World Series title and for the State of Texas.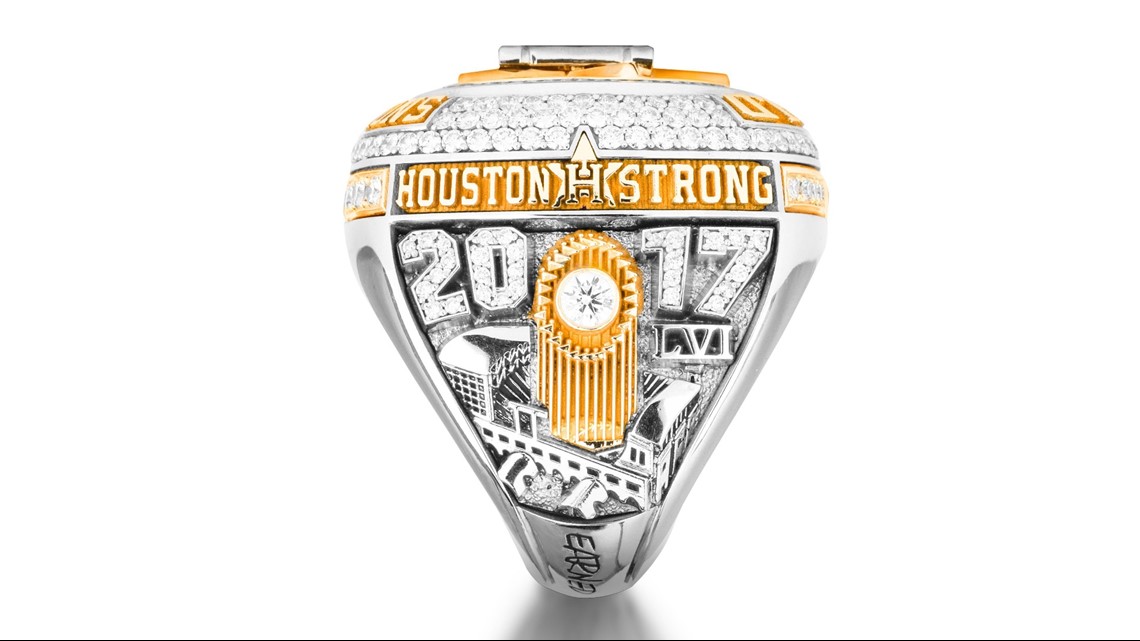 The 10 diamonds and one blue sapphire on top of the ring's edge represent the 11 times the Astros advanced to the postseason in franchise history.
Two princess-cut sapphires, one orange and one blue, set in golden home plates at the top and bottom edge of the ring's top, signify the team's unique achievement of having played in both the National and American leagues.
The six round diamonds set in yellow gold on the bottom edge of the ring top represent the six years Jim Crane has owned the team. The orange sapphire signifies both his first World Series Championship and the Astros' National League pennant from 2005.
The inside of the ring features the results of each playoff series last season.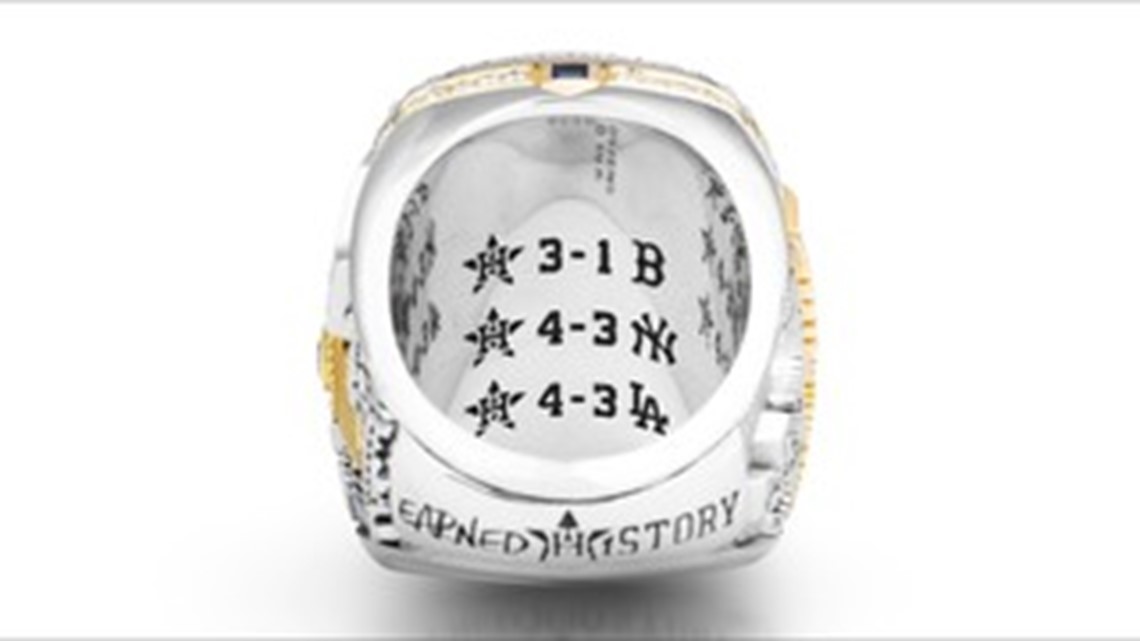 The ring's arbor features the Astros' "Earned History" slogan and is placed so that, when shaking someone's hand, the recipient can see the Astros earned their place in history.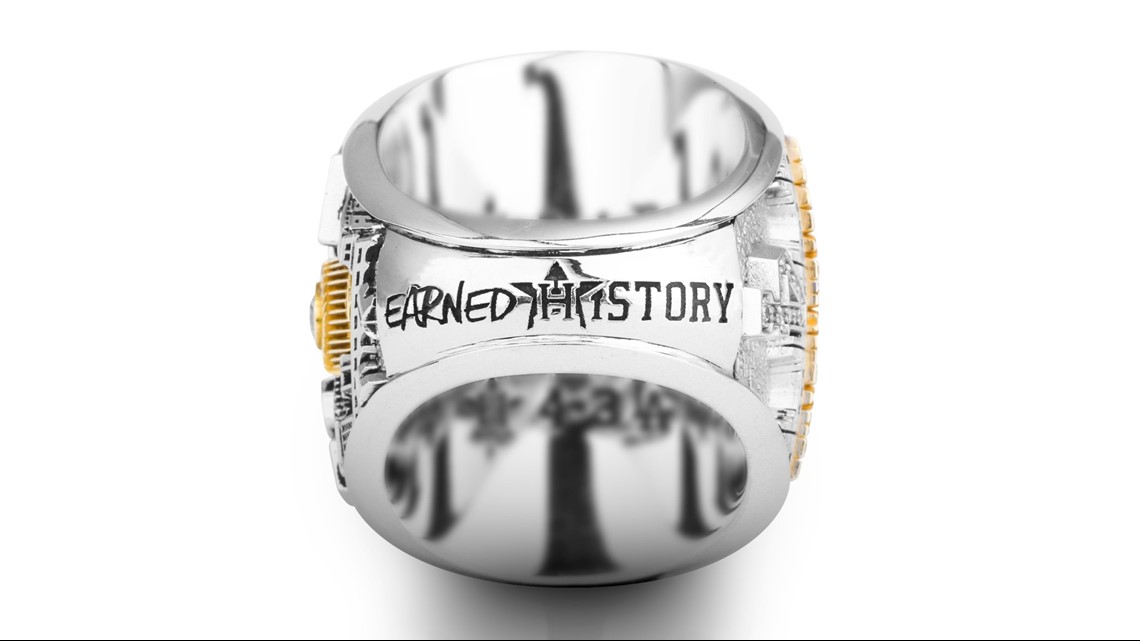 Astros fans can purchase a limited-edition Astros World Championship Fan Ring that closely replicates the players' World Championship Ring. Only 112 rings were created with one that will be raffled off to benefit the Astros Foundation. The ring costs $11,112.00, signifying the team's 11 postseason games played and 112 total wins for last season.
Jostens' World Championship jewelry collection for Astros fans is also available exclusively at the Astros Team Store at Minute Maid Park and online here.
Photos: Astros receive World Series Championship rings