Many DIY projects require big purchases, such as expensive power tools.
VERIFY viewer Nate recently sent us Facebook posts that advertise huge sales for power tools that typically cost hundreds to thousands of dollars. He asked if they were legit sales.
THE QUESTION
Are power tool liquidation sale posts on Facebook legit?
THE SOURCES
THE ANSWER
No, power tool liquidation sale posts on Facebook aren't legit. They're scams.
WHAT WE FOUND
Both DEWALT and Milwaukee Tool have issued statements on their websites warning shoppers to watch out for these scams.
"We have recently become aware of scam websites posing as the official DEWALT account or as legitimate sales platform for DEWALT products. These websites have also been advertising on a number of social media networks, such as Facebook, offering DEWALT products at prices that are too good to be true," the DEWALT website says.
The scam websites are trying to get your credit card information or trick consumers into a non-refundable payment, DEWALT says.
Milwaukee Tool and DEWALT both sell their products through authorized retailers, whether they are smaller mom-and-pop stores or big box stores like Home Depot and Lowe's Home Improvement.
The Better Business Bureau says Facebook scams in local buy-and-sell groups are on the rise. The BBB recommends some tips before buying into sales you spot on Facebook, including:
Look at the post, profile and website closely
Do a reverse image search
The VERIFY team used these BBB tips to independently investigate these posts. Here is what we found.
We looked at the post, profile and website advertising a DEWALT tool sale
When we looked at the Facebook page for Bulletevent.shop, it appears to be a clothing brand with only 10 followers. Second red flag.
Then, we went to the website shared from the Facebook post. That led us to a poorly crafted website that wasn't complete. The homepage of the website still featured template text like "insert caption here." Third red flag.
We did a reverse image search of posts claiming to show tool sales
Many of the same tools seen on the Home Depot and Lowe's websites are seen in the images shared in the scam Facebook posts advertising the cheap tools.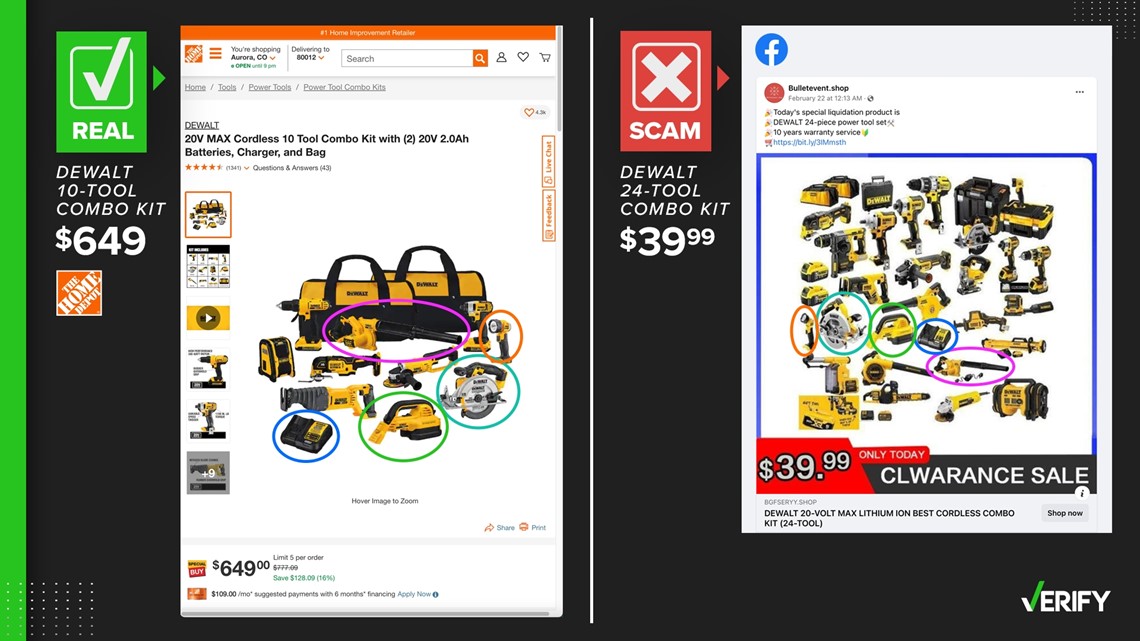 This is further proof the images seen in the Facebook posts are likely lifted from official retailers with the goal of scamming the consumer.
The reverse image searches also revealed the same image being used by different "sellers." This is another example of a scam tactic.
You can report a fraudulent seller to Milwaukee Tool and DEWALT by filling out a form on their websites, and the distributors will investigate further. The companies also encourage consumers to inform their financial institution as soon as possible if a purchase from a fraudulent site was made.