PINEHURST — A Southeast Texas mother is still looking for answers, 30 years after her son vanished.
Texas has one of the highest numbers of unsolved cases from 1980 to 2008, according to ProjectColdCase.org.
Eulan "Ray" Hodgkinson was 31 years old when his mother saw him for the last time at their home in Pinehurst.
Pinehurst police believe he was murdered, but his body was never found.
"There is never a day you don't think about it," his mother, Doyle Hodgkinson, said.
When she looks at the cross outside her home, she is reminded of her two sons, Ray and Steve.
"Every time when I go out, I see my boys and the angels are taking care of them, too," said Hodgkinson.
PHOTOS: Pinehurst man disappeared 30 years ago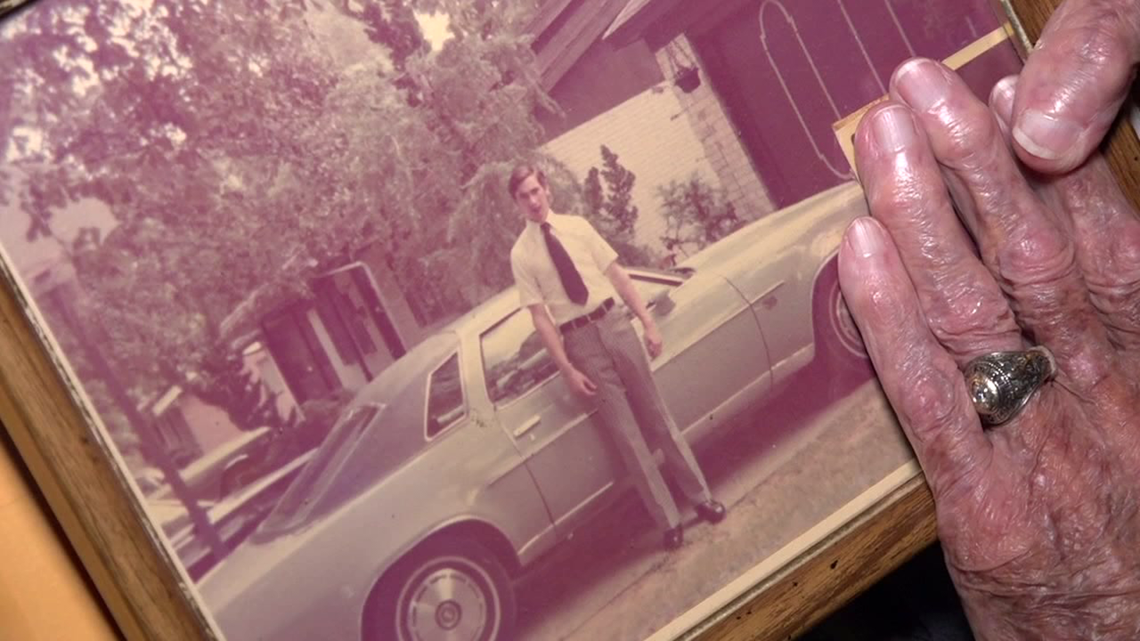 Sadly, Doyle never had the chance to say goodbye to Ray or even bury him.
Her younger son Steve passed away from health complications in 2004.
Looking at old newspaper clippings from when her son went missing brings back painful memories.
"It's tragic to lose someone like that," said Hodgkinson.
On September 11, Ray was welding outside when a grinder broke. At the time he was living at home with his mother and told her he was stopping by his boss's home, then getting dinner.
"It was normal, things like that were normal…when he didn't come back at 10 p.m. I knew something bad was wrong," Hodgkinson said.
A few days later, Doyle and her husband filed a police report.
She said her son usually kept to himself or with a few close friends and his girlfriend.
"He wouldn't even smoke a cigarette, he wouldn't even drink a beer, he was so opposed to it," said Hodgkinson said.
According to case files, ten days later, his truck was found in a wooded area of FM 1130. However, this left investigators with more questions than answers.
Former Chief Don Hartsfield told reporters a gun was missing from the car, along with his keys and other items.
Investigators believed the car was parked away from the crime scene as a diversion.
"Foul play is suspected… his lifestyle and habits at the time may have put him in danger," said Pinehurst Chief Fred Hanauer said.
Chief Hanauer was not working for the police department at the time, but when he became chief in 2009, he vowed to solve the case.
A few weeks later, a body was found a quarter of a mile from Ray's truck, but it wasn't him. Desperate for answers, Doyle even contacted a psychic named Doreen Reiner to help investigators with the search.
The psychic told officers she believed a man drove Ray to an area then shot or hit him in the head then buried him with heavy equipment. During the search, she brought police to a landfill near FM 1130, but his body wasn't found.
"I flown her in here because I thought if the FBI used her, then she must be pretty good," Hodgkinson said. Investigators questioned a few suspects, but no one was ever arrested, leaving Doyle with little hope for answers.
"I would let the Lord take care of it, there is nothing I could say….the Lord works in mysterious ways," Hodgkinson said.
After a while, the buzz surrounding the case faded until 2007, when a tip led police to the Sabine River Bridge. Investigators were told that Ray was put in a barrel and thrown into the water, but they didn't end up finding anything.
The latest tip is from 2015, but investigators still did not find his body.
Chief Hanauer believes he can still solve this case. He said while the statute of limitations have been reached on some lesser charges like disposing a body, a murder charge could still stand.
"I believe there are people out there that know things about this case that might be fearful of legal repercussions if they come forward," Chief Hanauer said.
As Doyle looks at old pictures of her son, who today would be 61 years old, she knows it's unlikely that he is still alive. She lives in the same house she shared with him the night he went missing.
"As long as he was missing, I'd never move," Hodgkinson said.
Her one hope is that she can bury him next to his brother and the rest of her family at the Evergreen Cemetery.
"I know where he is, I know both of them are in heaven, because they were good kids and I'll see them soon.
If you know anything about this case, call Pinehurst Police at (409) 886-2221.
CRIME STOPPERS | Submit a tip @ 833Tips.com
If you have information about this crime you could earn a cash reward of up to $1000 by providing an ANONYMOUS tip to Crime Stoppers of Southeast Texas.
Call 833-TIPS (8477) or text "BMT" followed by your tip information to CRIMES (274637) from your mobile phone.