SOUR LAKE, Texas — The suspect who police say is the man who severely beat a Sour Lake Police officer Monday night is now in custody.
Troopers with the Texas Department of Public Safety caught the suspect, Bradley Joseph Pruitt, 45, at about 6:45 a.m. according to a news release from the Hardin County Sheriff's Office.
Pruitt is held without bond for an out of state charge according to a news release. He is facing several other charges, with bonds totaling $4 million according to a release.
The sheriff's office also identified the injured officer as William J. McKeon, 59, who has been a Sour Lake Police officer for the past four years.
According to records from the Texas Commission on Law Enforcement, McKeon served with the Port Arthur Police Department for five months in 1981 and Orange County Sheriff's Office for about three and a half years from 2011 to 2014.
Pruitt was caught near the 6400 block of Highway 326 in Kountze, and is from Bowling Green, Kentucky according to a Hardin County Sheriff's Office news release.
Sheriff Davis asked that residents keep Officer McKeon in their thoughts and prayers saying he is in very critical, but stable condition according to the release.
McKeon will be undergoing several surgeries throughout Tuesday and the next few days the release said.
Sheriff Davis thanked Hardin County residents for their tips and support and said they can go about their normal activities as officials believe no one else was involved in the attack.
The Texas Rangers are leading the investigation with assistance from the Sour Lake Police Department and the Hardin County Sheriff's Office.
Deputies and officers from several Southeast Texas law enforcement agencies searched throughout the night for the man after he allegedly beat McKeon outside the J & R Market convenience store at Highways 105 and 326 Monday evening at about 8:30 p.m.
The suspect is also accused of stealing a Sour Lake Police car and leaving the scene headed north on Texas 326 according to Sour Lake Police Chief Aaron Burleson.
McKeon, who was flown to Christus St. Elizabeth Hospital in Beaumont, sustained severe facial injuries according to Hardin County Chief Deputy Kenny Davenport.
Hardin County Sheriff Mark Davis described McKeon's injury Monday night as a "traumatic head injury" and Sour Lake Police Chief Aaron Burleson reported that the officer was in the ICU.
The suspect was sighted twice in the area of Hwy. 326 and Laird Road and was believed to be armed according to Davis. He told 12News the search was centered in that area.
The stolen police car was discovered along the side of Texas 326 about seven miles south of Kountze according to Burleson.
Officers and deputies with the Jefferson County Sheriff's Office, Beaumont Police Department, Texas DPS, Hardin County Sheriff's Office and the Silsbee Police Department assisted in the search for the suspect.
Sour Lake Police officer severely injured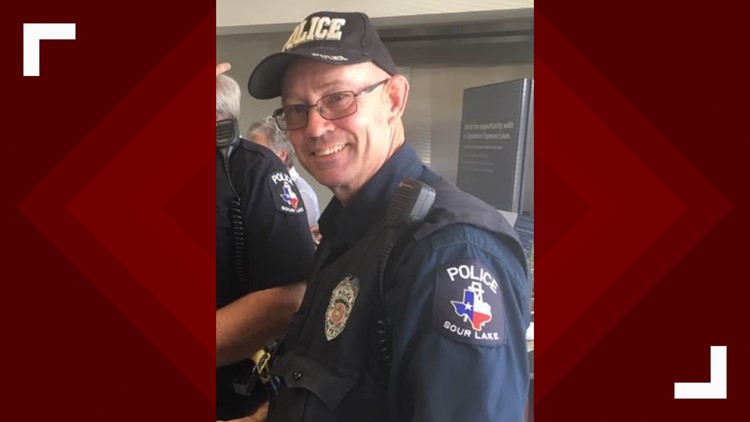 This is a developing story. We will update with more if and when we receive more confirmed information.
EDITOR'S NOTE: Previous versions of our reporting incorrectly reported that a suspect was in custody and that the officer had been shot after we received incorrect information. This is a fluid situation and we are working to report and update with confirmed information once we receive it. 12News regrets the error.