BEAUMONT, Texas — Weather is gradually clearing in parts of Southeast Texas as showers move southeast of the region.
A round of widespread showers and potentially severe thunderstorm activity is still showing on radar overnight Friday.
A flash flood warning is effective for Tyler, Jasper and Newton Counties and will continue until 7 a.m. Saturday morning.
Weather models are depicting much of the thunderstorm activity over the northern parts of the Lakes Area in Southeast Texas.
Rainfall
There's a 50% to 70% chance of rain throughout the Triangle overnight Friday with wind gusts of 30 mph.
High temperatures are forecast to be in the middle 70s with rainfall totals expected to be from one to three inches.
The rain is expected to move out of the region and move to the east by about 3 a.m. Saturday. Low temperatures will then drop into the upper to middle 60s.
WHAT TO EXPECT FRIDAY
There is a 90 percent chance of rain starting Friday afternoon.
Saturday 1 a.m. - Scattered showers moving through the Golden Triangle. Severe weather is possible.
Saturday 2 a.m. - Rain clearing and moving out to the east of Southeast Texas.
Saturday 7 a.m. - Decreasing clouds should give way to sunny skies throughout Saturday. No rain is expected as winds shift to the northwest.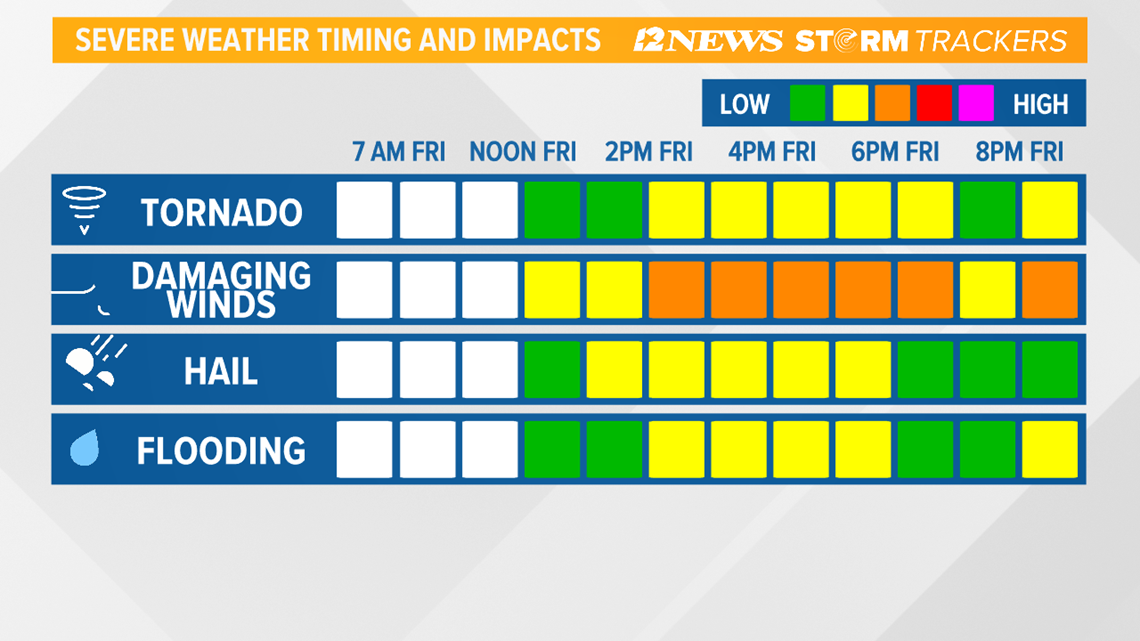 On Saturday, a few isolated morning showers are possible with clear skies and warm humid conditions persisting. Then, a weak cold front is set to sweep through the area in the afternoon.
A drier air mass will then move into the area Sunday resulting in slightly cooler weather with abundant sunshine.
WATCH: Friday night live coverage of severe weather
Also on 12NewsNow.com...