HARDIN COUNTY — Hurricane Harvey damaged tens of thousands of homes leaving residents homeless and feeling hopeless.
Some people were able to find relief through FEMA grants while others said they were left in the dark.
When people escaped their flooded homes they didn't have time to think because they were in boats or walking through high water.
Residents have different experiences with FEMA after Harvey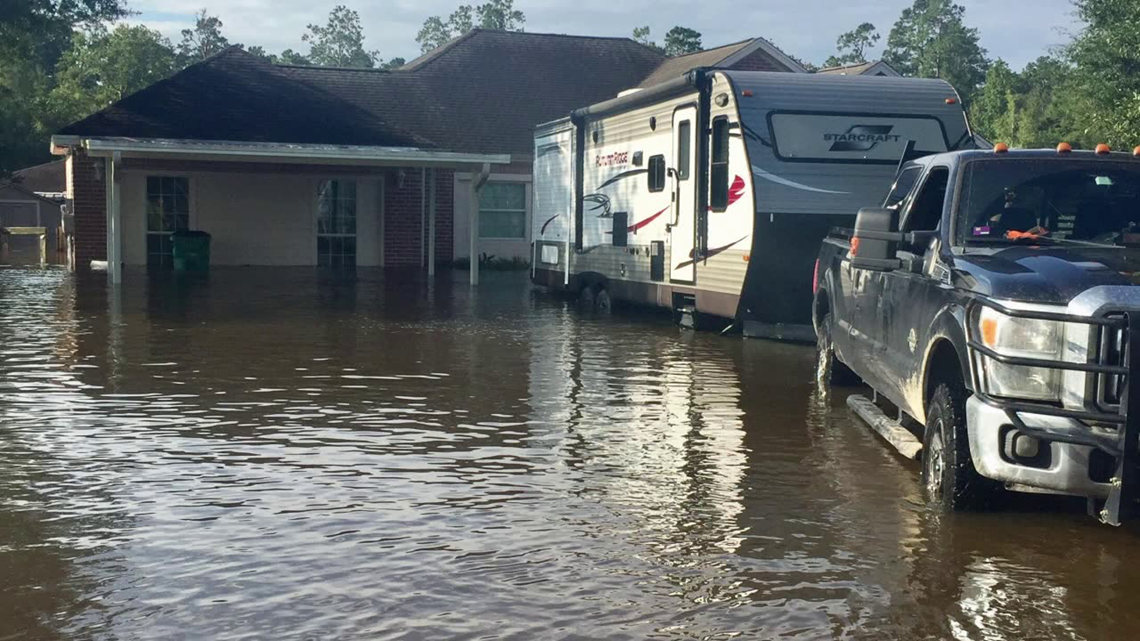 "I watched it all day, come further and further up in the yard and I knew we were going to have to leave," said Vickie Smith.
Smith said she left her home with her husband Carl by Boat.
She said she was only living off Cooks Lake Road in Lumberton for the past two years.
"That's all we had, a bag of clothes and service dogs," said Smith.
Once the storm calmed they returned to find their home flooded with 3 and a half feet of water.
"We had to replace absolutely everything," said Smith.
The couple stayed with relatives for three months while they worked on ripping out sheetrock.
When they finished, they could hardly recognize their home.
"These are the only counter tops I had, plywood and two by fours," said Smith.
The pair needed help and went through the process of applying for FEMA grant money.
Smith said the process went surprisingly smoothly because the FEMA inspector stopped by two months after Harvey and a week later they were given around $30,000.
According to FEMA spokesperson Kurt Pickering, the maximum grant is $34,000.
"Heartbreaking to see so many people that I think deserved it more or as much…my only guess is it made me think if there an age difference?" said Smith.
FEMA spokesperson Kurt Pickering explains how old you are or how much money a person makes does not determine how much money a person can receive in grants from FEMA.
He explains other factors like how many people are living inside a home or how many rooms are damaged can play a role.
FEMA inspectors also look at the location of the damage. For example, if most of the damage is in your bedroom or kitchen you are more likely to be given more money.
Pickering explains it's because the damage is in a place that affects your daily living area.
He said a person with damage to their bedroom would get more FEMA grant money versus if a person has damage to their garage or shed in their backyard.
James Debretagne said he was denied a FEMA trailer after his mobile home flooded with 12 feet of water off Highway 327 in Silsbee.
"When we came back there was nothing to come back to, it looked like a tornado went off inside of it," said Debretagne.
He applied for a FEMA grant hoping he would be able to live in a trailer temporarily.
"People across the street had FEMA trailers, some of them had two but we had to make do on our own," said Debretagne.
FEMA representatives said FEMA trailers are given to people as a last resort.
Less than one percent of people qualify because of the time it takes to transport the trailers and set up utilities.
Debretagne was frustrated because he applied for grants but did not see any money in his bank.
"I used all my savings up, every night I stayed awake trying to figure out what to do and I didn't know what to do," said Debretagne.
He found a temporary fix for him and his wife by renting a home from a friend with the money he had left.
Debretagne thinks FEMA representatives denied him because officials thought he had flood insurance when he only had homeowners and windstorm insurance.
"I kept going back through insurance companies and proving I didn't have flood insurance and it kept saying pending," said Debretagne.
FEMA spokesperson Kurt Pickering said representatives are careful when they check insurance because they don't want to duplicate insurance they already cover.
After months of speaking with representatives Debretagne was given around $32,000 in December.
It wasn't enough money to replace his trailer but it fixed the damaged well and sewer system on his property.
Luckily everything worked out for Debretagne because he was given a brand new trailer through the group Hardin County strong and Samaritans purse.
The woman behind all of this was Michelle Brewer.
"She knew how rough it was and it really was a blessing to me and my wife," said Debretagne.
Debretagne said he is thankful for his new home and for the little things he used to take for granted.
He is still not happy with how long it took for relief or being initially denied by FEMA but he feels blessed to be able return to his normal life.
For Smith the Road to recover was different.
"I think its nothing short of a miracle that we are this far," said Smith
Even though Smith and Debretagne had different separate journeys they are happy to be in their new homes one year after Harvey.