Invest 95 L remains disorganized but still has a moderate 40% chance of becoming a depression close to landfall Thursday.
Locally heavy rainfall is possible along the upper Texas coast Thursday, Friday and Saturday morning.
The heaviest rainfall to affect Southeast Texas appears at this time time to be on Thursday night and Friday.
Two to four inches are likely with heavier amounts possible.
Here's what you should take away from this, according to 12News StormTrackers:
It is very weak and very disorganized and that the kind that will bring pretty good rainfall. Right now, there is not much associated with Invest 95L.


Houston may get heavy rainfall, and Southeast Texas may get anywhere from half an inch to three inches.
Stay close to the forecast and seek updates from our team on any changes to our forecast for the midweek timeframe.

2022 Hurricane Season Outlook
The 2022 Hurricane season is expected to be more active than normal with a projected 19 named storms—9 of which are forecasted to be hurricanes, 4 of them major hurricanes (Cat 3+).
On average we see around 14 named storms each season -- 7 of which are hurricanes, 3 of them major hurricanes.

We are currently under a La Niña phase. As of now, it hasn't had much impact on the eastern and central tropical Atlantic sea surface temperatures, which remain near average. However, we are expecting to have a weak La Niña or a neutral phase remain in place, which would favor warming.
In addition to that, the Caribbean and subtropical Atlantic sea surface temperatures are running warmer than normal too. Wind shear is still expected to be lower than normal and for that season, development and livelihood of hurricanes this season is expected to be more favorable. Warm water is the fuel and weak wind protects the hurricanes from ripping apart too quickly.
Last year, we had 21 named storms, 7 of which were hurricanes and 4 that were major (Cat 3+). This season is expected to be fairly similar. Hurricane season starts June 1st and ends November 30th.
The World Meteorological Organization announced in 2021 the Greek alphabet will not be used in the future because it "creates a distraction from the communication of hazard and storm warnings and is potentially confusing."

There has been only one other season that used the extra set of names, and that was in 2005. The World Meteorological Organization released a new set of supplemental names that will be used if the season exhausts the standard list.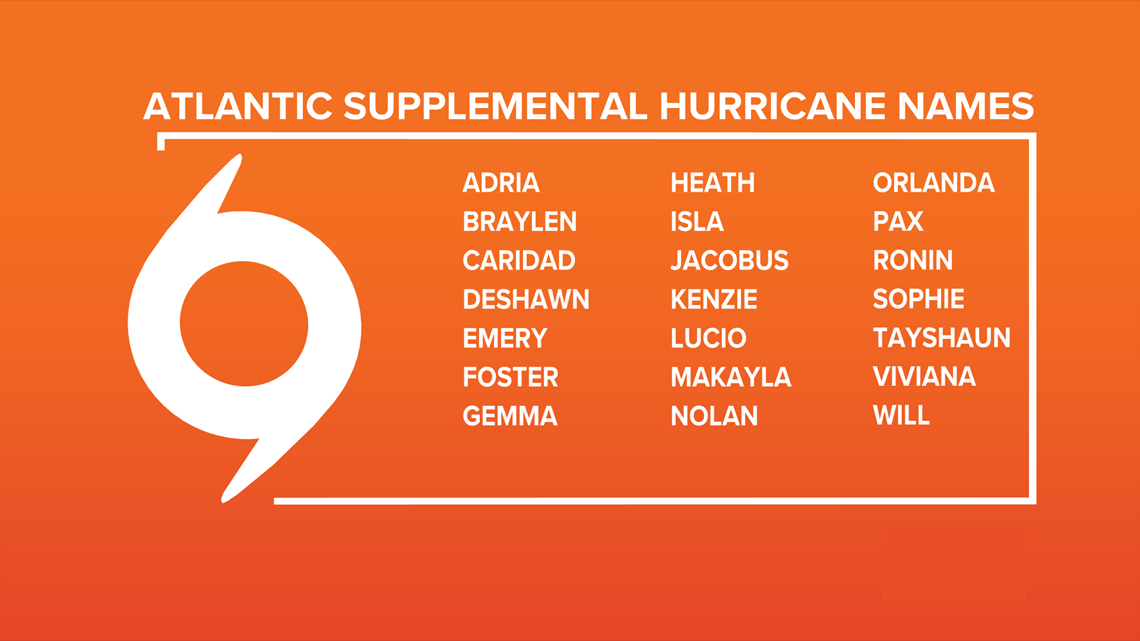 Be prepared if a storm comes our way
Make a home inventory
Have a current copy of your declarations page that has your policy number and your agent's number
Review your policy with your insurance agent to determine if you have adequate coverage
Repair loose boards, shingles, shutters and downspouts to prevent them from becoming an issue in high winds or torrential rain
Have an evacuation plan, and include plans for your pets
Make sure your emergency equipment is in working order, including a battery-powered radio, flashlights and extra batteries. Also, make sure to gather all medicine, replenish your first-aid kit and stock a week's worth of non-perishable food and water
Charge your cell phone and fill your car with gas
Program all emergency phone numbers
If you are advised to evacuate, leave as soon as possible. Retain all related receipts - they may be considered in your claim. If you aren't in a recommended evacuation and you plant to stay home, stay informed by listening to weather alerts
Keep windows and doors closed at all time, and, if possible, board them up with wooden or metal shutters
Stay away from the windows and in the center of the room, or, stay in an interior room
Avoid flood water, as it may be electrically charged from downed power lines
Check on family members and friends
Check to be sure your family members are safe
If you did evacuate, wait for official notice that it is safe to re-enter your neighborhood and your house
Document damaged property, and take photos and videos. Don't dispose of any damaged items without approval
Keep a record of any temporary repairs or expenses to prevent further damage to your property.
Also on 12NewsNow.com...