The remnants of Tropical Depression Imelda unleashed torrential rain Thursday in parts of Southeast Texas, prompting hundreds of water rescues and road closures as the powerful storm system drew comparisons to Hurricane Harvey two years ago.
Governor Greg Abbott declared a state of disaster in several counties, including Brazoria, Chambers, Galveston, Hardin, Harris, Jasper, Jefferson, Liberty, Matagorda, Montgomery, Newton, Orange and San Jacinto.
"I thank our first responders who are acting swiftly to help the communities that are facing this severe weather event. I urge all those in the path of this storm to take the necessary precautions and heed all warnings from local officials," Abbott said.
The Beaumont Police Department suspended evacuation operations from 7:30 p.m. Thursday until 7:30 a.m. Friday for anyone not in a life-threatening situation.
Earlier in the day, Jasper County judge had already issued a Declaration of Disaster due to the imminent public safety hazard.
"These countywide conditions created by continued torrential rainfall and major flooding over an excessive period of time has the potential to further affect Jasper County by causing flooding in residential and commercial areas," the declaration says.
Beaumont police took to Twitter to remind people to stay off the roads because of dangerous conditions.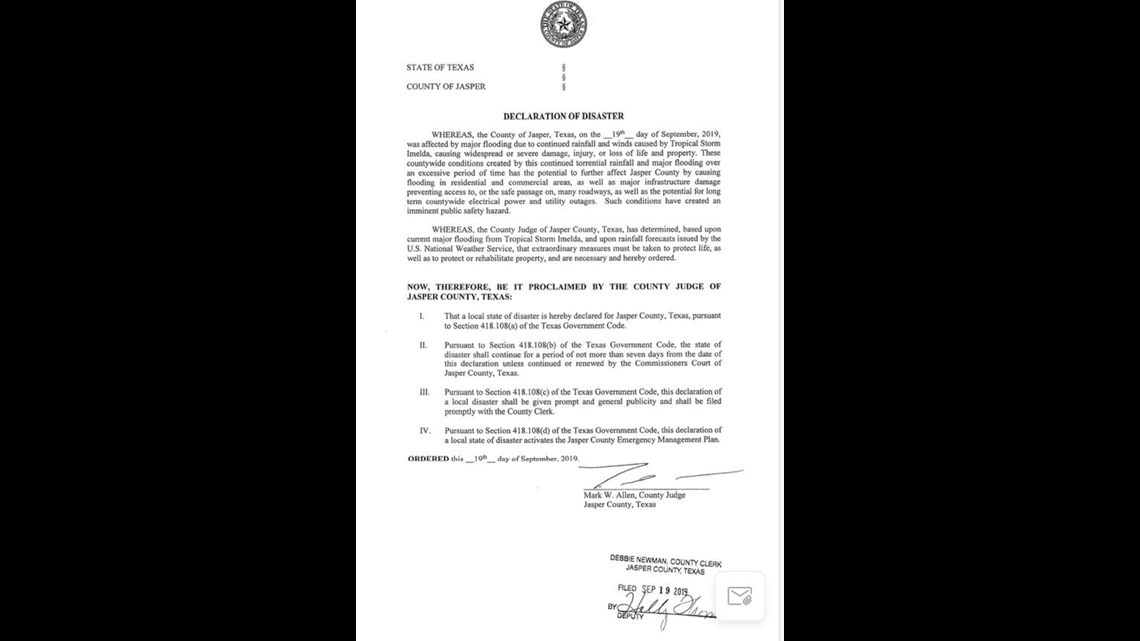 The Associated Press contributed to this story.