BEAUMONT, Texas — Area officials, store owners, university professors, and even alligator wranglers are doing what they can to protect the Southeast Texas community ahead of potential storms. They all encourage the community members to start preparing as soon as possible.
Highway 69 and Highway 96 are the main routes to get out of town. While the maps are made to help with evacuation plans, officials know there are still other issues that could make it hard for Southeast Texans to escape a storm.

High gas prices remain a huge concern regarding evacuation plans and getting out of town affordably.
Even if a person has enough money for fuel, they still have to think about food and lodging. Officials are encouraging community members to begin saving money now.
"[We] ask people to begin to be frugal with their finances because these things can occur, Port Arthur Mayor Thurman Bartie said. "And if they do, it might adversely affect them financially. So, that's something I want them to be aware of."
Help is available and it starts with strategic planning. Southeast Texans can start contacting Texas 211 right now if they think they will need evacuation assistance. The evacuation line serves Orange, Jefferson, and Hardin counties.
Southeast Texas is sadly no stranger to serious flooding during severe storms.
New flood monitors will get a workout during the 2022 hurricane season. The sensors are expected to offer crucial real-time storm data that could possibly save lives.
"We don't control the weather, but people knowing what to do wicker and earlier will help tremendously," Liv Hasselbach, Lamar University engineering professor, said.
Hasselbach and fellow Lamar University professor Nicholas Brake teamed up with several agencies to start a flood coordination study. The study eventually led to new flooding equipment from the Department of Homeland Security.
"The sensors began arriving in August of 2021," Hasselbach said.
There are 160 flood sensors installed throughout the state of Texas and 74 of them are in Southeast Texas.
"This gives a real-time idea of how high the water is in canals ditches and streams," Brake said.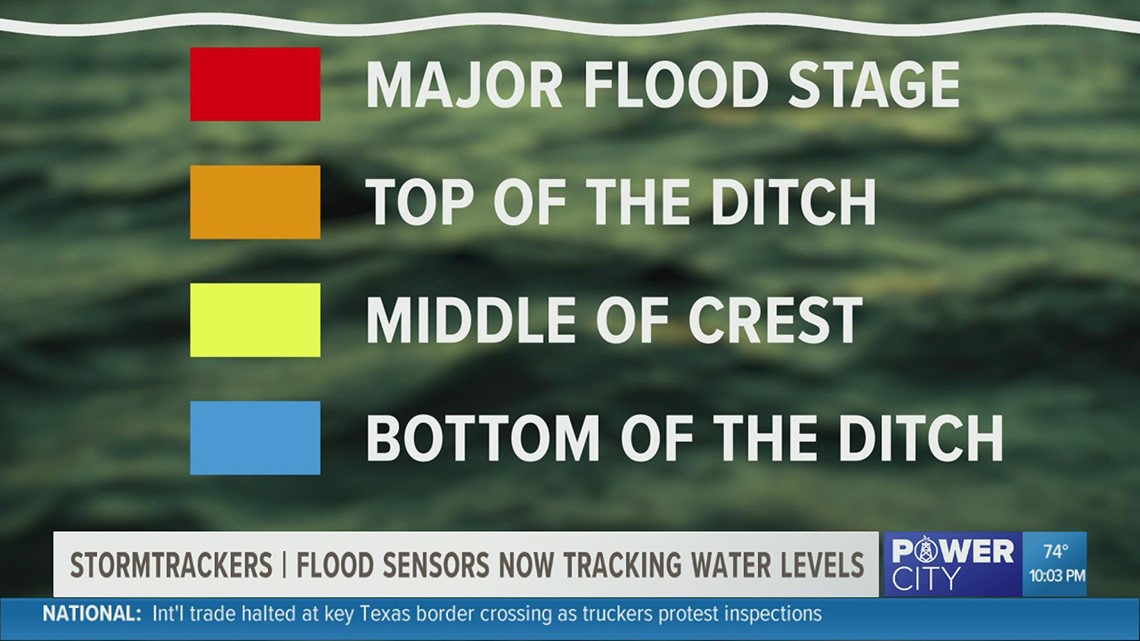 Each water level is color-coded on the map. Blue means the water is low. Yellow means the water has risen to the middle crest. Orange means the water is at the top of the ditch, and red means the water is near critical infrastructure.
Officials are also making sure that people are protected and empowered renters. A new law is offering new protection
It is now mandatory for landlords to inform potential renters if the property has flooded within the past five years. If a landlord does not disclose flood-related issues tenants can break their lease if the property floods.
The law went into effect at the start of 2022 and only applies to leases signed after January 1, 2022.
Some Southeast Texans probably feel like professionals when dealing with floods. The first thing most people think about is supplies.
"The big about a hurricane is preparation," Frank Gutierrez, store manager at M&D Supply, said. "The sooner you're prepared, the better off your going to be and portability is the best part of it. More things you can get with battery power or portable fuel or portable battery-operated items. That's the best you can do. Because you really don't know how badly a storm is going to hit us."
However, Gutierrez feels there are items that people will probably need but don't think about, including battery-powered fans.
"It's hot man," Gutierrez said. "You're going to want some air blowing on you."
Gutierrez is encouraging Southeast Texans to prepare for before, during, and after the storm.
"Think of the aftermath," Frank said. "What happens after the storm, you have to clean up. Things get dirty. Things get bacteria all over them. Bleach, cleaning supplies, all those things, get ready for it. "
M&D Supply plans to be completely stocked with items that community members will need. Store owners are encouraging Southeast Texans buy what they need as soon as possible.

When it floods in Southeast Texas, certain critters can have more room to wander. Area alligator wranglers are protecting their gators and the Southeast Texas community.
Gator Country installed an 8-foot fence that can withstand 1,100 pounds of pressure and prevent their gators from roaming during flooding.
The fence is meant to keep all alligators in the park, including Big Tex. Big Tex is a 14-foot alligator who swam away from gator country after Tropical Storm Imelda dumped 43 inches of rain in three days.

Also on 12NewsNow.com ...