BEAUMONT, Texas — The 12News Weather Team continues to track Tropical Storm Barry as it moves north in Louisiana.
Barry made landfall around 1 p.m. Saturday along the Central Louisiana coastline, after inching on shore since about 8 a.m., according to the National Hurricane Center.
Barry did initially reach hurricane status as a category 1 storm Saturday morning, but was downgraded to a tropical storm hours later. The storm is weakening significantly as it moves north through Louisiana.
As of Sunday afternoon, Tropical Storm Barry's winds had dropped to 35 mph, and the system was continuing to move north at 9 mph. It had weakened significantly and is currently over northwest Louisiana.
The storm was located about 20 miles north/northeast of Shreveport, Louisiana.
Minimal effects are still expected for Southeast Texas with breezy winds of up to 30 mph and rainfall amounts of 1 to 4 inches through the weekend.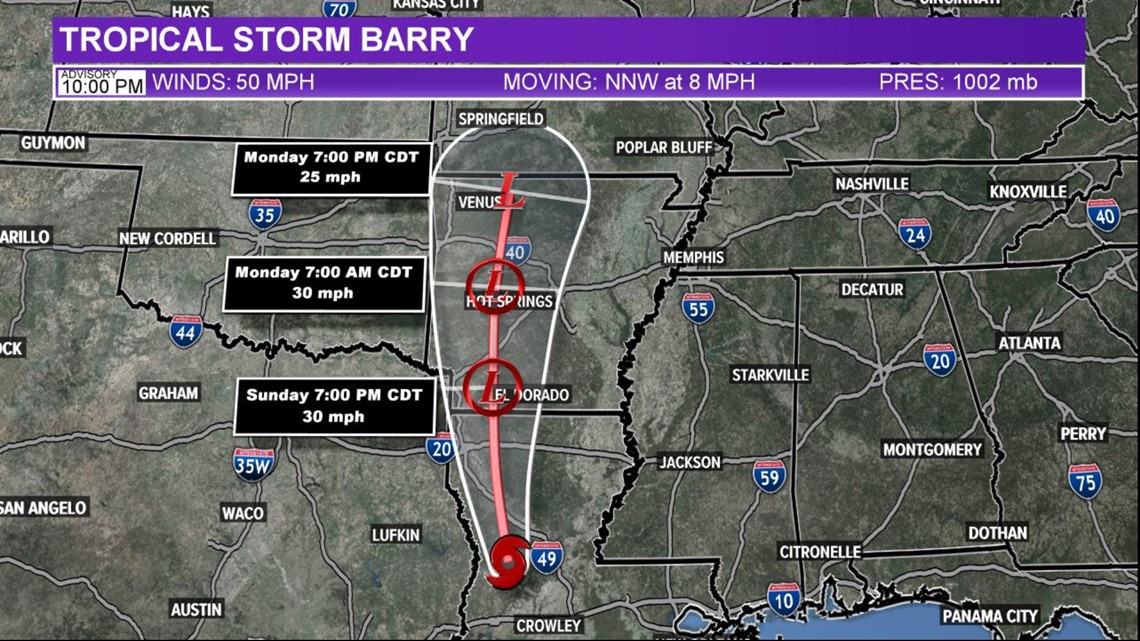 What do you need to do during a threat from the tropics?
Make sure you check on the weather at least twice a day; once in the morning and once in the evening.
Check your hurricane supply kits. Make sure you're ready in the event we get a storm.
Go over your storm plan with your family. Where would you go? What route would you take if asked to evacuate?
Stay informed. Check in with us twice a day. Once in the morning and once before you go to bed so you don't get caught off guard.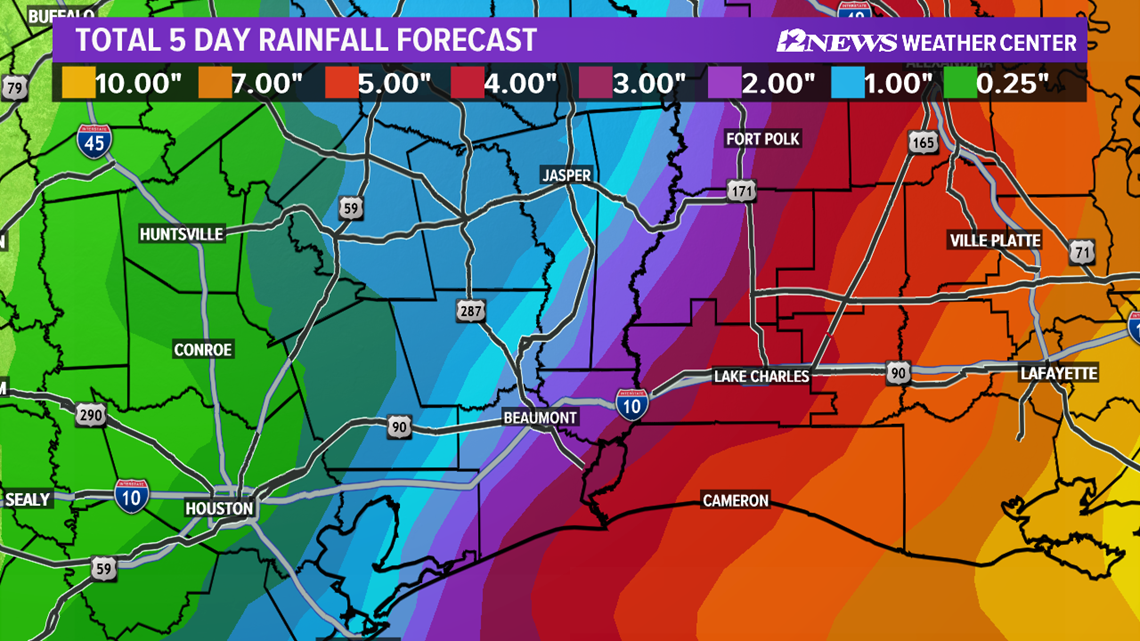 What are high pressure cells?
Steering currents will be the drivers for the forecast come Friday and Saturday here locally.
Think of high pressure cells as bumpers. Hurricanes, as ferocious as they are, are lazy and don't put up a fight with high pressure. They just go as they are told so-to-speak. As long as a high is over you, you're good. The area of high pressure that was centered over us is backing westward and that will allow a small opening for a big moisture source.
Is it going to develop into a hurricane?
Barry did become a hurricane for a short period Saturday, but has since been downgraded to a tropical storm.
Saturday, Southeast Texas will experience breezy winds with rainfall through the weekend.
The latest forecast from NOAA's Weather Prediction Center shows the possibility of 1-4 inches of rain. This will NOT be another Harvey. The storm is not expected to stall over our area.
What about the lakes area?
Breezy northerly winds of up to 30 mph are forecast Saturday with intervals of showers/storms associated with feeder bands are expected.
Storm surge possibilities?