PORT NECHES, Texas — After more than 50 air quality samples were taken following Wednesdays explosion at the TPC Plant, only trace amounts of volatile organic compounds (VOC) were detected at two different locations in Port Arthur.
TCEQ says there were no returns for the chemicals Butadiene or Benzene.
20 air monitoring stations were deployed at various locations in Port Neches and Port Arthur.
MultiRAEs, QRAEs, AreaRAEs, and UltraRAEs with various sensors were used for all survey activities, TCEQ said.
Tests were done for volatile organic compounds, hydrogen sulfide, carbon monoxide, sulfur dioxide, benzene and butadiene.
TCEQ says 0.05 ppm of VOC was detected at 2:33 p.m. Wednesday at 2875 Jimmy Johnson Blvd.
0.25 ppm of VOC was detected at 3:03 p.m. at H O Mills Blvd. north of Shreveport Blvd.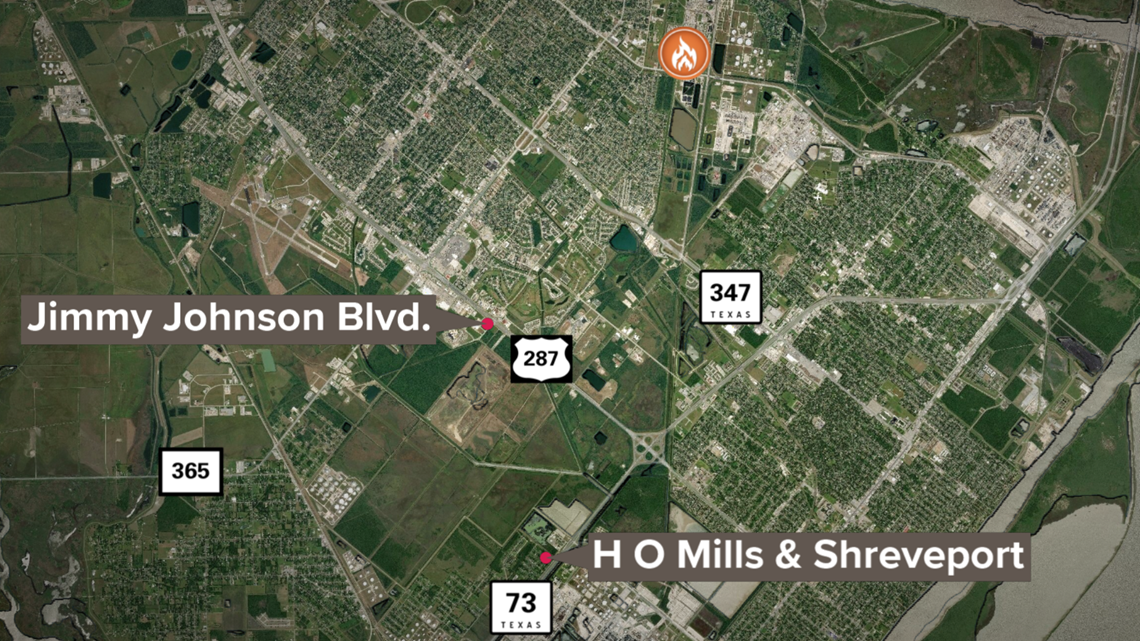 These levels are within federal and state guidelines, Jefferson County Judge Jeff Branick said during a news conference Wednesday night.
"Short-term exposure to high concentrations of VOCs can cause eye, nose, and throat irritation, shortness of breath, headaches, and nausea," TCEQ said. "If you experience these health effects, leave the area until the situation has resolved."
Car exhaust, gas-powered lawn and garden equipment, gasoline dispensing stations, industrial coating operations, printing shops, paints and household chemicals are some of the everyday sources of VOC, according to the EPA.
Light to minor odors and burning smells were also noted at the following locations:
12:50pm | 6001 60th St., Port Arthur, TX | Very light odor
1:19pm | 4430 Jimmy Johnson Blvd., Port Arthur, TX | Very light odor
1:52pm | 7610 North Twin City Hwy., Port Arthur, TX | Light burning odor
1:59pm | Ridgewood Elementary | Minor odor, burning smell
2:14pm | 604 Thomas Haven Dr., Port Neches, TX | Minor odor, burning smell
2:23pm | 706 Magnolia Ave., Port Neches, TX | Minor odor, burning smell
2:36pm | 10607 US 69, Port Arthur, TX | Very light odor
4:37pm | Hwy 93/Dorsey St., Port Arthur, TX | Light odor (smoke)
No odor was detected at either location where levels of VOC were detected. TCEQ says VOCs from the TPC Plant are odorous.
Judge Branick says a third-party monitoring agency is working around the clock performing air quality checks.
"We're staying focused on the safety of our emergency response personnel folks in and around in the community as well as trying to protect the environment," Troy Monk, TPC's director of health, safety and security, said Wednesday.
TCEQ reported a problem with a MultiRAE reader at the HEB on Hwy. 347 in Port Arthur. That machine is used to read butadiene.
Air quality tests returned for Port Neches TPC plant fire
Winds have shifted Thursday morning causing concerns about smoke from the TPC plant explosion and fire.
The fire continues to burn more than 24 hours after the initial explosion.
Winds are currently out of the east, causing the cloud of smoke to move closer to the ground.