Feb. 3, 2002. David versus Goliath. Twenty-four-year-old Tom Brady up against The Greatest Show on Turf, under the bright lights of the big game for the very first time. He'd been named a starter only months prior.
Super Bowl XXXVI (36) ended heroically. Brady led the Patriots to victory, 20-17 over the Rams, defying all expectations. A dynasty was born.
Meanwhile, that same day, James White celebrated his 10th birthday.
That's right — New England's two-time Super Bowl champion running back, now a team captain, was a fourth- or fifth-grader in 2002. He turned a decade old when his future teammate, with 1:30 left and no timeouts, drove the Patriots down to the Rams' 30, setting up Adam Vinatieri's 48-yard game-winner.
Brady at Super Bowl XXXVI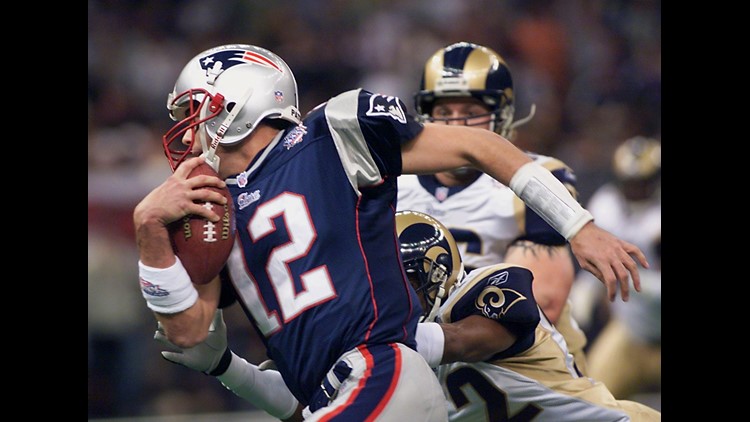 Since then, Brady has seemingly been ageless. Fast forward nearly two decades and he continues to excel. At 38, he became the oldest non-kicker in the league. At 39, he won his fourth Super Bowl. At 40, he won his third MVP award. This year, at 41, he became the oldest quarterback to start a playoff game.
Age is just a number, as the saying goes.
So how does Brady's age compare to his current teammates? To gain that perspective, all you have to look at is everyone's ages back when Brady won the Super Bowl in 2002. After all, Brady himself was just 24 and a half. His Super Bowl victory earned him the title of youngest quarterback to ever win.
A few notable details from Feb. 3, 2002:
36 of Brady's current teammates were 11 or younger
Crossen was 5, the youngest of Brady's current teammates
Gostkowski was 18, the oldest of Brady's current teammates
The McCourty twins were 14
Brady's youngest WR, Dorsett, was 9; his oldest, Edelman, was 15
Brady's youngest RB, Michel, was 6; his oldest, Burkhead, was 11
James White celebrated his 10th birthday
Brady's teammates, youngest to oldest, by age in years (days):
CB Keion Crossen, 5 (2,118)
CB J.C. Jackson, 6 (2,270)
CB Duke Dawson Jr., 6 (2,315)
RB Sony Michel, 6 (2,543)
DE Deatrich Wise Jr., 7 (2,749)
DE Derek Rivers, 7 (2,827)
OLB Elandon Roberts, 7 (2,844)
DT Adam Butler, 7 (2,854)
DB Obi Melifonwu, 7 (2,861)
DE Keionta Davis, 7 (2,896)
DT Malcom Brown, 8 (2,923)
CB Jonathan Jones, 8 (3,058)
G Shaq Mason, 8 (3,081)
DT Danny Shelton, 8 (3,089)
DE Trey Flowers, 8 (3,093)
DB Brandon King, 8 (3,162)
OT Trent Brown, 8 (3,218)
OL Ted Karras, 8 (3,247)
TE Stephen Anderson, 9 (3,291)
WR Phillip Dorsett, 9 (3,316)
G Joe Thuney, 9 (3,364)
DL Ufomba Kamalu, 9 (3,380)
C David Andrews, 9 (3,495)
LS Joe Cardona, 9 (3,580)
RB James White, 10 (3,653) 🎂
OT LaAdrian Waddle, 10 (3,850)
MLB Kyle Van Noy, 10 (3,967)
WR Cordarrelle Patterson, 10 (3,976)
FS Duron Harmon, 11 (4,028)
DE John Simon, 11 (4,130)
CB Stephon Gilmore, 11 (4,155)
RB Rex Burkhead, 11 (4,234)
DE Lawrence Guy, 11 (4,341)
ILB Dont'a Hightower, 11 (4,346)
P Ryan Allen, 11 (4,358)
TE Dwayne Allen, 11 (4,362)
C James Ferentz, 12 (4,626)
TE Rob Gronkowski, 12 (4,648)
ST Nate Ebner, 13 (4,799)
WR Chris Hogan, 13 (4,850)
FB James Develin, 13 (4,943)
DE Adrian Clayborn, 13 (4,960)
OT Marcus Cannon, 13 (5,021)
SS Patrick Chung, 14 (5,282)
CB Jason McCourty 14 (5,288)
FS Devin McCourty, 14 (5,288)
LB Ramon Humber, 14 (5,291)
LB Albert McClellan, 15 (5,723)
WR Julian Edelman, 15 (5,736)
QB Brian Hoyer 16, (5,957)
ST Matthew Slater, 16 (5,991)
K Stephen Gostkowski, 18 (6,581)
QB Tom Brady, 24 (8,950)