DALLAS — Well, that escalated quickly!
In Week 1, the Cowboys defense wasted zero time putting the entire league on notice, fueling the notion they can be the best defensive unit in the NFL.
I promise you this: Micah Parsons and his crew provided nightmare fuel for QB's leaguewide with their thorough demolition of Daniel Jones and the Giants offense.
I've been covering the Cowboys for more than 20 years. I'm not prone to hyperbole, but let me be clear: That was the most dominant Cowboys defensive effort I've seen in my time in North Texas.
The lack of time and space they gave Jones to operate was just different -- so much so that I called a few Cowboys greats to check in on what I thought I saw.
Hall of Fame receiver Drew Pearson? He loved it. He told me not to crown them yet, but agreed that this group has the potential to be the next iteration of the great Doomsday defenses.
Fan favorite and former Cowboys safety George Teague? He took things a step farther, saying that this defense actually has the potential to be the best in team history. He outright marveled the speed of the team's pressure packages, and said the depth reminded him of the Cowboys' great defenses of the '90s.
Recently inducted Hall of Famer DeMarcus Ware? He said to pump the breaks a little -- because he needs to see consistency throughout the entire season before he gets too far ahead of himself. But while he also said he didn't want to talk in historical terms, he did say that defensive coordinator Dan Quinn's crew has the potential to be Super Bowl-caliber.
OK, so, now that this defense has set a ridiculously high standard for itself, where do they go from here?
Well, for starters, they come home to AT&T Stadium. And in that home opener on Sunday, the Cowboys will avoid a marquee matchup with noted Cowboys killer Aaron Rodgers, instead facing Zach Wilson.
Let me be blunt: The former number two overall pick in the draft is not good. So, interestingly enough, this coming game should be able to serve as a great test for exactly what the Cowboys defense needs to work on.
Here's what we know: The Jets are going to have to rely on the run. Any other game plan would be foolhardy. And the Cowboys have struggled against the run in recent memory, particularly late last season. So, while we may not see as dominant a performance as Week 1 -- how could we? -- the work this team will see against Jets running backs Breece Hall and Dalvin Cook might be better for the Cowboys in the long run.
A Quick Look at the Weekend Ahead
Who: New York Jets at Dallas Cowboys
When: 3:25 p.m. on Sunday, September 17, 2023
Where: AT&T Stadium (Arlington, Texas)
Weather: Mainly sunny. Highs in the low 90s, and lows in the high 60s.
Watch: CBS (Jim Nantz, Tony Romo and Tracy Wolfson)
Listen: KRLD-FM 105.3 The Fan (Brad Sham, Babe Laufenberg, Kristi Scales)
Last Meeting: Dallas 22 - New York 24 (October 19, 2019, in New York)
Series Record: Dallas leads the series 7-5-0
X's and Joe's
I'm genuinely looking forward to seeing what QB Dak Prescott and company can put together against the Jets.
While the season opener was billed as the unveiling of the team's new "Texas Coast" offense, it ended up being nothing of the sort. The lopsided score, and the fact the Cowboys were up 19-0 without the offense scoring a touchdown, completely changed everything. On a wet and slick night, Mike McCarthy was -- understandably -- super conservative with his play-calling. And Prescott? He was more than careful with the ball, which was actually good to see.
So now comes the real debut.
But... well, let's talk about this Jets D. With stalwart Quinnen Williams up front, and defensive rookie of the year Sauce Gardner patrolling the secondary, the Jets were the most stingy defense per play in the entire league last season, giving up an NFL low 4.8 yards per play. Honestly, look at any defensive metric you want from last year, and the Jets will rank near the top of the league. They're fast, and they run to the ball.
That will test Prescott and Cowboys offense. Especially since Dak may not have his full compliment of receivers in this one.
Offseason acquisition Brandin Cooks missed Wednesday's walk-through and Thursday's practice with a knee issue. While McCarthy says Cooks has a chance to play Sunday, if I'm the Cowboys, why risk it?
Left Guard Tyler Smith hasn't practiced for the better part of two weeks, either, so he may miss as well.
Regardless, Sunday figures to be a real test of McCarthy's play-calling prowess. Picking the right times to be aggressive, while trying to keep New York's athletic defense off-balance -- that's the task at hand. And, by game's end, we should have a better handle on what the "Texas Coast" can do.
One thing to watch: Quinnen Williams played 75% (52 of 59) of the defensive snaps in the Jets opener. Look for the Cowboys offense to try to stretch the field both horizontally and vertically, with speed guys KaVontae Turpin and Duece Vaughn getting quick passes near the line of scrimmage and the Cowboys trying to carve out space for them to operate. Will that work to fatigue Williams and possibly create running lanes late in the game? Hmmm. If nothing else, consider that a little quip for you to use at your watch party -- y'know, just to let your friends know you're on top of it. Thank me later.
Random Stat of the Week
OK, this is really random. But a poll popped up in my inbox this week from casino.org, which polled 3,000 sports fans in an effort to determine the most superstitious fan base in the country. Can you guess the winner? Yep, it's you, the Dallas Cowboys fans! You did it! Or, well, you tied. Along with Lakers fans, you're the most superstitious in America. But we'll give you the tiebreaker, since football fans were deemed the most superstitious out of all the different sports. Anyway, here's the top 5:
Dallas Cowboys and Los Angeles Lakers (tie)
Green Bay Packers
Pittsburgh Steelers
New York Yankees
Chicago Bears
Cowboys Fan Bandwagon Meter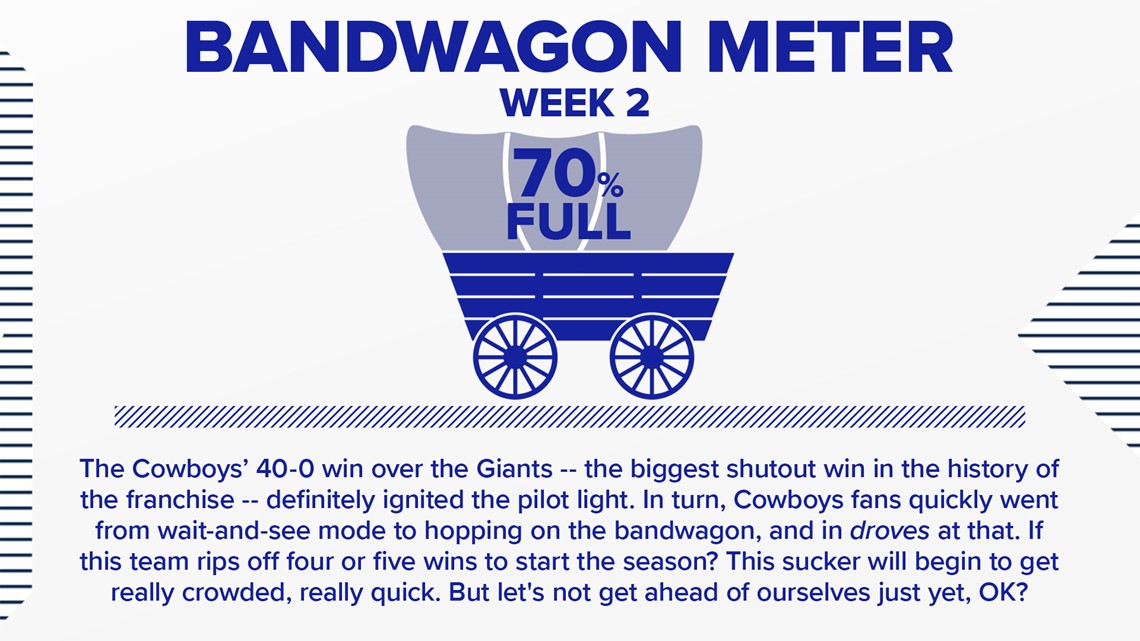 Prediction time: Joestradamus speaks!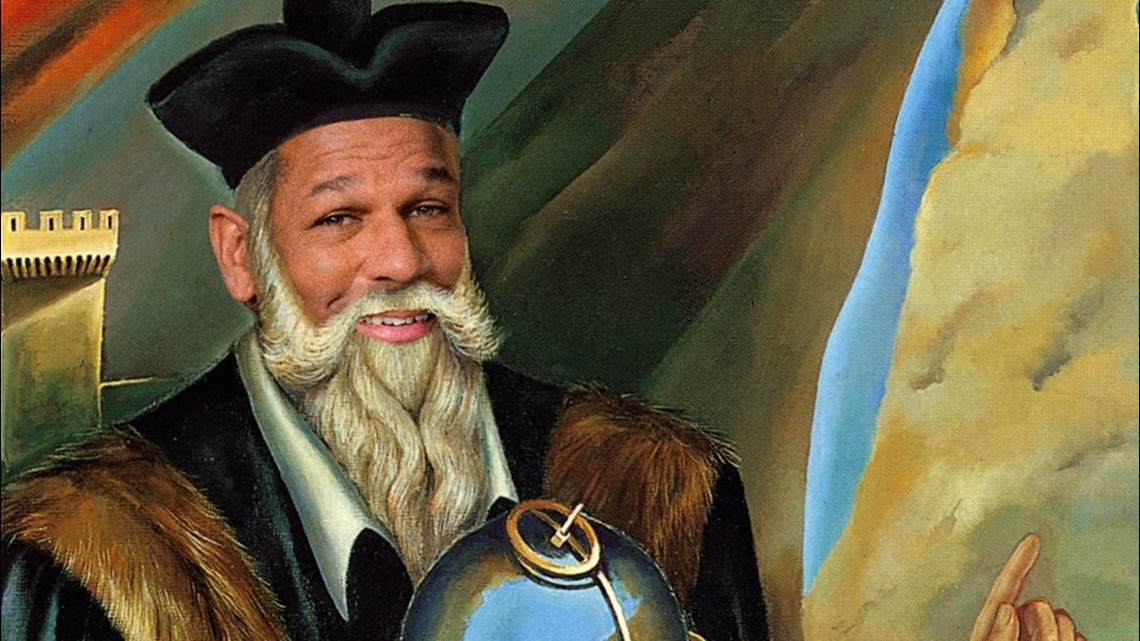 You can't sell me on the Jets coming into AT&T stadium without Aaron Rodgers and beating the Cowboys. So let me take that off the table.
The real question? Can Dallas beat the spread.
At last check, the line had the Cowboys as a 9.5-point favorite.
There is a level of determination, focus and maturity that I like about this squad. I think that will allow the team to take care of business on all fronts.
Cowboys cruise past the Jets, 27-16.
More Dallas Cowboys headlines: