ARLINGTON, Texas — You might call it the season opener.
But I'm opting for something just a little more dramatic. Let's go with... drumroll please... The Great Unveiling.
All right, perhaps that's a bit much.
But I'm genuinely excited to see what the Dallas Cowboys' new, so-called "Texas Coast" offense has in store. We know it'll see head coach Mike McCarthy returning to a familiar play-calling role that he held for most of his time in Green Bay. But there's so much we don't know.
It's like a high performance car that's been in the garage with a dust cover on it all summer. Well, now it's time to put it on the open road and see how it performs!
Sitting up front in that ride, quarterback Dak Prescott will be driving a what he hopes is a souped-up version of the Cowboys' recent offenses. And, make no mistake, how Prescott and McCarthy perform figures to be the biggest barometer of this team's success this year.
Prescott has a lot on his shoulders. He needs to show that last year's league-leading 15 interceptions in just 12 regular season games was more aberration than new normal.
He'll have help. Brandin Cooks adds premium fuel to the Cowboys' offensive machine. Entering his 10th season, Cooks looking to become the first NFL player -- ever! -- to post 1,000 yard receiving seasons with five different teams.
Me? I'm convinced Prescott will play better with an upgraded arsenal around him. This year's offense should look more like it did when Amari Cooper was on the opposite side of CeeDee Lamb -- y'know, as opposed to Noah Brown last season.
If he can walk that walk, and not just talk about it, I promise that will pay dividends.
A Quick Look at the Weekend Ahead
Who: Dallas Cowboys at New York Giants
When: 7:20 p.m. on Sunday, September 10, 2023
Where: MetLife Stadium (East Rutherford, New Jersey)
Weather: Thunderstorm chances with low temperatures of around 70 degrees.
Watch: NBC (Mike Tirico, Cris Collinsworth)
Listen: KRLD-FM 105.3 The Fan (Brad Sham, Babe Laufenberg, Kristi Scales)
Last Meeting: Dallas 28 - New York 20 (November 24, 2022, in Dallas)
Series Record: Dallas Cowboys lead series 73-47-2
X's and Joe's
The Cowboys have built a roster that, barring multiple injuries, should allow them to contend this year.
In Stephon Gilmore, the Cowboys have themselves another veteran acquisition -- this one on the defensive side of the ball -- that figures to make a major impact, as well. I mean, think about it: Gilmore and Trevon Diggs are arguably the best cornerback tandem in the league! And their efforts should translate into extra split seconds for Cowboys rushers to get to opposing quarterbacks.
That's right up Micah Parsons' alley. The all-everything defender looking for another big season in 2023-2024. If he collects 13 sacks this season, he'll join Reggie White as the only NFL players to notch at least 13 sacks in each of their first three years in the league -- at least since the sack became an official stat in 1982, anyway.
While Parsons will face plenty double-teams against the Giants on Sunday, he still figures to be able to harass QB Daniel Jones throughout the game. While Giants head coach Brian Daboll got the most last season out of Jones, who showed he could beat teams with his arm and legs, Cowboys defensive coordinator Dan Quinn had the entire offseason to pick apart Jones and that Giants offense. Look for special schemes freeing up Parsons to wreak havoc in this Week 1 matchup.
Beyond that, though, the Cowboys defensive line will have to just play better against the run than last season if they want to succeed. And that brings us to another key player: Cowboys top draft pick Mazi Smith out of Michigan. He didn't have a great preseason -- at times, he looked completely overmatched and not in tune with Quinn's scheme. If Smith doesn't show improvement, Giants Pro Bowl running back Saquon Barkley will have a field day exploiting creases in the Cowboys front seven.
Random Stat of the Week
Now, here's the crazy part: Despite that success, McCarthy has yet to win a season opener during his tenure with the Cowboys, going 0-3. in Week 1 matchups.
Is he due for a little positive regression this year?
Bandwagon Meter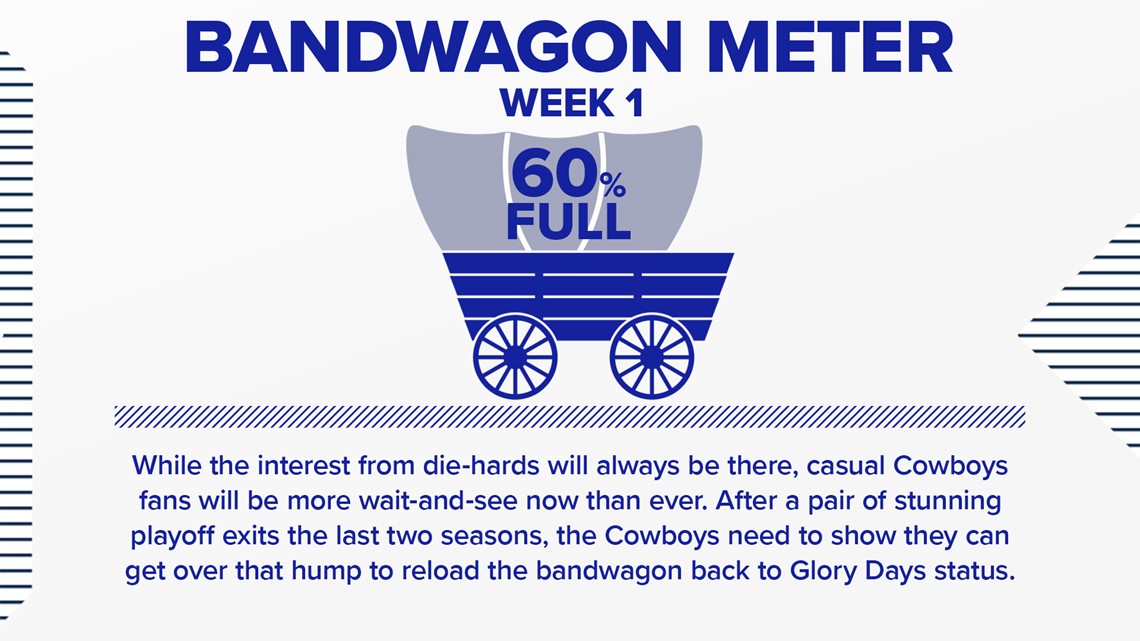 Joe-stradamus Speaks!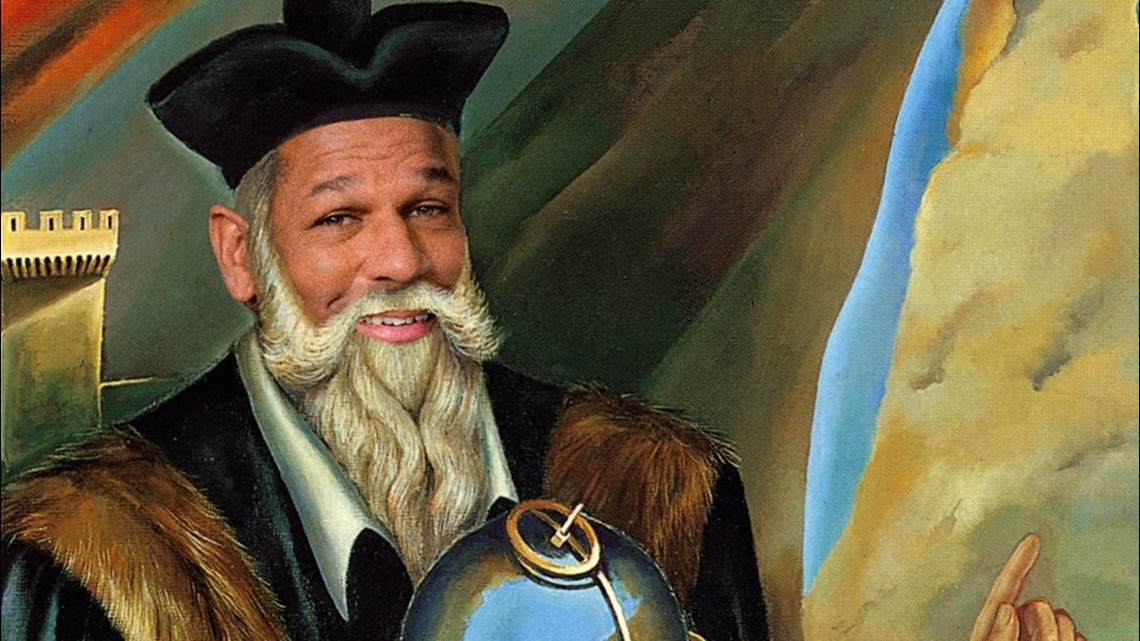 Giants head coach Brian Daboll infused something that was missing in QB Daniel Jones and the Giants offense last season, but I think Quinn can expose deficiencies in Jones' game, and allow the Cowboys defense to rule the day.
The Cowboys are a field goal favorite to win. And I think that's just about how it'll play.
Cowboys win a close one this week.
More Cowboys coverage from WFAA: