HARRIMAN, Tenn — They're hard to miss—brightly colored, with a little mohawk, little black mask and thick red beak. The male Northern Cardinal is one of the most vibrant and photogenic birds in the United States.
When you ask people to identify a cardinal, the first thing they'd tell you is the color: red. That's why one woman had to do a double-take when she saw a bird the shape and size of a cardinal...that happened to be yellow.
"He's like one of those highlighters, bright yellow," Catherine Reddick said.
She first spotted the rare bird in early December at her backyard bird feeder in Harriman, Tennessee. She snapped a quick, grainy cell phone photo to capture the sighting.
"I took the picture to work the next day and was showing everyone, you won't believe what I just saw, and no one really got how excited I was," said Reddick.
She said the cardinal came back and she was able to capture a better picture on her DSLR camera. She shared it online in a Facebook birding group and it quickly took off.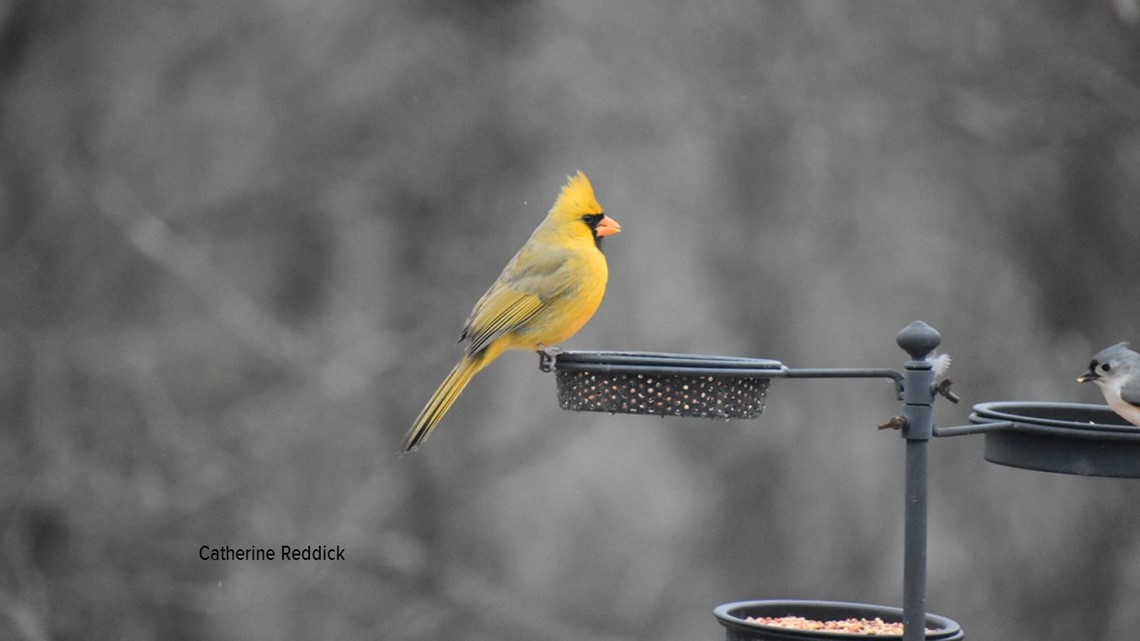 At last check, Reddick's picture has more than 15,000 likes and nearly 2,000 shares.
"A lot of people have reached out through messages asking like, 'Where is he? Can we visit?' And I'm like, this is a neighborhood and he doesn't follow a pattern so you might not even see him. It's just so crazy that people want to hunt him down just to see him."
The reason why her yellow cardinal, nicknamed Woodstock by online fans, is so popular is because of the rarity of the coloring itself. Experts estimate there are about a dozen of these birds in North America. The coloration probably comes from a genetic mutation that doesn't turn the pigments from the birds' diet into red, but instead yellow, resulting in the vibrant yellow coloring.
Reddick said since her photos, she's seen Woodstock a few more times and hopes that he's around to stay for all of his fans.
"This little bird is so famous! He's got quite the following," she said.