WASHINGTON — A federal judge on Thursday ordered Stewart Rhodes, the founder of the far-right Oath Keepers militia, to spend 18 years in prison for plotting to forcibly oppose the lawful transfer of power after the 2020 election.
Rhodes and one of his top lieutenants, Florida Oath Keepers leader Kelly Meggs, were convicted by a jury in November of seditious conspiracy and multiple other felony charges for their actions on Jan. 6 and afterward. The verdict was the first time in nearly two decades an American citizen has been found guilty of sedition. At least 21 members of the Oath Keepers militia have now been convicted of or pleaded guilty to charges in connection with the Capitol riot.
On Thursday, U.S. District Judge Amit P. Mehta, who has presided over all of the Jan. 6 Oath Keepers cases, granted a request from the government to impose a terrorism enhancement against Rhodes. He also rejected Rhodes' claims that he didn't order, or at the very least encourage, his militia members to enter the Capitol — pointing out he'd explicitly called them to the east side of the building
"Why would he have done that if he didn't know and understand that they would join the melee?" Mehta said. "That they would join the other hundreds and thousands breaking into the Capitol. It defies explanation."
Mehta calculated Rhodes' recommended sentencing guidelines at approximately 21-27 years in prison. Prosecutors had asked for 25 years in prison, writing in a sentencing memo that he remained a "threat to American democracy and lives." Because the maximum sentence for seditious conspiracy is 20 years in prison, Mehta would have had to impose consecutive sentences for multiple counts to reach that amount.
Before delivering his sentence, Mehta, quoting a 1971 Supreme Court case, said criminal conspiracies presented greater risk to the public because participants can achieve goals that would be outside the reach of an individual defendant. In the case of Rhodes, he said he firmly believed his goal was to see "democracy in this country to devolve into violence" and that he would be prepared to take up arms against the government as soon as he was released from prison.
"I dare say Mr. Rhodes, and I have never said this to anyone I have sentenced: You, sir, present an ongoing threat and a peril to this country, the republic and the very fabric of democracy," Mehta said.
Mehta ultimately sentenced Rhodes to 18 years in prison — more than four years longer than the lengthiest sentence handed down in a Jan. 6 case to date. The sentence means Rhodes, now 57, could be in his mid-70s before he is released.
Rhodes, a former U.S. Army paratrooper and graduate of Yale Law, founded the Oath Keepers in 2009 to encourage members not to obey orders he believed would violate the U.S. Constitution. The militia's membership drew heavily from military veterans, police officers and other first responders. While the organization touted its response to natural disasters, Oath Keepers members have also been involved in multiple armed confrontations with the government, including the 2014 standoff at the Bundy Ranch in Clark County, Nevada.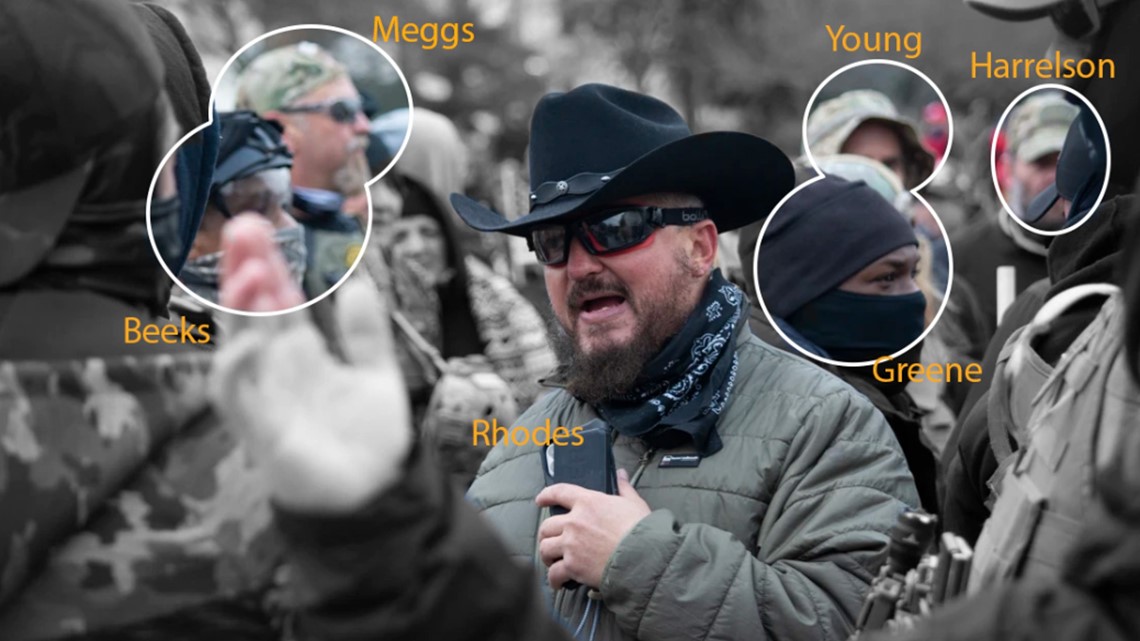 Following former President Donald Trump's loss in the November 2020 election, Rhodes urged his followers to begin preparing for a coming fight – which he often likened to the American Revolution. On Jan. 6, 2021, dozens of Oath Keepers answered his call to come to D.C. Many brought weapons which were stashed in a Ballston, Virginia, hotel as part of a "quick reaction force" intended to ferry them to Oath Keepers members inside the city if needed. Ultimately, two groups of Oath Keepers entered the Capitol after the initial breach, although Rhodes himself stayed outside on the grounds.
After the riot, Rhodes passed a cache of weapons to the leader of the Alabama Oath Keepers, Joshua James, and ordered him to distribute them in the event of a civil war. He also directed his followers to delete incriminating messages while still working himself to pass a message to Trump to urge him to invoke the Insurrection Act to overturn the election. According to a government witness, Jason Alpers, Rhodes told him a civil war was coming and that he regretted not bringing weapons to the Capitol on Jan. 6.
"If he's not going to do the right thing, and he's just gonna let himself be removed illegally, then we should have brought rifles," Rhodes said. "We could have fixed it right then and there. I'd hand f***in' Pelosi from the lamppost."
Rhodes was represented by attorneys Phillip Linder and Lee Bright. In their sentencing memo, they described the Oath Keepers as a charitable organization and argued he should receive significant credit for dedicating his life to its work. Rhodes, who took the stand at trial, has always denied a plot to oppose the government and said the Oath Keepers members who entered the Capitol on Jan. 6 went "off mission."
At his sentencing hearing Thursday, Rhodes made a lengthy speech in which he compared himself to Soviet dissident Aleksandr Solzhenitsyn and repeatedly referred to himself and other Jan. 6 defendants as "political prisoners."
Mehta also sentenced Rhodes' co-defendant, Kelly Meggs, to 12 years in prison Thursday. Meggs, the Oath Keepers' Florida state chapter leader, was convicted of multiple counts of conspiracy for leading a line of other militia members into the Capitol on Jan. 6.
Seven other Oath Keepers defendants convicted in the first two trials were scheduled to be sentenced in the coming weeks. Prosecutors have sought sentences in those cases ranging from 10 to 21 years in prison.
We're tracking all of the arrests, charges and investigations into the January 6 assault on the Capitol. Sign up for our Capitol Breach Newsletter here so that you never miss an update.