KYIV, Ukraine — The final death toll from a weekend Russian missile strike on an apartment building in southeastern Ukraine reached 44, officials said Tuesday, as the body of another child was pulled from the wreckage. The strike in the city of Dnipro was the war's deadliest attack since the spring on civilians at one location.
Those killed in the Saturday afternoon strike included five children, and 79 people were injured, according to Kyrylo Tymoshenko, deputy head of the Ukrainian president's office. The final toll included two dozen people initially listed as missing at the multistory building, which housed about 1,700, he said.
Emergency crews cleared some 9.9 tons of rubble during a non-stop search and rescue operation, the Dnipro City Council said. Some 400 people lost their homes, with 72 apartments completely ruined and another 236 damaged beyond repair, it added.
The latest deadly Russian strike on a civilian target in the almost 11-month war triggered outrage. It also prompted the surprise resignation on Tuesday of a Ukrainian presidential adviser who said the Russian missile exploded and fell after the Ukrainian air defense system shot it down, a version that would take some of the blame off the Kremlin's forces.
Oleksii Arestovich's comments in a Saturday night interview caused an outcry. He said as he quit that his remarks were "a fundamental mistake." Ukraine's air force had stressed that the country's military did not possess a system capable of downing Russia's Kh-22 missiles, which it said was the type that hit the apartment building.
"Since the beginning of Russia's military aggression, more than 210 missiles of this type have been launched on the territory of Ukraine. Not one was shot down by means of anti-aircraft defense," the air force said Saturday.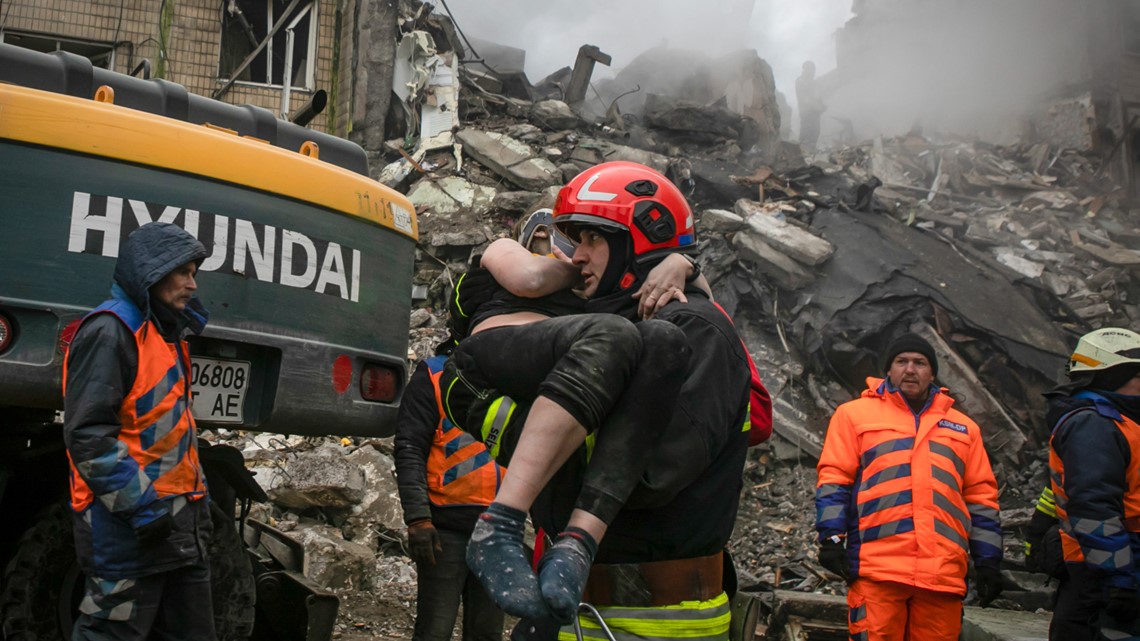 Ukrainian President Volodymyr Zelenskyy vowed to bring those responsible for the strike to justice, saying it's "a fundamental task" for Ukraine and its Western allies.
"This strike at Dnipro, as well as other similar strikes, falls, in particular, under the jurisdiction of the International Criminal Court," he said in a video address late Monday.
"And we will use all available opportunities — both national and international — to ensure that all Russian murderers, everyone who gives and executes orders on missile terror against our people, face legal sentences. And to ensure that they serve their punishment," he said.
The U.K. Defense Ministry said Tuesday that the weekend barrage of long-range missiles, the first of its kind in two weeks, targeted Ukraine's power grid.
The ministry noted that the Kh-22 "is notoriously inaccurate when used against ground targets as its radar guidance system is poor at differentiating targets in urban areas," suggesting that might have been a factor in the deaths in the Dnipro.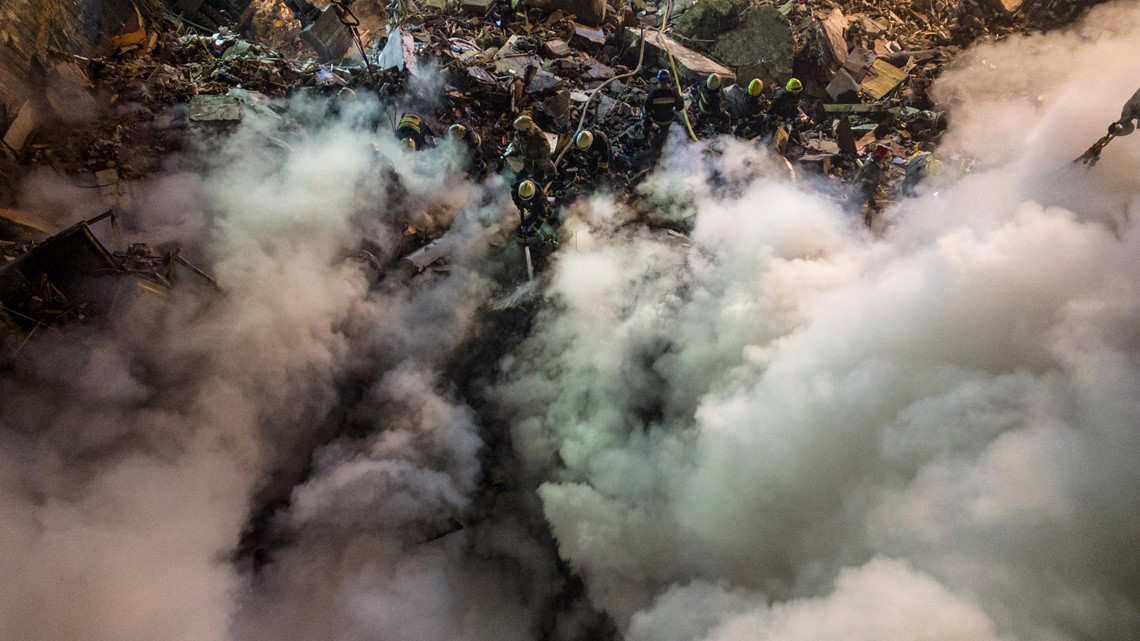 Similar missiles were used in other incidents that caused high civilian casualties, it said, including a strike on a shopping mall in Ukraine's central city of Kremenchuk in June. that officials said killed more than 20 people.
The deadliest attack involving civilians before Saturday was an April 9 strike on a train station in the eastern city of Kramatorsk that left at least 52 people dead, according to The Associated Press-Frontline War Crimes Watch project.
Such incidents have helped stiffen international support for Ukraine as it battles to fend off the Kremlin's invasion. The winter has brought a slowdown in fighting, but military analysts say a new push by both sides is likely once the weather improves.
Russian Defense Minister Sergei Shoigu said Tuesday that the country's military would increase its readiness from the current 1.15 million to 1.5 million in coming years.
As part of the buildup, the military will form an army corps in the northwestern region of Karelia, near Finland, as well as three new motorized infantry and two airborne divisions. The military will also beef up seven existing motorized infantry brigades into divisions.
That announcement came a day after U.S. Deputy Secretary of State Wendy Sherman and other U.S. officials met in Kyiv with Zelenskyy. They reiterated Washington's "strong and steadfast commitment to Ukraine," U.S. State Department spokesperson Ned Price said.
U.S. Army Gen. Mark Milley, chairman of the Joint Chiefs of Staff, on Monday visited Ukraine troops who are training at a military base in Germany under U.S. commanders. More than 600 Ukrainian troops began the expanded training program at the camp the previous day.
"This is not a run of the mill rotation," Milley told commanders. "This is one of those moments in time where if you want to make a difference, this is it."
Ukraine's first lady was also helping to cement Western support and acquire more foreign weapons, as she was scheduled to give a rare international address at the World Economic Forum's annual gathering in the Swiss town of Davos.
Meanwhile, the head of the U.N. nuclear agency visited the South Ukraine Nuclear Power Plant on Monday and announced the organization's permanent presence there to oversee operations and ensure safety.
Rafael Grossi, director-general of the International Atomic Energy Agency, tweeted late Monday that the agency's flag was flying over the power plant.
"We are here to stay to help ensure nuclear safety (and) security during ongoing conflict," Grossi said, adding that "soon, IAEA will be permanently present" at all of Ukraine's nuclear power plants.
Ukraine has a total of four nuclear power plants with 16 reactors. One of them, the Zaporizhzhia Nuclear Power Plant, is Europe's largest and was taken over by Russian forces in the first months of the war and remains under their control.