TEXAS, USA — A message was posted to Houston attorney Tony Buzbee's Instagram account Friday that said he had been retained to represent Ken Paxton in his impeachment trial. The post went up at around 8:30 p.m., but shortly after we reported that in our 10 p.m. newscast, we noticed the post had been deleted.
In the post, Buzbee told his Instagram followers to "not believe all the foolishness you have read about this case in the media," and he's very confident that Paxton will be exonerated.
We've reached out to him for clarification but have not heard back, yet.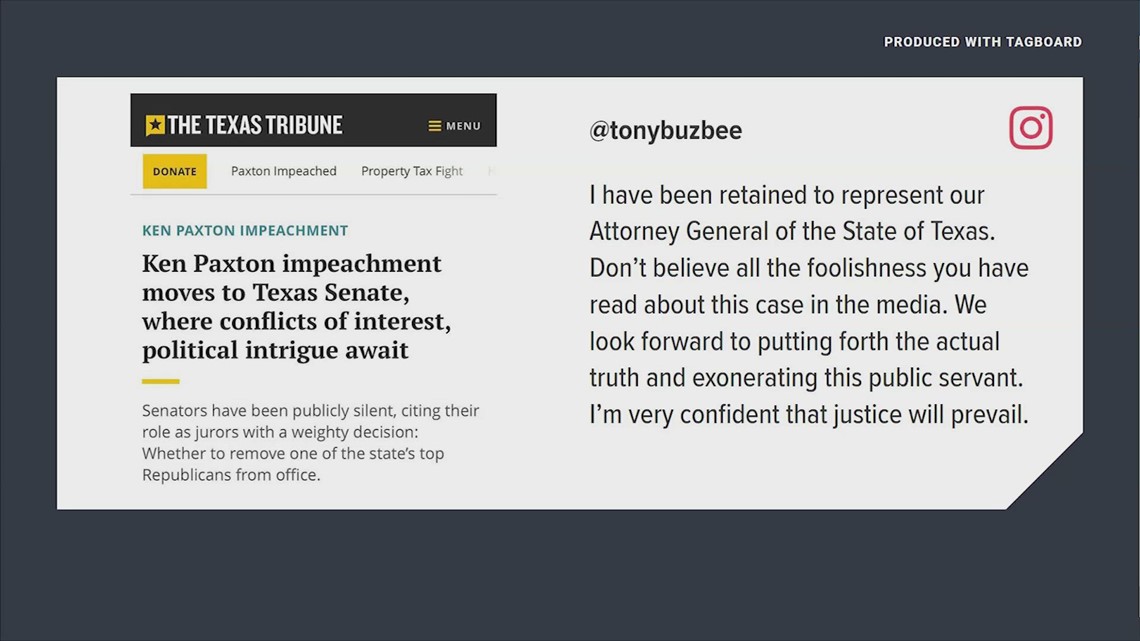 DeGuerin and Hardin to present House's case in impeachment trial
The hiring of DeGuerin and Hardin underlines how aggressively a Republican-led investigation is moving to oust the state's top lawyer in the face of backlash from the GOP's hard right.
In an interview, DeGuerin and Hardin said the evidence against Paxton is as "strong as horseradish."
"I think the facts are much worse than either one of us guessed, that we did not know until last week and started reading," said Hardin on a new episode of the Y'all-itics podcast released Friday evening.
What we know about Ken Paxton's impeachment trial?
On June 20, a special committee of senators will present the rules and procedures for the trial.
A date for the start of the trial has not been made but it must start no later than August 28.
During the impeachment trial, the 31 senators will serve as the jury. Twelve state representatives will serve as prosecutors.
The defendant, Paxton, is allowed to bring in outside attorneys or the Office of the Attorney General can represent him.
Lt. Gov. Dan Patrick will serve as the judge in this trial, but he also gets to set the rules.
One important rule will be how much time each side gets to present their case.
There are 19 Republicans and 12 Democrats in the Senate that will determine the fate of Paxton. That includes Paxton's wife.
Experts say it will be interesting to see whether she participates in the trial.