BEAUMONT, Texas — Let the great turkey trot begin!
55 million Americans will be traveling for the Thanksgiving holiday, and plenty of people from here in Southeast Texas will be hitting the roads this year.
Before you hit load up the car, you should pay close attention to weather. Snow, rain and thunderstorms will impact travelers depending on where your holiday plans take you.
TUESDAY TRAVEL
Rain will begin moving across Southeast Texas on Tuesday afternoon. Most of the rain will be light to moderate, but there is a marginal risk of severe weather from 6 a.m. Tuesday until 6 a.m. Wednesday.
Wind damage will be the main threat as a cold front moves across Texas.
12News StormTracker Chief Meteorologist Patrick Vaughn says the stronger storms associated with this cold front is expected to stay in northern Louisiana and southern Arkansas.
The Houston-area airports could see moderate delays because of the storms. No major delays are expected.
In other parts of the country, most of the weather-related travel delays will be in the Midwest into the lower Mississippi Valley.
Denver and parts of the Rockies can expect heavy snow.
Thanksgiving week may bring severe weather to Southeast Texas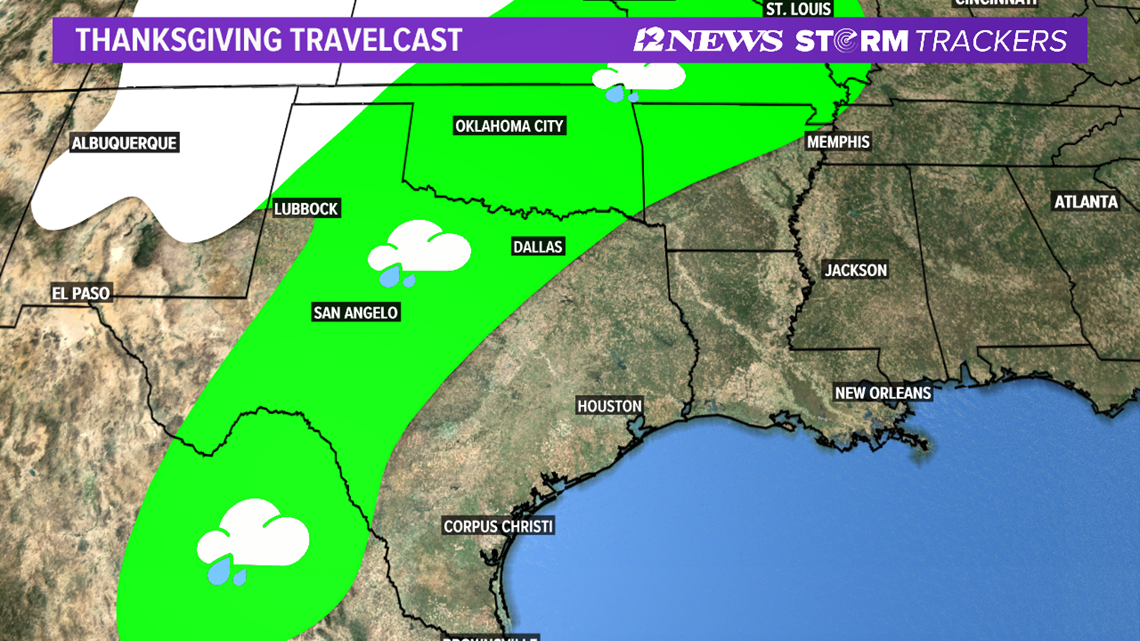 WEDNESDAY TRAVEL
Those storms will begin to move out of Southeast Texas overnight Wednesday. Roads will be slick for those hitting the road early Wednesday.
Temperatures on Wednesday will be much milder with highs in the low 70s instead of the 80s.
If you're traveling to the eastern part of the U.S., prepare for rain and wind delays at airports from Atlanta to Boston. The western part of Texas will also be seeing moderate rainfall.
Wednesday will be one of the busiest days on the road.
AAA says that if you drive through Houston expect the biggest volume of traffic between 5-7 p.m.

THURSDAY TRAVEL
If you're traveling on Thanksgiving Day, prepare for rain across a large chunk of Texas. Rain in Southeast Texas will be light to moderate. Vaughn says currently there is only a 20% chance of rain for the Golden Triangle.
If you are flying on Thursday, there could be a high level of delays in the Dallas area due to storms. Out east, wind could cause delays across New England.
FRIDAY TRAVEL
If you're going to be out and about on Black Friday, expect mostly cloudy skies across Southeast Texas. There is a 20% chance of rain on Friday, with low temps in the middle 60s. Things will warm up to the 70s.
There will be a chance for moderate to heavy rain across a large chunk of Texas, with airport delays possible in the Dallas area.
WEEKEND TRAVEL
Rain chances continue for Southeast Texas and South Louisiana through the weekend. Wet roads will be a big hazard as showers and storms move through the region.
Airport delays in Dallas and Atlanta are possible.
GAS PRICES
Thanks to a strong economy and gas prices holding steady at only three cents more than last year AAA is estimating that 49.3 million will travel by car and 4.4 million by plane this year.
The lowest gas prices around Southeast Texas were hovering at about $2.05 to $2.09 per gallon according to Gas Buddy in Beaumont on Monday.
The AAA is estimating that this year there will be more than 1.6 million more travelers than 2018.
MORE FROM 12NEWSNOW.COM
Caretaker found dead may have been attacked by wild hogs, sheriff says
3 suspects arrested after convenience store robbery, car chase in Beaumont's South End
San Diego woman believes she can see late father in ultrasound of her unborn daughter