SAN ANTONIO — Medics took seven people, including five children, to University Hospital after a tree fell on a family visiting the San Antonio Zoo during spring break on March 15.
Six of the seven had been discharged from the hospital as of 11 a.m. Thursday, March 16, one child remained in serious condition until their release on March 29, according to University Health.
"On Wednesday, a large tree branch unexpectedly broke and fell at San Antonio Zoo, injuring several guests," tweeted Tim Morrow, President/CEO of San Antonio Zoo. " Zoo first responders and local emergency crews were on site within minutes to treat those who were injured. We are working with our internal and external teams to investigate the cause of the breakage to prevent this unusual event from happening again. The safety of our guests, staff, and animals is always our highest priority. Our gratitude is with the guests, staff, and first responders who assisted during this incident, and our sincerest thoughts and prayers go out to those injured and their families, as well as those who witnessed this accident."
The zoo's vice president of marketing, Hope Roth, said first responders arrived within minutes. Video obtained by KENS 5 also shows more than a dozen visitors rushed into the debris to help the people underneath the tree.
Roth added that horticulturists and landscapers are "constantly evaluating" trees on the zoo's property.
"It really is just an act of God," Roth said. "The tree was in good health. There was no way for us to know something like this could happen."
Witnesses told KENS 5 the tree appeared in good condition, too.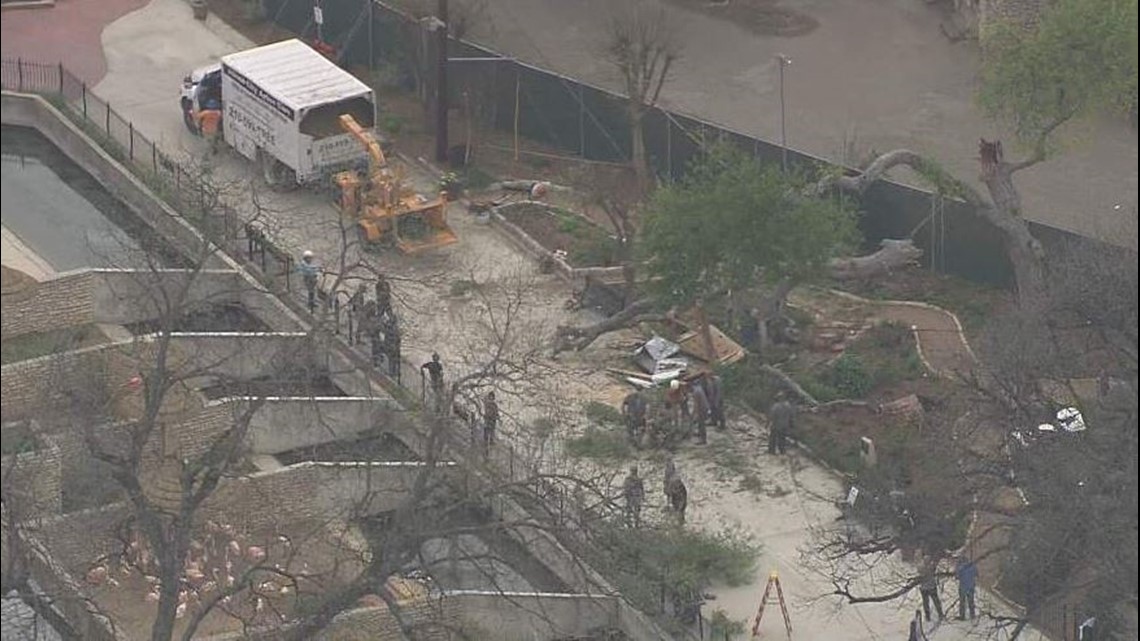 San Antonio's zoo was especially busy Wednesday, since thousands of local children are currently on Spring Break.
Jamie Georges took her children to the Zoo for a 'staycation,' she said.
"You could hear, all of a sudden, what sounded like fireworks," Georges said, imitating the cracking noise. "You look up and see this massive tree starting to fall."
Georges said she sprinted away, holding her baby. Her mother, Karen Rideout, pushed Georges' son out of harm's way.
"You don't think. You just react," Rideout, a nurse, said. "I took my purse. I flung it in the carriage and said, 'I'm going to see if I can help.'"
Witnesses recorded Rideout and others rushing into the foliage to help. Rideout did not want to detail what she saw.
"To come that close and to see what I saw - it's scary. It's very scary," she said.
This is a developing story. Check back with KENS5.com for updates.
Since going on the air in 1950, KENS 5 has strived to be the best, most trusted news and entertainment source for generations of San Antonians.
KENS 5 has brought numerous firsts to South Texas television, including being the first local station with a helicopter, the first with its own Doppler radar and the first to air a local morning news program.
Over the years, KENS 5 has worked to transform local news. Our cameras have been the lens bringing history into local viewers' homes. We're proud of our legacy as we serve San Antonians today.
Today, KENS 5 continues to set the standard in local broadcasting and is recognized by its peers for excellence and innovation. The KENS 5 News team focuses on stories that really matter to our community.