BEAUMONT, Texas — Nearly a month after members of the United Steelworkers Union were locked out of ExxonMobil's Beaumont facility, members are planning to protest what they feel are unfair labor practices outside the energy giant's Irving headquarters Wednesday.
USW Local 13-243's 650 members have been locked out of the Beaumont plant since May 1 after talks between them and the company stalled.
The local began bargaining a new contract in January. But talks led to little movement on either side, and on April 23, ExxonMobil provided the local with written notice of its intention to lock out members starting May 1.
The union has called the lockout an unfair labor practice, and they have filed charges with the National Labor Relations Board.
MORE| Read ExxonMobil's full statement below released on May 26, 2021
United Steelworkers protest ExxonMobil lockout at company's Irving headquarters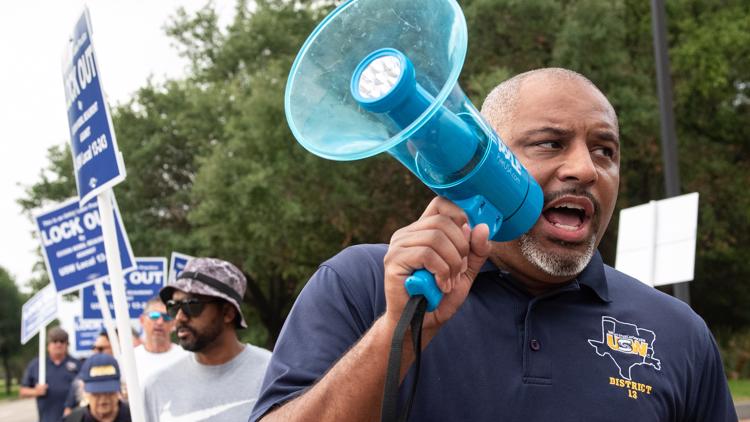 The two sides remain far apart on many issues. The local had requested that a federal mediator be brought in to resolve the lockout, but both sides must agree and so far Exxon has not. The local has also filed unfair labor practice charges with the National Labor Relations Board.
In the first meeting between Local 13-243 and ExxonMobil since the lockout, a six-year deal was proposed but ultimately rejected by the union.
Exxon said the deal would provide refinery-specific wage increases, but it eliminates "senior bidding" for jobs, which prioritizes employees who wish to transfer within the plant based on how long they've been employed. That has been one of the areas of contention for the two sides.
The union wants seniority prioritized, however, Exxon says their deal puts more of an emphasis on qualification over seniority, a practice in place and ratified at other facilities.
Exxon's Beaumont facility is the company's third largest in the U.S. and produces 2.8 billion gallons of gasoline a year. The facility is also a major producer of Mobil 1 motor oil.
Full response issued on May 26, 2021 from ExxonMobil
ExxonMobil Beaumont has actively engaged in good-faith negotiations with the USW since January 2021.
Initial offer included a 2% pay increase plus $1000 ratification bonus – expired without an employee vote.
Current offer is 1.5% pay increase for most refinery personnel in 2021 and pattern wages starting in 2022 for 5 years, 0% for lube plant personnel.
Our offers address labor practices that are inconsistent with our other US Gulf Coast sites, and uncompetitive verses broader industry. None of these modifications would reduce any employee's current salary.
Despite extensive efforts we have not reached agreement, USW committee has not held an employee vote on our offers.
The Beaumont Refinery is continuing to operate safely and reliably with highly competent staff of supervisors and engineers who participated in more than 100,000 hours of training for this event.
We will continue to engage in good-faith negotiations with the union until a contract is ratified.
Please visit www.embeaumont.com for more information on negotiations.