ORANGE, Texas — As construction continues on an $8.5 billion polymers plant in Orange County the company is sharing plans on how it will move large modules and equipment to the site.
On Tuesday, Golden Triangle Polymers shared, on Facebook, its plans for a "marine offloading facility," or MOF, it is setting up on Cow Bayou about 2.5 miles from the work site.
(EDITOR'S NOTE: The above video first aired on March 30, 2023.)
The new polymers plant is expected to bring about 4,500 construction jobs and more than 500 full-time jobs to the county.
The company is planning to bring in large and oversized modules and equipment via barge on Cow Bayou to the MOF just off Texas Highway 87 just north of Bridge City according to the post.
The heavy loads will then be transported by a "heavy haul vehicle" to the north to the construction site.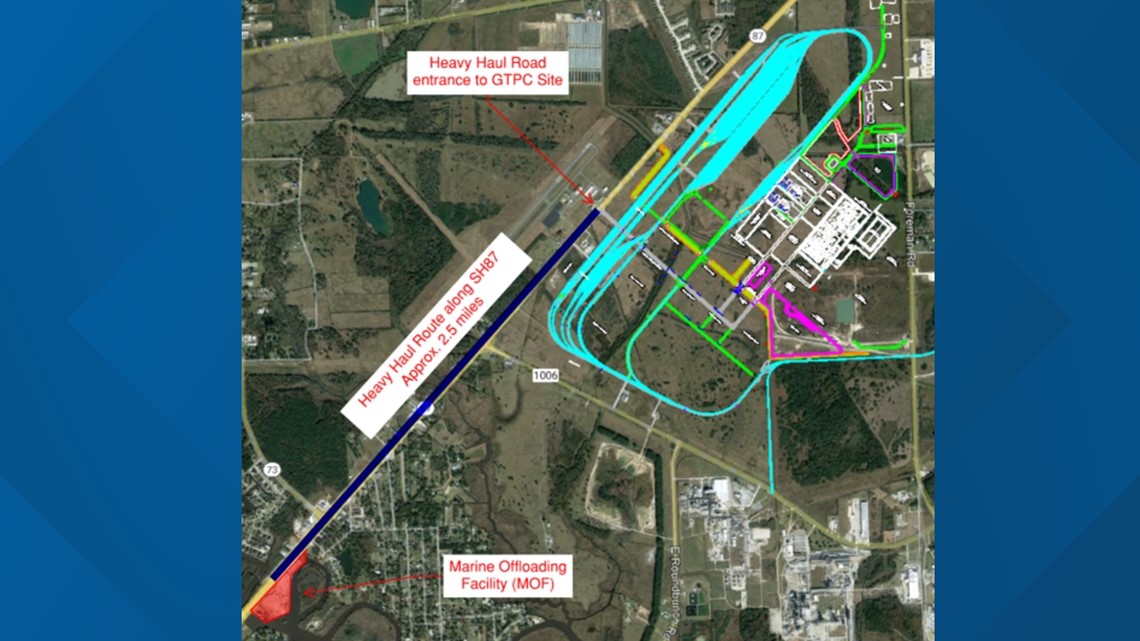 All of the "heavy hauls" will enter the site at gate two across from the Orange County Airport the company said.
The company also released a satellite image mapping out the MOF location and the planned "heavy haul route" along Texas Highway 87.
This is a developing story. We will update with more if and when we receive more confirmed information.
Here's the traffic protocols the company has listed on its website...
Entrance signs have been placed on State Highway 87 North and South to indicate where trucks should enter the construction site.
No trucks entering from the South (FM 1006) will be allowed to park on State Highway 87 under any circumstances.
Heavy Haul trucks must remain in the right lanes and trucks exiting Gate 2 must make a right turn on State Highway 87 and head North.
A flagger will be positioned inside Gate 2 to make sure the above is implemented properly.
Download an overview of the Traffic Management Plan and Projected Workforce.
Also on 12NewsNow.com…