PORT NECHES, Texas — The search for a missing teen who fell off a boat on the Neches River on Memorial Day has come to a heartbreaking end after officials recovered what is believed to be his body.
Conner Curtice, 14, went missing Monday afternoon following a boating accident on the Neches River.
The incident happened on a small boat with two friends near NatGasoline plant on Sulphur Plant Road Monday afternoon, according to Texas Parks and Wildlife Department Game Warden Captain Ryan Hall.
Hall tells 12News they received a call at 3:15 p.m. on Monday, May 29, 2023 that an 18-year-old was driving a boat north of Port Neches Park on the Neches River when it began to take on water.
The driver tells officials both he and Curtice tried to stop the leak, but then the boat jerked, causing the two to go overboard.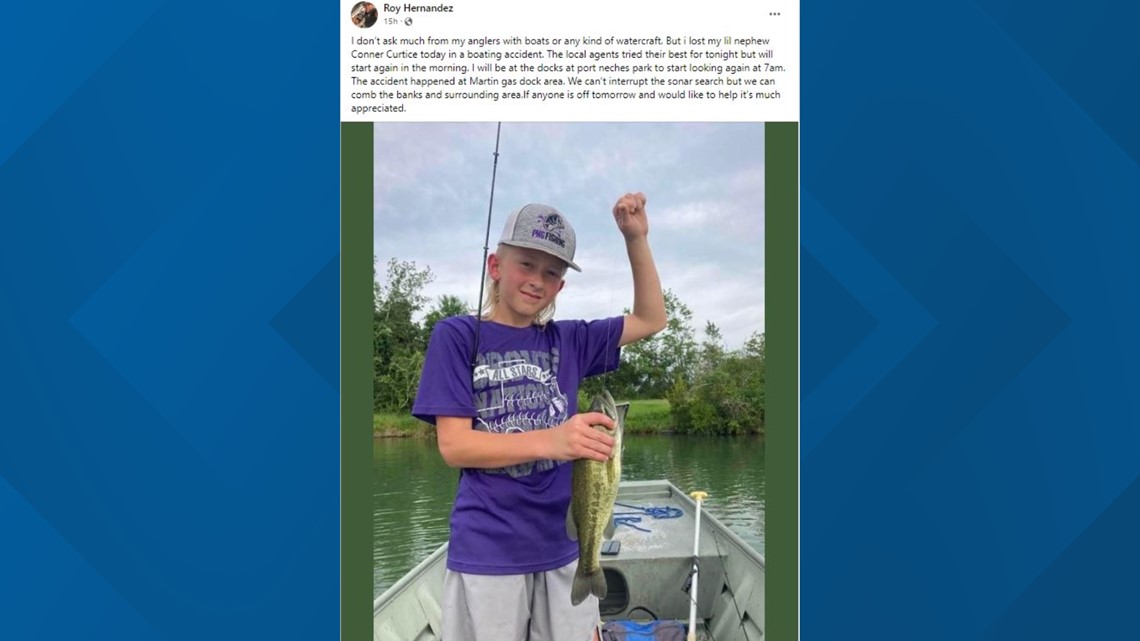 The 18-year-old tried to save Curtice, but he went under and never resurfaced.
On Tuesday, May 30, 2023 around 6 p.m., a Texas Game Warden Dive Team recovered a body in the Neches River believed to be that of Curtice.
Searchers with the Texas Game Wardens, the Jefferson County Sheriff's Office Marine Division, the Port Neches Fire Department, the Beaumont Fire Department and the United States Coast Guard conducted an extensive search using sonar technology to locate the body.
Jefferson County Precinct One Justice of the Peace Ben Collins, Sr. has ordered an autopsy and the family has been notified.
"We appreciate all of the volunteers who assisted yesterday evening and today," said Jefferson County Captain Crystal Holmes.
Port Neches-Groves Independent School District posted a statement after divers recovered the body that is believed to be that of Curtice.
"Our PNGISD family is hurting now for the loss of one of our own and for his family," district officials said in the statement.
Counselors will be available at Groves Middle School, Port Neches Middle School and Port Neches-Groves High School for students in the coming days and will be available for as long as they'll be needed, according to the statement.
"Please keep his family and our PNGISD family in your thoughts and prayers," district officials said.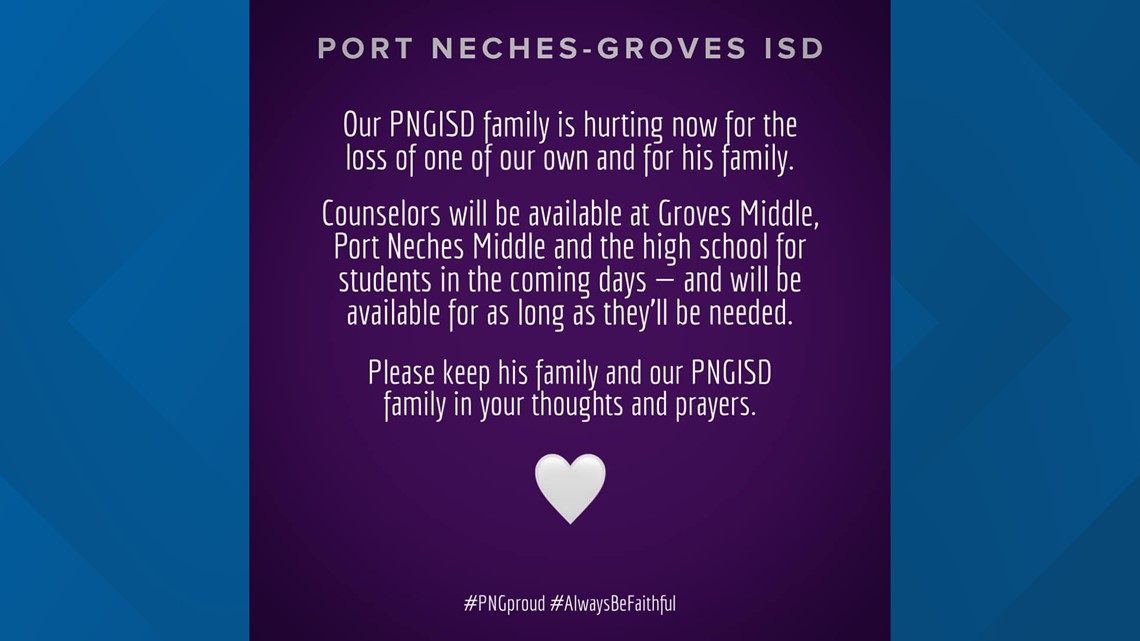 The Beaumont Fire Department Dive team investigated several "images of interest" taken with a sonar machine, according to Hall.
"If we were doing a search, it would be possibly look for someone who hasn't drowned. If you're doing a search, you would be looking on land and water, but when we have specific facts that lead us to one area of the water, you treat that as a recovery mission," Hall said.
Jefferson County Sheriff's Office Marine Division, Texas Game Wardens, Port Neches Fire Department and six volunteer boats were sent out to the area Monday afternoon to search for the missing teen, according to Holmes and Captain Hall.
Texas Game Wardens are leading the investigation.
To begin the search Tuesday morning, the teen's church community rallied around his family to offer boats, food and prayers.
"We have one goal in mind and we want to number one help pray and believe that we're going to find Connor," Pastor Rob Ashabranner previously told 12News.
Rescue crews were out early Tuesday morning to continue searching.
Curtice is a longtime member of Encounter Church in Groves.
"We're praying and believing that God is going to give peace and as a church the bible commands that hurt with those who are hurting, and mourn with those who are loving and so right now, there's some hurt and some sadness in our community. So, we want to hurt with them and be there with them," Ashabranner said.
Hall tells 12News the Texas Parks and Wildlife put their dive team on standby for the recovery.
"Texas Game Warden Underwater Search and Recovery team were called in. I called them late yesterday evening, and they come from the Dallas area so it took them a while to get here this morning. They're on scene now. They are conducting operations as we speak. As soon as they find a good underwater target that they can investigate further, we'll put divers in," Hall said.
This is a developing story. We will update with more if and when we receive more confirmed information.
Also on 12NewsNow.com...