BEAUMONT, Texas — All firsts are often hard to detach from. Whether it's a memory or a more tangible item, it can be hard to say goodbye.
"This is my first home. It's just kind of hard leaving a home. Especially, with this being my first time going through it on my own. (I had) some sense of hope that the water would've went down, but that didn't happen."
Mandon Malone has lived in the south end of Beaumont for more than three years, but he's never seen anything like this.
"Coming in your house, looking at it with nothing pretty much, you're just looking at the skeleton of the house. This is a lot."
Tropical Storm Imelda brought more than 40 inches of water to many parts of Beaumont, especially the neighborhoods near Fehl Price Elementary.
Early that Thursday morning, Mandon woke up to find out his home flooded.
READ MORE: The New Normal: Stories from the Storm
CHAPTER 1: The New Normal: Beaumont family sought refuge in grandmother's home as Imelda's waters rose inside
CHAPTER 2: The New Normal: Family's move from Chicago to Southeast Texas greeted by Imelda floodwaters
CHAPTER 3: The New Normal: Imelda's floodwaters reinforce importance of family for Beaumont man
Mandon's next door neighbor is his mother and her neighbor is her other son.
Six members of his direct family live on the same street. Mandon immediately called to make sure everyone was ok when he saw the water rushing into his home.
After helping some of his family members evacuate their homes by boat, he sat on his car hoping for a miracle. He watched the water rise until it was impossible to evacuate by car or truck.
"I was just kind of down, so I wasn't trying to move. Everybody was trying to get me out of here, but it was just kind of depressing at the time."
Mandon's two bedroom home received more than two feet of water making it unsafe to live inside. Since this was his first home, he has made a commitment to be hands-on in the repairs. He hasn't left his house-- even after the storm. He's been sleeping in his truck in front of his driveway.
He's had assistance from religious organizations and FEMA to expedite the process of gutting out his home. What was salvageable was just the framework and a few appliances.
Luckily, the high water didn't ruin his truck, but the flood did ruin his '87 SS Monte Carlo potentially beyond repair. His garage flooded as did the vintage car inside, causing his interior to mold.
"The bottom cabinets had to come out, my sink, all the sheetrock in my garage as well. My wooden floors had to come up. Right now, we're just kind of in the process of trying to get back to normal."
When it rained, it poured. Due to his home's unsanitary conditions, Mandon has had less time to bond with his son. The 1-year-old boy had a birthday a couple of weeks following Imelda. Mandon wanted to give his son a grand celebration, but he had to resort to a more intimate gathering at a friend's house nearby.
"It's kind of hard finding somewhere that I can bring him to actually have good quality time to play with him or even having him get on the floor and just play. Just the normal things he was doing before, he can't do that now," Mandon says.
During the storm, Mandon's mother fell while trying to evacuate. She was taken to the hospital for two ankle injuries. "My mom's bed ridden for now, for at least another four more weeks. So, taking care of her, making sure she eats, takes her medicine -- it's just something added on to what we're going through," he says.
Family means everything to Mandon. Most people only see their families on holidays, but was used to seeing them every day.
Since many of them are not living in their houses at the moment, Mandon can only reflect on how much family really means to him.
"When people get comfortable, you start taking things for granted, as far as just stepping outside and being able to just say 'hey grandma' or my nephew coming outside and runs across (the street), just to give me a hug. Stuff like that it just kind of breaks you down. At the same time, it's just making us realize how important we are to each other."
The New Normal: Imelda's floodwaters reinforce importance of family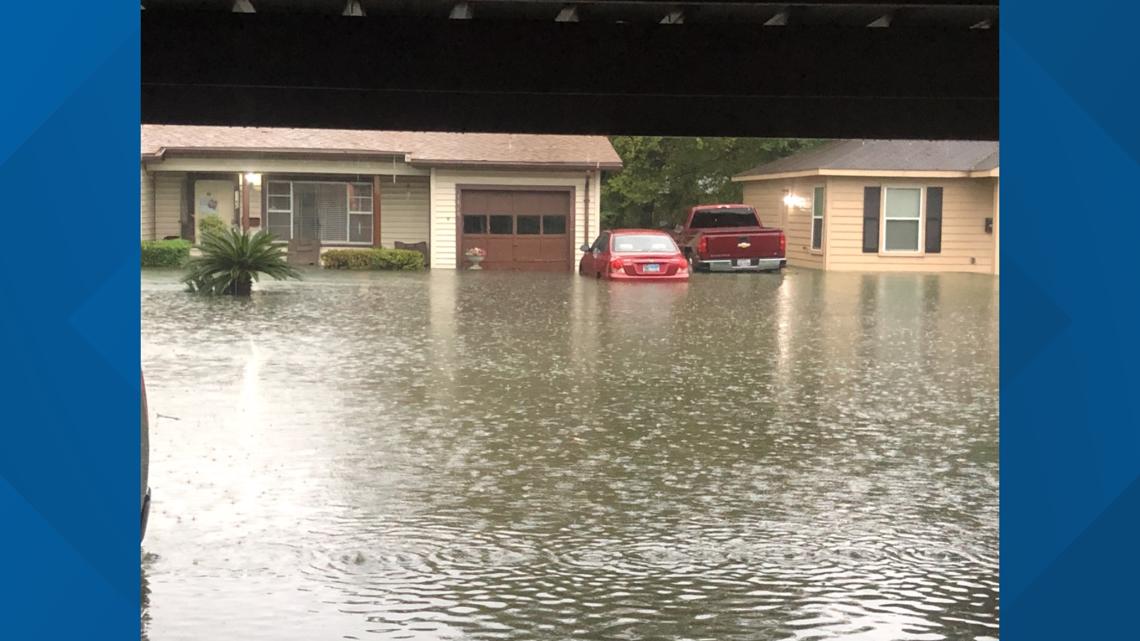 That's what he's thankful for, family. None of the them saw this catastrophe coming because Harvey only dumped enough water to reach their door steps. He said if heavy rain or flooding were to happen again, he'd leave instead of trying to scrabble children and older relatives to safer grounds.
Before the flood, Mandon was content with being an independent person, someone not so willing to ask for help. The post-storm phase in his life has made him realize that family is all he has.
"I don't really like to ask for help or to lean on somebody, so in a situation like this, it's really showing me I have family that I can actually go to versus, me-- always just wanting to do things on my own. Now, it's showing me that I actually have help with everything."
"When it comes to a situation like this, family is all you have. Most of the time, you have friends and stuff, but a lot of our close friends are going through the same thing we are. It makes you get closer to your family at times like this."
RELATED: 'Imelda Educators Relief Fund' helps restock classrooms affected by Imelda floodwaters
RELATED: 'You're not alone,' Beaumont counselor encourages people to seek help following Imelda
RELATED: FEMA warns Southeast Texans to watch out for scammers in wake of Imelda
RELATED: More than 2,000 homes damaged by water during Imelda in Orange County
RELATED: Beloved postmaster in Mauriceville catches surprise helpers' attention