BEAUMONT, Texas — Chicago native, Jennifer Gryczewski was in for a big surprise when she made the decision to move to Texas in July.
"I know people here in the south, you guys get hit by hurricanes and everything else, but I've never seen that much water. It was just jaw dropping."
Jennifer had a life altering experience one late night in September.
"Everything started in the middle of the night. I just heard my dog crying in the kennel. I got up to go see why she was crying. I put my feet down, and there was about 3 inches of water on the ground."
If it wasn't for Bella's barking, her family wouldn't have been able to exit as safely. Jennifer says her dog, Bella, saved their lives.
Jennifer, her boyfriend and son, picked up their valuable items as quickly as they could and placed the items on the beds-thinking that this would have been the best idea. The most valuable items were placed in the attic, items such as her "hope chest," a treasured item given from her mother, and baby photos of her son. After salvaging all they could, the family quickly fled the area as water continued to pour into their three-bedroom home.
"Every time we would open the door when we were trying to leave, we had more water that just came rushing in. We had to move pretty quickly to get out of there."
Headed to Sulphur, LA, the three of them drove through high water to get to a safer location. After three days, they made the decision to come back to their home located in Vidor, Texas.
While escaping the dangerous floods, Jennifer kept in contact with a couple of neighbors. One neighbor, Brenda, was safe in her home due to her elevated foundation.
Brenda kept Jennifer and her family updated as the water levels continued to grow from Imelda. Brenda sent this picture to Jennifer and she couldn't believe what was happening.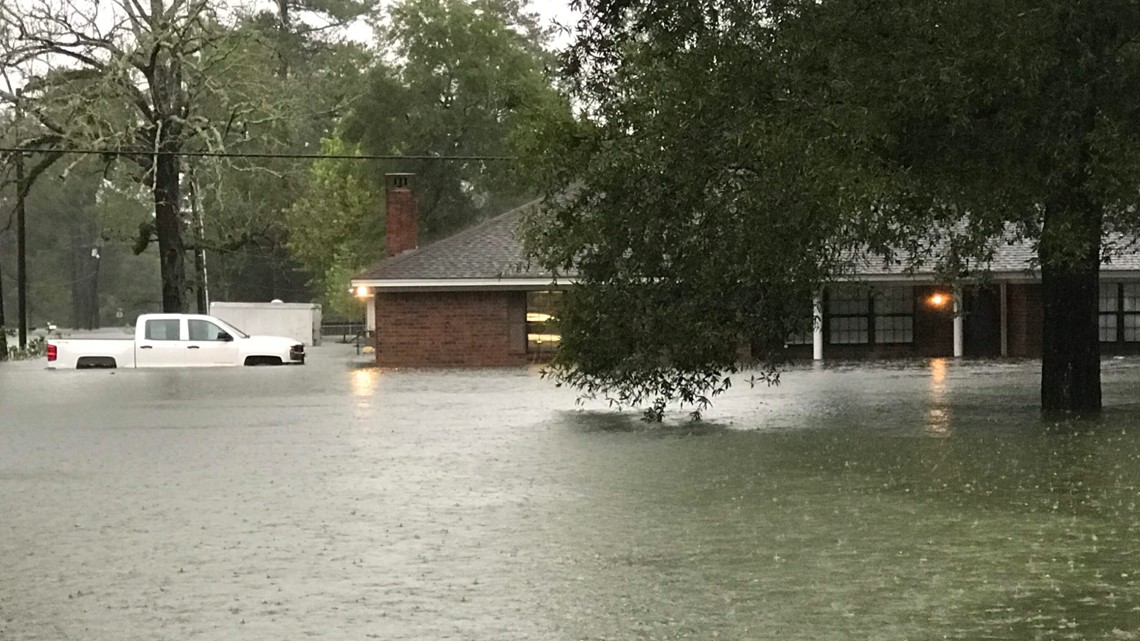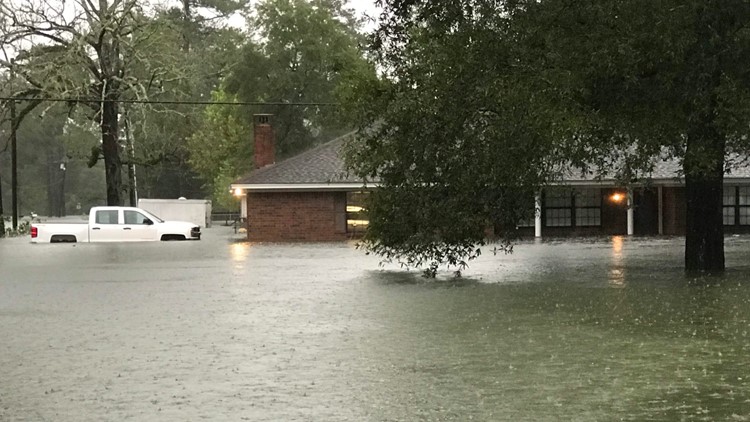 "We had to come back and at least assess what we had going on. To come back here and see all this water here after three days and the water was still 4 inches high--you just couldn't believe it. You still couldn't see the streets."
Jaw-dropping is the word Jennifer used to describe how she felt when she returned to her home. As mentioned, Jennifer is from Chicago, "born and bred." She wasn't used to seeing so much water.
"Just moved here in July so for us, 40 inches of snow or 20 inches of snow is one thing. I've never seen this much water. Snow, yes, water no."
Upon return, standing water was inside their house greeting them at the front door. What awaited the family on the opposite side of their bedroom doors was an "eerie" surprise.
"Our mattress was floating in the middle of our room. The(bedroom) doors were all closed. You'd open up (the door) and there were mattresses floating, which was just crazy."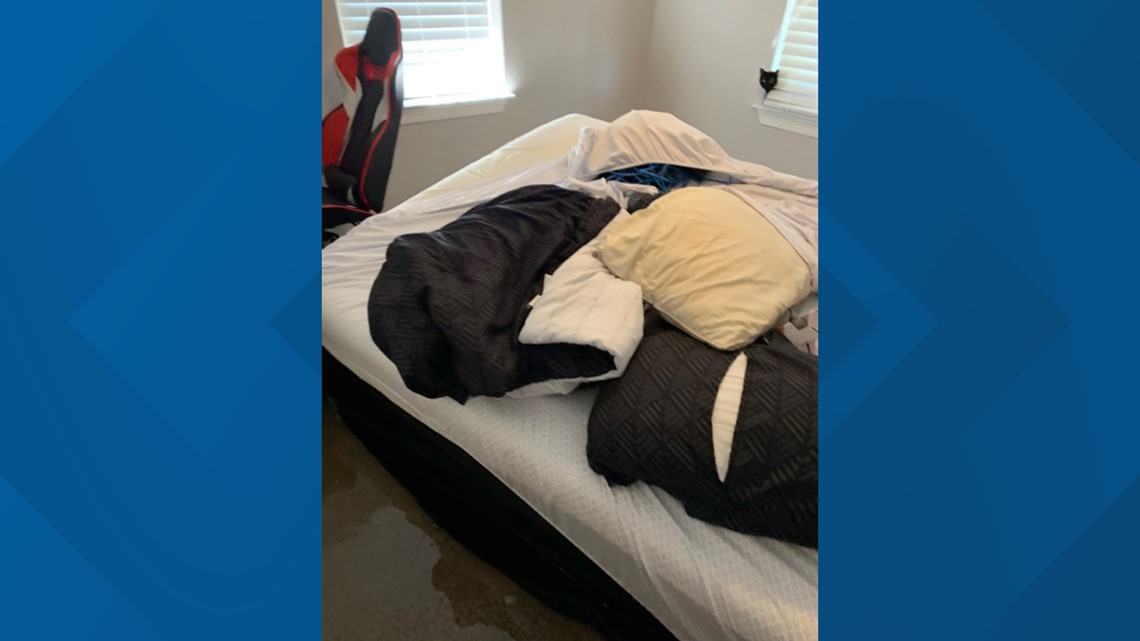 Shoes and other belongings were drenched, floating and completely unsalvageable. Jennifer's boyfriend, Dwayne, had co-workers who were able to aid in the gutting of their home. The couple had at least 3 feet of debris stacked outside of their home as a result of Tropical Storm Imelda.
The family was displaced for more than a week. While jumping from hotels to friends' houses, they made sure to commute to their home on several occasions.
"We had spent just over a week in the hotel going back and forth bringing the animals back or gutting the place. We didn't want to bring my son and any of the animals back until everything was somewhat cleaned up-somewhat sanitary, almost. I didn't want any more water in the house before I brought anybody back."
Upon returning home, they realized some of their items literally floated into their backyard. The couple's spacious backyard is accompanied by a pool and a water slide; both of which were nearly invisible due to the storm.
"My boyfriend had lost his boots- well he thought he had lost his boots. He actually found his boots buried in the mud in the backyard."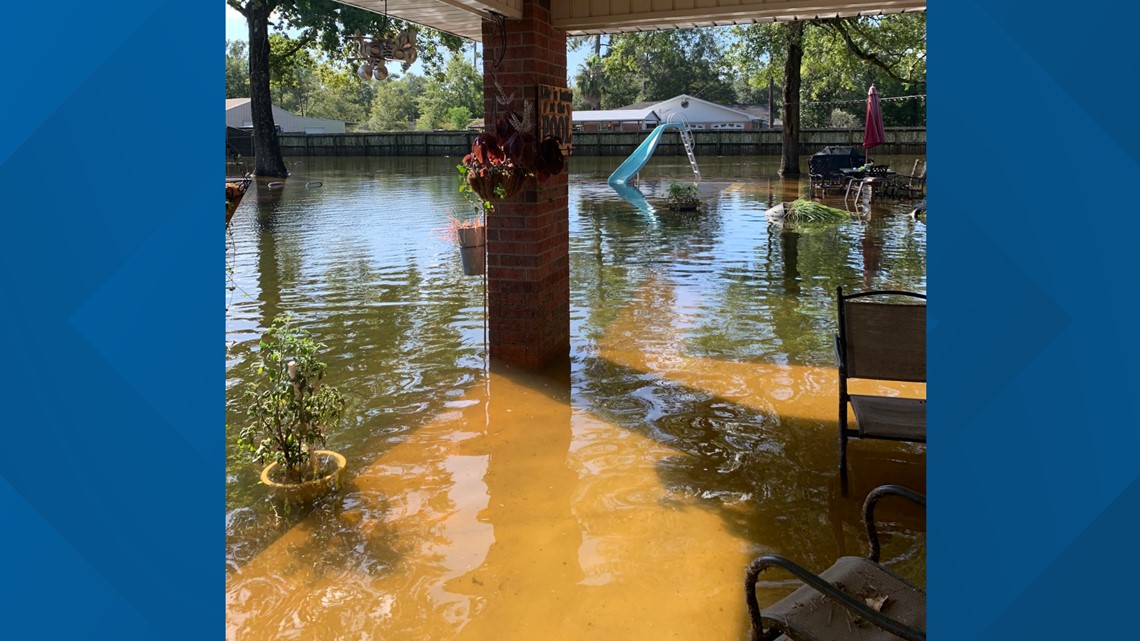 Some items like her son's Xbox and bedroom accessories weren't so lucky to survive the flood.
Jennifer says her son, Reed, had to make two large adjustments- the big move from Chicago on top of being displaced by Imelda. Oddly, Imelda has indirectly given him a lasting life lesson.
"We were doing insulation (at the house) and (Reed) ended up doing the same thing in his classroom over there at Vidor High. Their whole classroom was demolished and had to be demoed, and they're rebuilding. So, along with him rebuilding at school, he's also rebuilding at home."
For Jennifer, it's a sigh a relief to have two people, Dwayne and Reed, who knows what they're doing around the house. Jennifer helps out with a more gradual approach.
"I love to paint so this is like my therapy. I've been painting for three days. It's kind of my own little zone I get in."
As Jennifer soothes her mind with priming and painting, she looks forward to choosing new flooring, designs and other residential décor- a sort of calm after the storm.
For now, the family of three is residing in their RV trailer until their home in Vidor is livable again.
Family greeted by Imelda's flood waters following move from Chicago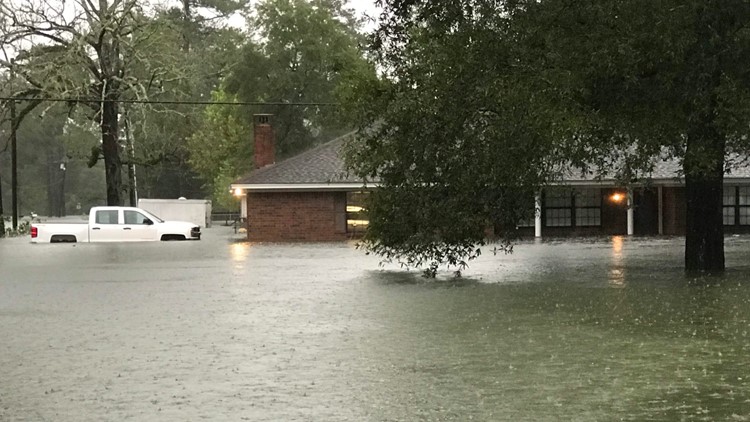 "The water didn't go away for almost a week before we could put the trailer (in the driveway). We finally got the trailer, and then we said 'ok, now we can stay in the trailer and then work on the house.'"
Despite the "devastating" amount of rainfall that destroyed their home, Jennifer is glad to be here in the southeast Texas atmosphere. The warm temperatures may seem like a burden to Texas natives, but the weather is exactly what she's thankful for.
"I'm actually grateful for the weather with it being cold and yucky and rainy up north. Where I came from it's 40 degrees (right now). Here, it's still 75, almost, 80 degrees, so I'm thankful to be able to open up my house and have the fresh air come in and to be able to go through remodeling and have nice weather."
RELATED: ExxonMobil donating $50K to Beaumont ISD for Imelda recovery, STEM education