BEAUMONT, Texas — Grandma's house for many is a place of solace and comfort. That one place you can always go to seek refuge at a time in need.
Lucille Martin lives on Skipwith street in Beaumont with eight of her neighbors being immediate family members. She's the reason they're all together.
She recalled that "horrific" Thursday night that Tropical Storm Imelda swept through that area of southeast Texas.
Although it was out of Lucille's control, her biggest regret is that her home of 50 years flooded.
"Maybe this could have been the place that they all could've come, and we all would've been together. But it wasn't in the plan, so it took all of our homes. And all of our furnishings."
READ MORE: The New Normal: Stories from the Storm
CHAPTER 1: The New Normal: Beaumont family sought refuge in grandmother's home as Imelda's waters rose inside
CHAPTER 2: The New Normal: Family's move from Chicago to Southeast Texas greeted by Imelda floodwaters
CHAPTER 3: The New Normal: Imelda's floodwaters reinforce importance of family for Beaumont man
Late at night, when water started to creep into her children, grandchildren and great grandchildren's homes, everyone rushed to the one place they thought would be safe.
"I left the front porch because I was opening the door for them, and I went back into my den area, and I checked the backyard. Before I could sit down, the water was coming into my den area. I called them, and I told them to come on, but I was getting water too."
As she waited for her family to arrive, Lucille was "very frightened" because she lives alone.
With no way to safely evacuate, Lucille and her family members sat on countertops, tables and other high places in a desperate attempt to avoid the flood water rushing into the house.
Mandon, Lucille's grandson who lives on the same street, was able to communicate with one of his friends who had a boat. His friend was willing to row the large family to a safer place.
Lucille came back to her home as soon as she could. She quickly assessed the "devastating" damages to her home as a result of the tropical storm.
"We had to destroy our home, 4 feet up to keep the mold out. And the mold was coming in really fast. The mold was starting up almost immediately the next day or two."
The mold was just the tip of the iceberg. Lucille lost brand-new furniture she had just began financing. All of her dressers and bedroom accessories were unsalvageable; the location of multiple mattresses are unknown as some of them were taken away by clean-up volunteers. She also lost brand new cabinets, sewing machines, tables, a prized vanity in addition to other valuable items.
She tried her best to grab all of her belongings to put them on shelves and more elevated places around the house. The clothes hanging in the closet met the nearly 2 feet of standing water, which added to the items she had to throw away. The place Lucille called home for five decades may be a gutted and empty, but it's filled with memories.
"The stuff that we had to throw out-I was embarrassed because my stack was, I think the highest stack on the street. But that's 50 years of accumulating things."
In addition to a majority of her immediate family residing on Skipwith street, Lucille says there are elderly people who live within the neighborhood, and the storm was devastating for them, too.
"The older people-especially in this area of town- 80 and over- we're the ones having a hard time understanding why Beaumont officials can't do anything for us and why we're always the ones that are flooding."
Lucille was one of many Beaumont residents who stayed home during Harvey in 2017, which resulted in a widespread 40 inches total rainfall in Jefferson County. She thought she would have been safe during Imelda because Harvey didn't flood her home at all. This was the first surprise of many as a result of Imelda.
"I didn't expect my health to start failing. The medication that I'm on-I'm not able to keep my food down or my medicine, and they think it's partly because of this."
Shortly before Imelda affected the area, Lucille says she was diagnosed with atrial fibrillation, or A-fib, a heart condition that could lead to blood clots, strokes and other heart related complications. Her doctor and family say her symptoms have become more serious since the storm.
"Now, my (blood) pressure keeps staying up and whenever they change the medication, it's still running high. I'm not acting like I'm disturbed, but mentally they think I might be disturbed a little bit."
Imelda flooded this great-grandmother's home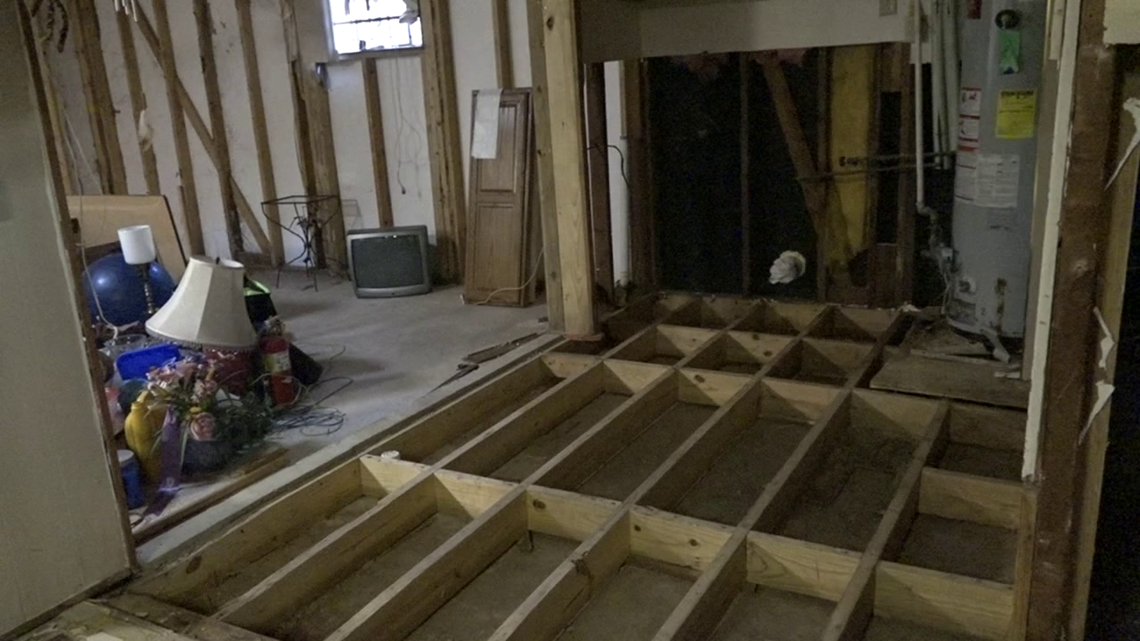 Lucille says faith keeps her going. In such hard times, she reverts to a comforting statement she heard from her grandmother. "I say, 'why me?' And then I think, 'spiritually, why not me?'"
She was very appreciative of the faith-based organizations that volunteered to help her and her family rid their homes of wet and damaged items.
"God will open up that window. He doesn't even have to open a door- just a window and we'll be fine. As a matter of fact, he opened it when he sent those people to gut our houses out. Because if it wasn't for them; I don't know. I'm very thankful and grateful for those people."
Lucille's just as thankful for life and health. She says she loves life and wants more.
"I'm thankful for our lives. None of our family members were hurt. They didn't die from the storm. I'm grateful we didn't have any deaths."
While her home is being reconstructed, she's living with her daughter and her family on the northside of Beaumont. Hopefully, not for long, she says. In addition to FEMA assistance, Lucille is trying to get bids and other reasonable repairs so things can get back to normal.
Even though the future of her and her family's houses are still unknown, Lucille remains faithful that better days are yet to come.
"We're having to live through that, but by the grace of God and his son Jesus, we will survive. We're a strong group of people."
RELATED: 'Imelda Educators Relief Fund' helps restock classrooms affected by Imelda floodwaters
RELATED: 'You're not alone,' Beaumont counselor encourages people to seek help following Imelda
RELATED: ExxonMobil donating $50K to Beaumont ISD for Imelda recovery, STEM education
RELATED: Understand your FEMA determination letter and how to appeal for assistance
RELATED: FEMA warns Southeast Texans to watch out for scammers in wake of Imelda
RELATED: More than 2,000 homes damaged by water during Imelda in Orange County
RELATED: Beloved postmaster in Mauriceville catches surprise helpers' attention
RELATED: Tetanus outbreak, rogue gators send social media into a frenzy after Imelda