BEAUMONT, Texas — The Gift of Life nonprofit is raising awareness during Men's Health Month by offering free screenings to medically underserved Southeast Texas men.
Gift of Life and its medical partners will provide PSA (prostate-specific antigen) blood tests, primary care services, and physician consultations through June and July at locations in Beaumont, Kountze, Orange and Port Arthur.
Registrants will receive a $25 Jason's Deli gift card and appointments will include food, prizes and more, according to a news release from Gift of Life.
Statistics demonstrate that men typically avoid seeking medical treatment - contributing to poorer health outcomes and a reduced life expectancy compared to women.
Many of the unique medical concerns confronting men have increased following the COVID-19 pandemic, which has intensified disparities and limited access to quality, preventative care, according to the release.
Internist at Beaumont Internal Medicine and Geriatric Associates John Flower, M.D. says he is very proud of the men taking advantage of these free screenings.
"They are embarking on an important first step towards having a healthier life," Flower said.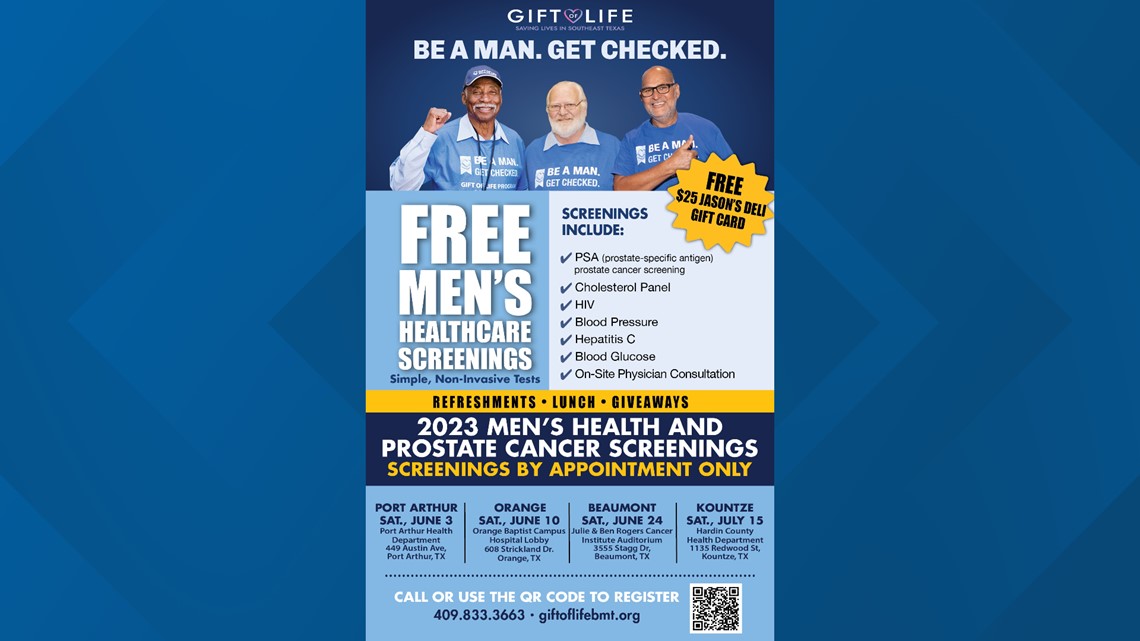 Since 2000, Gift of Life has made available more than 10,990 free prostate cancer screenings and helped extend the lives of 77 men who have been diagnosed with prostate cancer and navigated through treatment, according to the release.
Southeast Texas men interested in receiving a free screening should contact Gift of Life as soon as possible to reserve a limited number of appointments.
Screening dates, times and locations will be as following:
Port Arthur - Saturday, June 3, 2023 at the Port Arthur Health Department (449 Austin Avenue)
Orange – Saturday, June 10, 2023 at the Orange Baptist Hospital Lobby (608 Strickland Drive)
Beaumont – Saturday, June 24, 2023 at the Julie & Ben Rogers Cancer Institute Auditorium (3555 Stagg Drive)
Kountze – Saturday, July 15 at the Hardin County Health Department (1135 Redwood Street)
Get more information or register today by calling 409-833-3663 or visiting giftoflifebmt.org.
Screenings are by appointment only.
Also on 12NewsNow.com...