HOUSTON — Elizabeth Barraza was shot to death while she was setting up for a garage sale in front of her Tomball home on Jan. 25, 2019. Now, four years later, loved ones are still holding onto hope that her killer will someday be found.
The shooting
Barraza was 29 when she was shot and killed in her driveway. Investigators said the killer appeared to be wearing a disguise when they walked up the driveway and shot Liz just after her husband, Sergio Barraza, left for work. The deadly shooting was captured on a neighbor's surveillance video.
The shooter walked up to Liz and fired three shots. The killer fired one more shot after Liz hit the ground.
"If I had known it was the last night, I would have done so much more," Sergio said. "I would have held her longer. I would have said so much."
Despite the video evidence, no arrests have been made.
"It has really made me live in fear just because they haven't found anyone," Sergio said.
Liz's husband
Sergio said he only watched the video one time to see if he could recognize the killer. He said he knows that a lot of people consider him the prime suspect in her death. Sergio has since remarried but said he still loves Liz.
"I know, I'm like, the prime suspect in people's eyes. I know people immediately say it was the husband who did it. I understand that but you had to know Liz and I," he said. "You had to see us. I still love her to this day."
Investigators scrubbed the couple's digital footprint and found no reason anyone would want to hurt them. Liz and Sergio were days away from celebrating their fifth wedding anniversary in Orlando. They were big fans of Star Wars and Harry Potter.
"Liz was amazing," Sergio said. "It was like a fairytale that we had together."
He said he has been cooperating with police and hopes they're able to solve her case.
"I don't know how they are going to do it, I just hope they do do it," Sergio said.
Sergio still holds onto the Harry Potter suitcase she packed for their anniversary trip.
"I kept it because it's a time capsule of her," he said.
Sergio said he and Amber, the woman he married after Liz's death, connected through similar life experiences.
"I found Amber ... it was about a year and a half after Liz passed away. Amber had lost her sister and we just connected," Sergio said. "I didn't want to give up on life and give up for Liz, too. I know she wouldn't want me to just stop."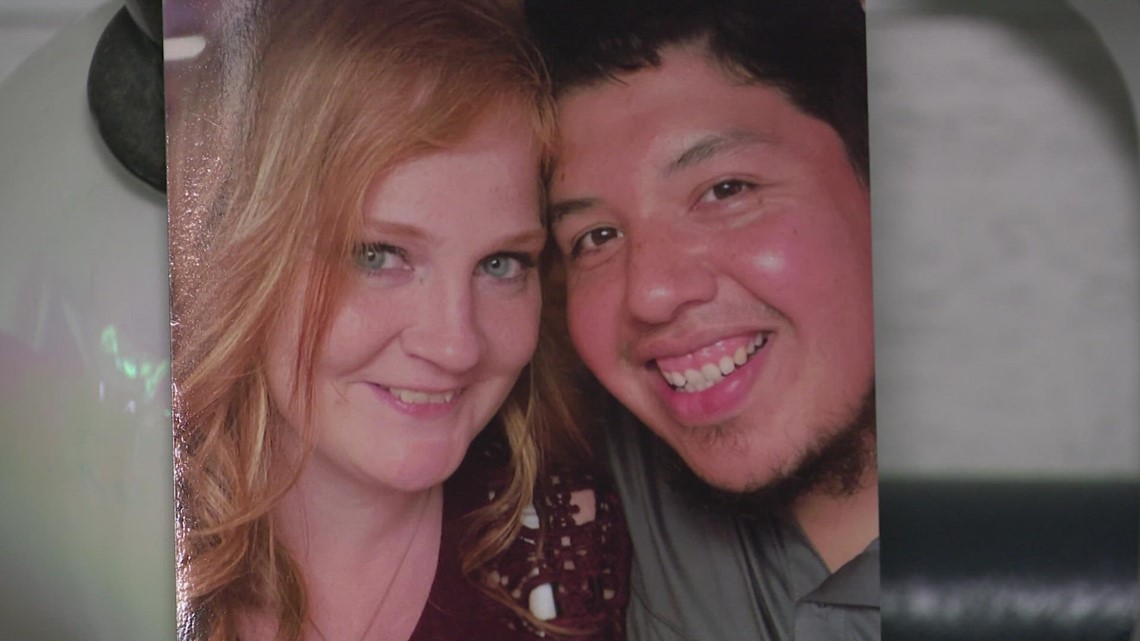 The garage sale
Sergio said he believes only a few people knew about the garage sale.
"The only people that I know knew about the garage sale was some of her co-workers, myself, her parents and I think my mom," he said.
He said they put up a couple of signs the night before.
"We placed signs the night before. We placed two signs -- one at the entrance to our neighborhood and one just down the road at Hufsmith Kuykendahl," Sergio said.
The investigation
Sergio said he and Amber have spoken with investigators numerous times. They also took lie-detector tests.
"I've always been an open book for police and I know Amber has as well. We both have gone through polygraphs," he said.
He said they passed the tests. They also still care for "Diesel," the dog Sergio and Liz shared.
He said Liz's death still is hard to comprehend.
"It doesn't make sense. It's like I'm living in a totally alternate reality from what I was supposed to," he said. "I drive by the house every so often, looking at the life I could have had."
Reporting information
Last January, Crime Stoppers increased the reward to $50,000 for information that leads them to the shooter.
Anyone with information about the case is asked to call Crime Stoppers at 713-222-TIPS (8477).