Facts not Fear: The vaping crisis in Southeast Texas
An exclusive 12News investigation into new vaping numbers and illnesses across Southeast Texas, including how local schools are now dealing with spike in teen usage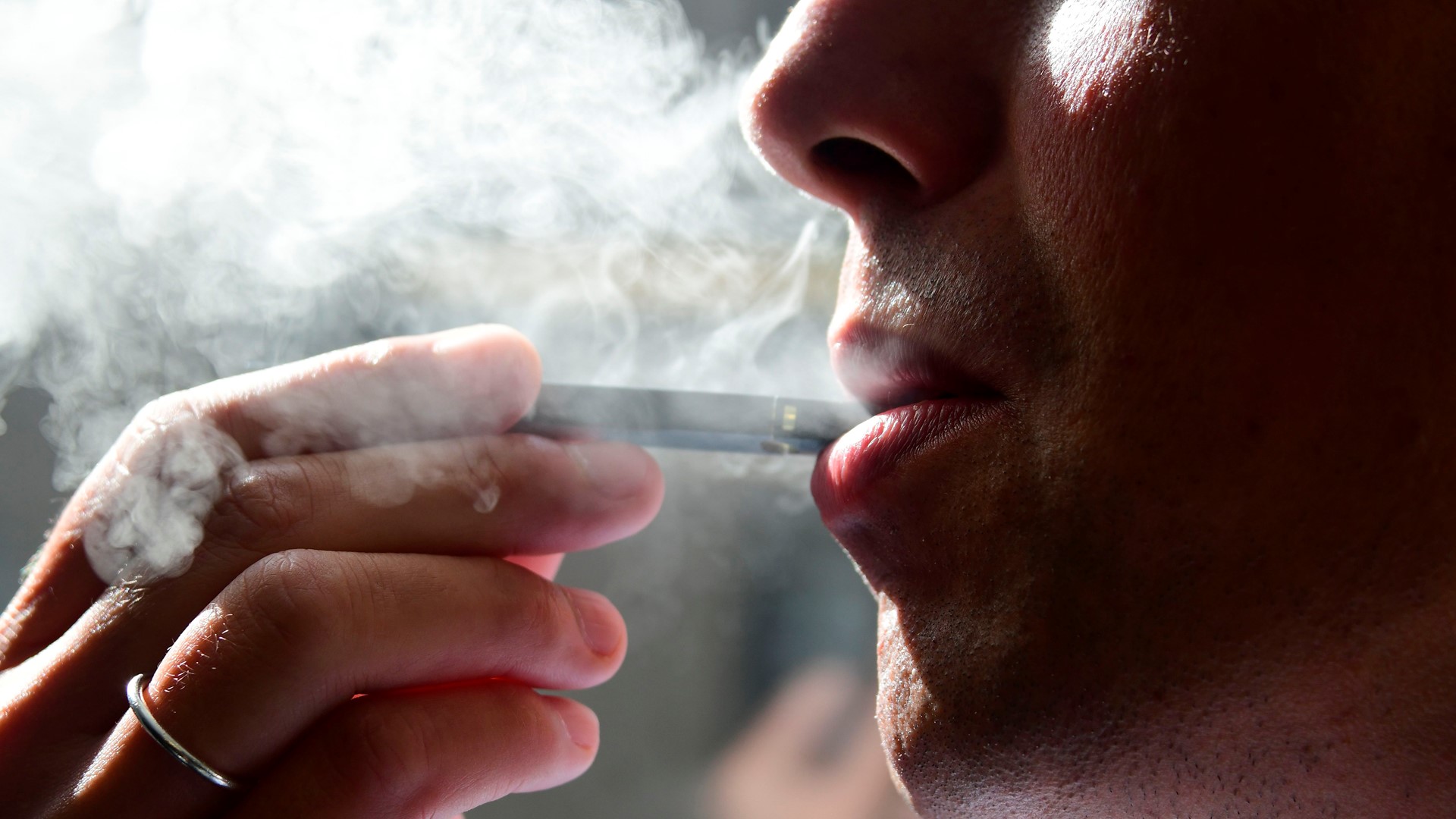 Vaping illnesses are now a public health crisis.
There have been more than 1,000 people around the country hospitalized with lung injuries linked to vaping, according to stats from the Centers for Disease Control.
Included in those stats, are 26 deaths -- including at least one in Texas.
While the CDC has said the cause of the lung illnesses is still under investigation, a study by the Mayo Clinic says it may be tied to "toxic chemical fumes."
The 12News Investigators wanted to look into the problem across Southeast Texas to give you facts, not fear about the crisis.
Chapter one
:
Chapter 1
New numbers released on Oct. 22 show vaping is a problem in every corner of the state, with the highest numbers coming from north and southeast Texas.
The youngest case of severe lung disease in Texas has been a 13-year-old, DSHS reports. They say one quarter of those affected in Texas are minors and three quarters are male.
According to the 2018 Texas Youth Tobacco Survey, 18.9% of high school students and 6% of middle school students used e-cigarettes in the past 30 days, which is on par with national numbers.
Nine in 10 of those with severe lung disease in Texas report vaping THC or marijuana. Almost all were hospitalized, with many requiring intensive care.
Doctors and hospitals are being told to watch for cases of severe lung disease, and ask about e-cigarette use in patients with severe respiratory symptoms.
The symptoms include coughing, shortness of breath and fatigue.
"DSHS is urging clinicians who identify cases to gather information about the products used and ask patients to save the vaping liquid in case it's needed for testing," a news release from DSHS said.
Chapter two
:
Chapter 2
E-cigarettes and vaping devices are being confiscated at schools across Southeast Texas.
It's a problem that touches every school in each corner of the state.
"We are trying to be more innovative with our consequences so they can change the behavior," Beaumont United Assistant Principal Dr. Lori Rochelle said.
Dr. Rochelle says intervention is key and the dangers of e-cigarettes will now be taught as part of the curriculum.
Students say the majority of vaping isn't happening on campus.
"I don't see it during school but outside of school most definitely," Beaumont United junior Gissselle Rievas said.
12News requested numbers from local school districts. The number of incidents involving vaping on campus is relatively low.
Some schools say they do not track the number of devices confiscated. Some experts say the numbers don't reflect the true problem school districts are dealing with.
BEAUMONT ISD: During the 2018-2019 school year, majority of vaping incidents came from West Brook High where there were 32 incidents. There were eight incidents at Beaumont United, four at Odom Academy, two at Beaumont ISD Early College High, Marshall Middle, Pathways Learning Center and one incident each at Phalen Leadership Academics and Vincent Middle. For the 2019-2020 school year, there have been four incidents at West Brook High and one incident at King Middle.
PORT NECHES-GROVE ISD: The district lumps e-cigarette incidents with all tobacco violations. The district says for the entire district, there were 169 incidents during the 2018-2019 school year. Punishment for all tobacco violations include: one day of out of school suspension and three days of in-school suspension for the first offense. Second offense results in a DAEP placement. The district says that vaping devices are confiscated but they do not keep up with the numbers.
PORT ARTHUR ISD: From the start of school to Oct. 28, there have been 14 vaping incidents.
HARDIN-JEFFERSON ISD: The district does not keep track of the number of electronic cigarettes that are confiscated. Punishment can range from a day or multiple days in in-school suspension, to suspension, to DAEP placement.
LUMBERTON HIGH: Fifteen incidents involving vaping during the 2019-2020 school year (as of Oct. 29). The first offense includes 5 days of in-school suspension, second offense is 10 days of in-school suspension and the third offense is DAEP placement.
NEDERLAND ISD: During the 2018-2019 school year there were 97 vaping incidences at Nederland High, two at Central Middle and one at C.O. Wilson Middle. The district says as of Oct. 28 there have been zero cases this school year.
BRIDGE CITY ISD: During the 2018-2019 school year there were 43 vaping incidents at the high school, 10 at the middle school and one at the intermediate school. For the 2019-2020 school year (as of Oct. 28), there have been 7 vaping incidents at the high school and one at the intermediate school. First offense results in three days of in-school suspension, second offense is five days of ISS and third offense results in seven days of ISS.
VIDOR & AIM CENTER HIGH: The district says there have been 25 incidents at Vidor High and zero at AIM Center High.
JASPER ISD: The district says there have been six incidents at the high school during the 2018-2019 school year and only one during the current school year. The district says during the 18-19 school year, there was one incident at the junior high school and one incident at Parnell.
KIRBYVILLE ISD: There were 12 incidents at Kirbyville High and 2 at the junior high during the 2018-2019 school year. So far for the 2019-2020 school year there have been two cases at the high school (as of Oct. 30).
Chapter three
:
Chapter 3
Doctors say what they fear most about vaping is what they don't know.
"There are so many things in the vaping products that we don't even know what they have, and we don't even know their dangers," Dr. Jeff Alford told 12News.
The Centers for Disease Control, U.S. Food and Drug Administration, state and local health departments, and other clinical and public health partners are investigating a multi-state outbreak of lung injury associated with use of e-cigarette, or vaping, products.
"The concentration of the nicotine in vaping a single episode can be quite high and that has other effects on your body that we just don't know yet," pulmonologist Dr. Jaspal Singh said.
The Mayo Clinic released a study saying lung injuries, "may be caused by exposure to toxic chemical fumes."
Thirty-four deaths have been confirmed in 24 states, including Texas.
No one compound or ingredient has emerged as the cause of these illnesses to date; and it may be that there is more than one cause of this outbreak, the CDC says.
Texas State Health Officials are now encouraging health care providers to ask patients of any previous use of vaping products.
"I still think that in many people's minds they would rather their children vape than smoke regular cigarettes because it's healthier," Baptist Hospitals of Southeast Texas assistant behavioral health administrator Garrett Craver said. "When actually we are seeing now it's much more dangerous."
Chapter four
:
Chapter 4
Misinformation. Hysteria. Fear-mongering. Those are some of the words an e-cigarette manufacturer and vape retailer uses to describe the current state of affairs.
"We have nothing to do with the industry that's causing this crisis," Sam Salaymeh, North America president and CEO of AMV Holdings told WCNC NBC Charlotte. "We are not harming anyone if they are smokers."
The national attention is causing a big reaction that's starting to impact businesses.
"This panic has led many people who are smokers to not go into stores," Salaymeh said.
Salaymeh referenced federal and state reports that show the vast majority of severe lung health problems so far have stemmed from products containing THC, the main ingredient in marijuana. He says that's completely different than what reputable stores are selling to the public.
"If you've never smoked in your life, you shouldn't start vaping," he said. "Nothing is better than fresh air."
If you're trying to kick the habit, Salaymeh said research shows vaping is safer than cigarettes.
"It's not completely safe, but it's most likely 95% safer," he said.
Chapter five
:
Chapter 5
Because of the fear of the unknown, many companies, universities and businesses have banned vaping.
Walmart, Kroger, Walgreens and HEB are among the largest companies that have stopped selling e-cigarettes in their stores.
"We share the concern of many Texas parents that the risks are too unknown at this time and we share the general public health concern in these products," HEB spokeswoman Dya Campos said.
Texas A&M University has banned vaping on "every inch" of its campuses around the state.
"This health threat is serious enough that I want to see the ban include every building, outside space, parking lot, garage and laboratory within the Texas A&M System," Chancellor John Sharp said in a memo to presidents and agency directors within the Texas A&M University System.
In September, President Trump said the FDA would ban flavored vaping e-cigarettes. There are reports the White House may back down from that ban despite pressure from more than 50 health groups.
Juul, the best-selling e-cigarette brand in the U.S., stopped selling fruit and dessert flavor vape cartridges in October.
The flavors — which include mango, crème, fruit and cucumber among others — have been blamed for the large number of teens who started vaping. However, Juul says those fruity flavors account for less than 10% of its sales.
Juul continues selling its most popular flavors, mint and menthol. The proposed Trump ban excludes these flavors