BEAUMONT, Texas — This article contains ongoing U.S. and international updates on the COVID-19 pandemic and its effects. Here are some key updates for Friday, July 31, 2020. You can find more details by scrolling through the story which we are updating throughout the day. The newest items will be at the top.
Today's Headlines:
July 31, 4:30 p.m. - Texas has tallied more coronavirus cases than New York as of Friday. Texas health officials reported 8,839 new confirmed cases and 295 deaths Friday. New York reported 644 new confirmed cases and five deaths.
New York was once the hotspot for COVID-19 in the United States. Texas, Florida and California have surpassed New York's total. Texas has reported 420,946 cases and 6,569 deaths since March. New York has recorded 415,014 confirmed cases and more than 25,000 deaths.
Harris County has reported the most cases, followed by Dallas County with more than 49,000 total cases. On Friday, Dallas County reported 707 new cases, and Tarrant County reported 587.
July 31, 3:30 p.m. - After a solid week of seeing hospital numbers decline in Jefferson County, SETRAC reported an increase on Friday.
16 additional hospital beds were occupied by COVID-19 patients Friday -- up from 69 to 85. ICU beds also saw an increase. There are 39 COVID-19 patients in ICU, up 13 from Thursday.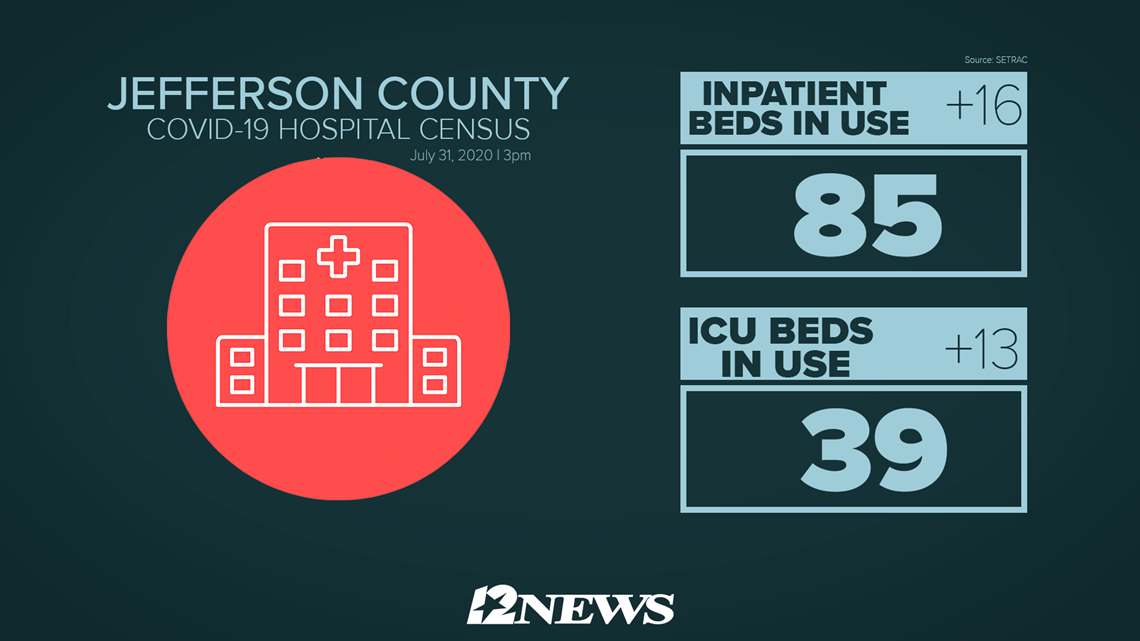 Inpatient beds are still below the 7-day average. This is the first week in more than a month that Southeast Texas has achieved this. We are currently at our average for ICU beds over the past 7-days.
7 DAY AVERAGE INPATIENT BEDS: 92
7 DAY AVERAGE ICU BEDS: 39
Still, SETRAC reports that all 86 ICU beds in Jefferson County are occupied.
July 31, 2:30 p.m. - The Texas State Teachers Association released a statement Friday calling for the state to mandate all schools open no earlier than September 8.
In the statement TSTA president Ovidia Molina called for a prohibition on any district starting in-person or online classes before the date.
The teacher's organization also for opening of classes after that to only happen after consultation with local health officials, teachers, staff and parents.
July 31, 12:30 p.m. - Port Arthur Health Department reports two new coronavirus-related deaths in Nederland and Port Arthur. The Port Arthur resident is a Hispanic man between the ages of 70 and 75-years-old. The man from Nederland was White and between the ages of 55 and 60-years-old. Health officials say both men had underlying health conditions.
The adds to the number of fatalities in Southeast Texas. Port Arthur has reported 14 COVID-19-related deaths and Nederland has confirmed a total of five.
The district also announced in the statement that 30 minutes would be added to the school day. The school year will end on May 26, 2021.
July 31, 6:30 a.m. - Coronavirus testing is available Friday in Beaumont, Lumberton, Bina and Woodville on Friday from 8 a.m. to 4 p.m.
Cristo Rey Church, 767 Avenue A, Beaumont
Journey Community Church, 1534 South Main, Lumberton
Jasper County Sub-Courthouse in Buna
Tyler County Nutrition Center, 201 Veterans Way, Woodville
The actor best known for playing Walter White on AMC's "Breaking Bad" made the announcement in a video posted to Instagram on Thursday.
Cranston, 64, did not say exactly when he got infected with the new coronavirus, but indicated that it was "quite early on" in the pandemic. He had mild symptoms including a slight headache, tightness in his chest and loss of taste and smell, according to the post.
"I was pretty strict in adhering to the protocols and still... I contracted the virus," he wrote.
July 31, 1 a.m. - Dr. Anthony Fauci returns to Capitol Hill on Friday to testify before a special House panel investigating the coronavirus pandemic. His testimony comes at a time when early progress on combating the virus seems to have been lost and uncertainty clouds the nation's path forward.
The government's top infectious disease expert is testifying alongside Dr. Robert Redfield, head of the Centers for Disease Control and Prevention, and Admiral Brett Giroir, a Health and Human Services official and physician serving as the "testing czar."
The panel, the House Select Subcommittee on the Coronavirus Crisis, is divided about how to reopen schools and businesses, mirroring divisions among Americans.
-----------------------------------------------------------------------------------------------
Here's the breakdown by county of coronavirus cases for the eight-county Southeast Texas region...
Coronavirus symptoms
Most healthy people will have mild symptoms. A study of more than 72,000 patients by the Centers for Disease Control in China showed 80 percent of the cases there were mild.
But infections can cause pneumonia, severe acute respiratory syndrome, kidney failure and even death, according to the World Health Organization. Older people with underlying health conditions are most at risk.
The CDC believes symptoms may appear anywhere from two to 14 days after being exposed.
Human coronaviruses are usually spread through...
The air by coughing or sneezing
Close personal contact, such as touching or shaking hands
Touching an object or surface with the virus on it, then touching your mouth, nose or eyes before washing your hands.
Help stop the spread of coronavirus
Stay home when you are sick.
Eat and sleep separately from your family members
Use different utensils and dishes
Cover your cough or sneeze with your arm, not your hand.
If you use a tissue, throw it in the trash
Lower your risk
Wash your hands often with soap and water for at least 20 seconds. If soap and water are not available, use an alcohol-based hand sanitizer.
Avoid touching your eyes, nose, and mouth with unwashed hands.
Avoid close contact with people who are sick.
Clean and disinfect frequently touched objects and surfaces.
If you are 60 or over and have an underlying health condition such as cardiovascular disease, diabetes or respiratory illnesses like asthma or COPD, the World Health Organization advises you to try to avoid crowds or places where you might interact with people who are sick.
Also on 12NewsNow.com...