ORANGE, Texas — An area school district is working with the Orange County Sheriff's Office after an act of vandalism left a recently renovated field ruined and officials frustrated.
Weeks after the installation, two suspects defaced it. It took place around midnight Saturday night, according to Little Cypress-Mauriceville High School Principal Ryan Dubose.
The vandals spray painted the away concession stand, the middle logo, and the press box. They also ruined the sign on the baseball field showing the school's winning history.
Curse words could be seen on the signs and buildings.
"This is extremely disheartening, but I am confident that people in our community and surrounding communities will help us get to the bottom of this." Dubose wrote on Facebook.
Current and former students along with district officials are upset.
"Sickening," Joe Shores, former Little Cypress-Mauriceville student, said. "Just sickening is what it is."
Shores attended Little Cypress-Mauriceville CISD in the 1950s. His daughter works at the school and his granddaughter is in the band.
Shores wants answers and justice.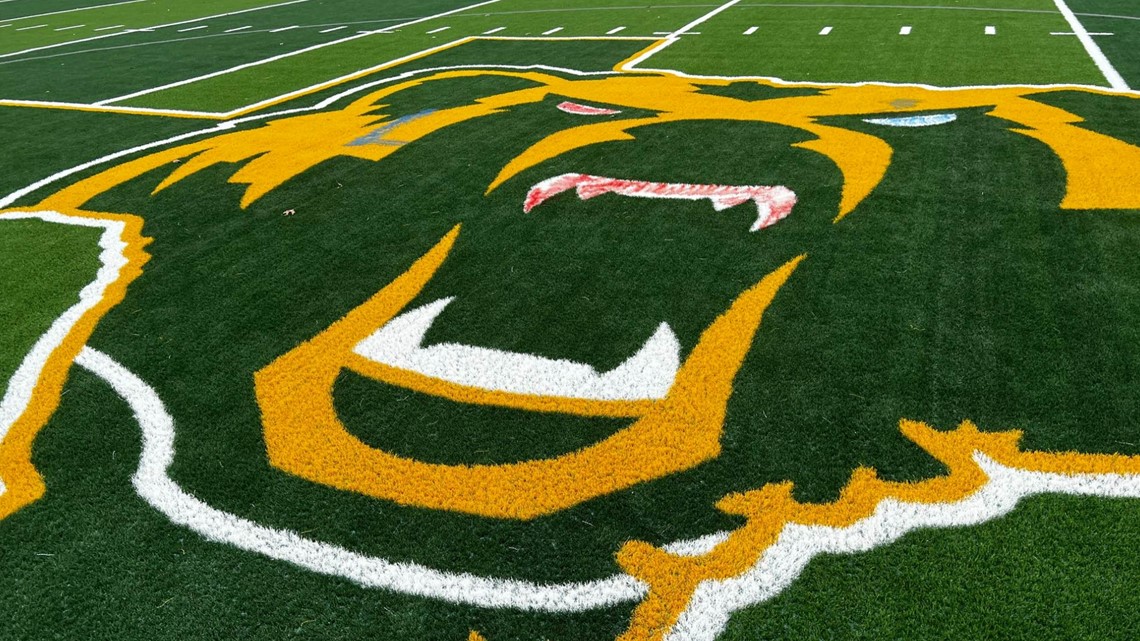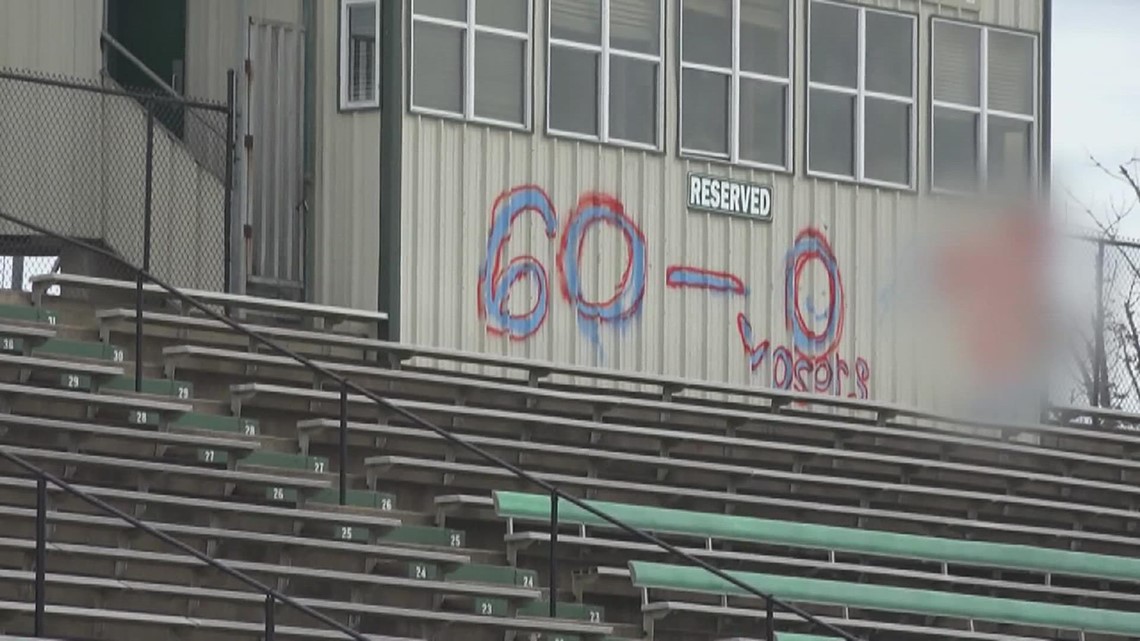 "I was here Friday night, sat in the top row over there," Shores said. "I'm not sure who done this. I just really don't care who done it. But when they're caught, I want them prosecuted to the limit of the law."
District officials are working with the Orange County Sheriff's Office and have surveillance video of two people on the field just after midnight. The suspects are believed to be school-aged boys.
"They picked up two individuals in hoodies, clearly spray painting on the press box at about 12:17 a.m.," Superintendent Stacey Brister said.
Football players also helped detectives find used spray cans. The players led investigators to a ditch that runs to a road.
"We found like four cans," a football player said.
Eric Peevey is the athletic director and football coach for Little Cypress-Mauriceville High School. To Peevey, the situation is aggravating.
"Frustrations," Coach Eric Peevey said. "Frustrations, man. It's not just about football. It's not just about this, but the thousand's it takes to recover from something like this."
Little Cypress Mauriceville is competing against the Lumberton Raiders in a football game on Friday, October 28, 2022. Even though the paint used was blue and red, the district is not blaming the Raiders for the vandalism.
"No, there are no assumptions being made at this point," Coach Peevey said. "I doubt very seriously that Coach Reyes and his football team were going to do anything like this. Matter of fact, he called today offering to bring his team up to help clean. You have dredges to society who make stupid decisions, and I think that's just what you have."
12News reached out to Lumberton Independent School District officials in regards to the vandalism.
Lumberton ISD officials said they have been in contact with Little Cypress Mauriceville saying in part, "To our knowledge there is currently no reliable information leading to a suspect or suspects. There is also no information regarding whether the suspects are LISD students. Law enforcement has been involved from the LCM side and they are handling the investigation. LISD condemns vandalism and hopes the perpetrators, whoever they turn out to be, are caught and held responsible"
Friday's football game is in Lumberton, but the district is working quickly to have the field prepared for other upcoming events. The construction company that installed the turf is planning to come out as soon as possible to make repairs.
District officials believe it will cost thousands to have other buildings repainted.
The Orange County Sheriff's Office is in charge of the investigation and have interviews people who may have information on the crime. The incident is being investigated as criminal mischief.
The punishment for criminal mischief is determined by the dollar amount of the damage.
Anyone who knows any information about the crime can contact the sheriff's office or rdubose@lcmcisd.org.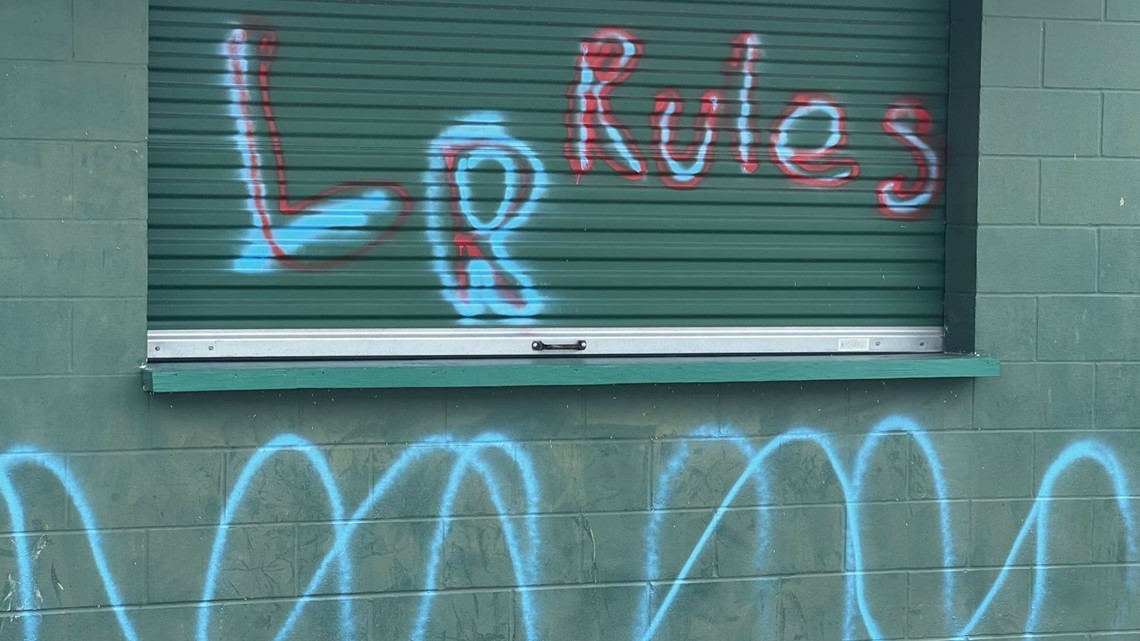 Also on 12NewsNow.com…