BEAUMONT, Texas — A man who was released on bond Sunday for violating a protective order is in jail on Tuesday accused of shooting his ex-girlfriend and killing her friend.
Beaumont Police officers were initially sent to the Timberlake Courts Apartments along Interstate 10 Tuesday morning at about 7:13 a.m. for a report of shots being fired.
On arrival they found the body of a 19-year-old man and a wounded 18-year-old woman according to a news release from the Beaumont Police Department.
Daniel Anres Muniz, Jr., 19, of Beaumont, was pronounced dead at the scene and the woman was taken to Beaumont hospital where she is in stable condition according to the news release.
Police have not identified the woman at this time.
Witnesses told police that Dontay Jamal Barlow, 19, of Beaumont, who was the ex-boyfriend of the woman, shot her and the man before leaving in a pickup truck.
Police found Barlow in the south end of the city where he was taken into custody without incident according to the release.
Barlow was taken to Beaumont Police headquarters where he spoke to investigators before being take to the Jefferson County Correctional Facility where he was booked on murder and aggravated assault charges the release said.
Barlow was arrested on Saturday, April 3, 2021 for violating a protective order and was released on a $5000 the next day police said.
The suspect's girlfriend had heard he was out of jail and was staying at a friend's apartment according to Jefferson County Precinct One Justice of the Peace Ben Collins, Sr.
The suspect went to the friend's apartment Tuesday and fatally shot him when he answered the door and then shot his girlfriend in the chest Collins told 12News.
Residents at the complex told a 12News stringer that they heard several shots fired.
As of Tuesday, April 6, Barlow's bond has been set at $1 million for a murder charge and $500,000 for aggravated assault.
Criminal defense lawyer Ryan Gertz says the safety of the victim and alleged offense are considered in setting a bond.
"Those are all factors that need to go into the bonds and they need to be set where someone can afford them, but at the same time, that protect the victim and the safety of the community," Gertz said.
Beaumont Police shooting that killed 1 man, wounded woman at apartment complex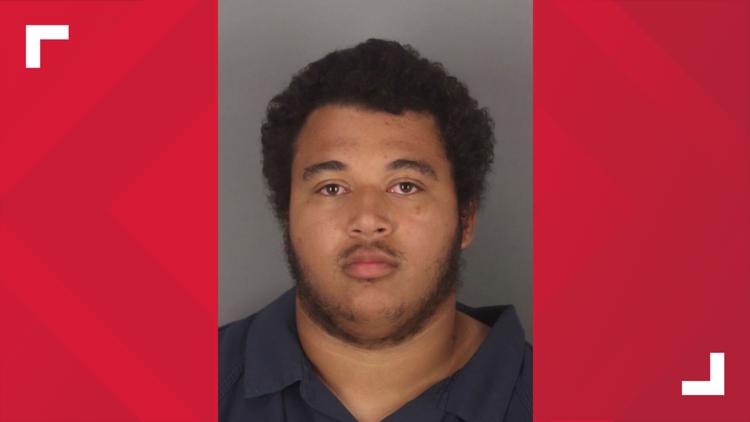 Gertz tells 12News Barlow could face additional charges depending on the severity of his ex-girlfriend's injuries.
"It could be one aggravated assault and one murder. If the person who survived does not survive, it could be two murders. It could be capital murder, so a capital murder would be murder while in the process of committing some other felony," Gertz said.
A representative with Family Services of Southeast Texas says domestic violence statistics have risen 30 percent during the pandemic.
"It's so difficult for them to get out of the situation. So, the incidents are more serious. It's more dangerous, and there's a huge chance of fatality," Deborah Tomov said.
If you have information about a crime you could earn a cash reward of up to $1000 by providing an ANONYMOUS tip to Crime Stoppers of Southeast Texas.
This is a developing story. We will update with more if and when we receive more confirmed information.
From a Beaumont Police Department news release...
Tuesday, April 6, 2021 at 7:13 A.M., Beaumont Police Officers responded to 125 I-10 Service Rd, (Timberlake Courts Apartments) in reference to reports of someone shooting a gun. Upon arrival, officers located a deceased 19 year old Beaumont man, and an injured 18 year old female from Beaumont. Witnesses advised Officers that a 19 year old Beaumont man, Dontay Jamal Barlow, shot the victims and fled in a 2002 Forrest green Silverado truck. The female victim was transported to the hospital and is in stable condition. The 19 year old male victim was pronounced deceased at the scene. He was later identified as Daniel Andres Muniz Jr.
Barlow was located in the south end of Beaumont and taken in to custody without incident. Barlow was transported the Beaumont Police Department to speak with Investigators and then transported to Jefferson County Correctional Facility where he was booked in for Murder and Aggravated Assault.
Barlow was the ex-boyfriend of the female victim and had just been arrested 4-03-2021 for Violation of a Protection Order. He was released on a $5000 bond on 4-04-2021.
Also on 12NewsNow.com…