BEAUMONT, Texas — Police have arrested a man caught on surveillance video robbing a Beaumont video game store at gunpoint in April.
Two men armed with handguns walked into the Game X Change at 4105 Dowlen Rd in Beaumont on April 25, 2023, and robbed the store according to a previous Beaumont Police Department news release.
Police say the two men stole both cash and video games in the robbery.
Police obtained an aggravated robbery warrant for Brandon Tyrone Mayberry in connection to the armed robbery on May 31, 2023.
Mayberry is suspected in several other robberies in Beaumont and surrounding counties.
On June 2, 2023, Mayberry was taken into custody at an apartment building in the south end of Beaumont by Beaumont Police Officers at around 8 p.m.
Mayberry's bond was set at $500,000 by Jefferson County Precinct One Justice of the Peace Ben Collins.
Police say they were able locate Mayberry thanks to a Crime Stoppers tip.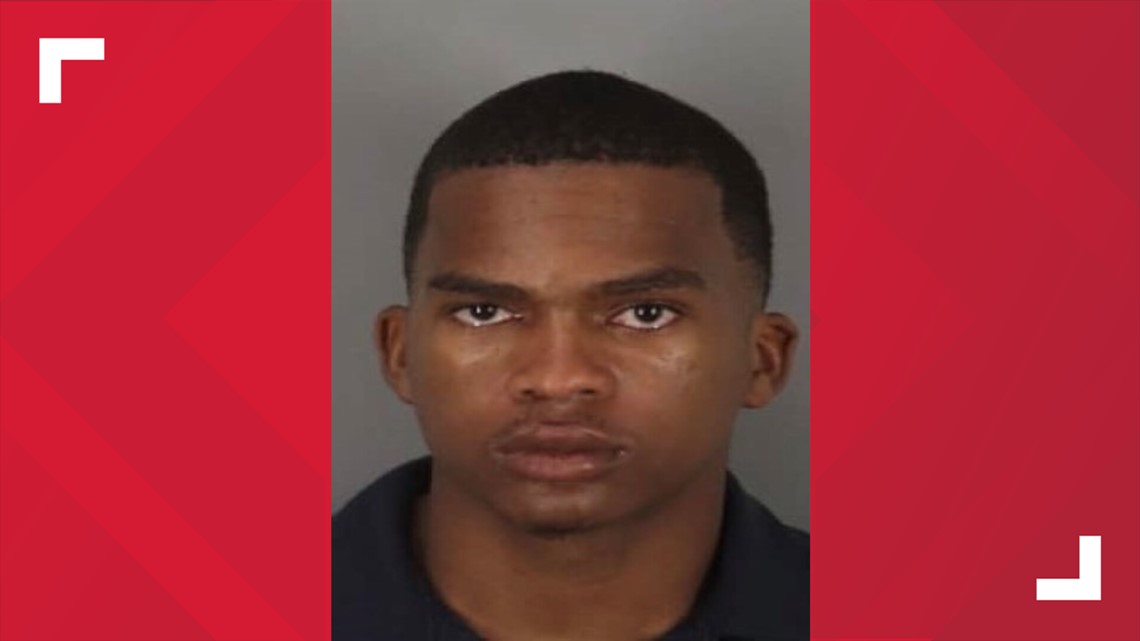 Mayberry was said to have used stolen vehicles in all robberies he is suspected to be involved in. The last two vehicles were Kia's, which have both been recovered.
He was to be considered armed and dangerous.
Beaumont Police Officer Haley Morrow previously told 12News she hoped Crime Stoppers tips would help bring Mayberry to justice.
"If you actually know someone and you see them on a surveillance video, you know their mannerisms, you know the type of clothing they wear," she said.
Game X Change employee Aidan Monson has expressed his concerns over the store being targeted again.
He's worked at the store on Dowlen for a year. He's hesitant to apply for the assistant store manager position after learning about the robbery.
"We learned that two people had robbed the store at gunpoint. We got to see pictures of the guys," Monson said.
At the store, customers are now greeted with a sign that says "you must surrender backpacks and lower hoods at the door."
"People always bring in stuff to trade so that's never been a big deal for us, but with this incident we tell them leave it in the car or at the register," Monson said.
He hoped Mayberry would be found soon.
"A lot of business owners around here will feel better once he's gone and put away," Monson said.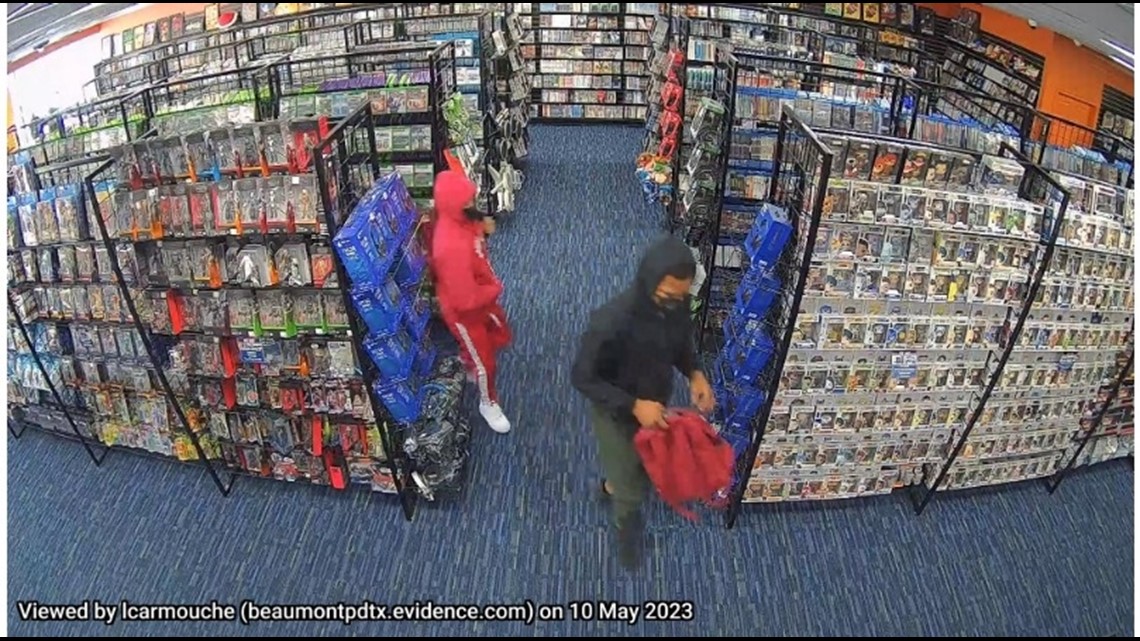 The other suspect involved in this armed robbery was arrested on May 25, 2023.
20-year-old Beaumont man Daniel Leatherwood was arrested on an unrelated charge. He was later taken into custody for the robbery after speaking with detectives.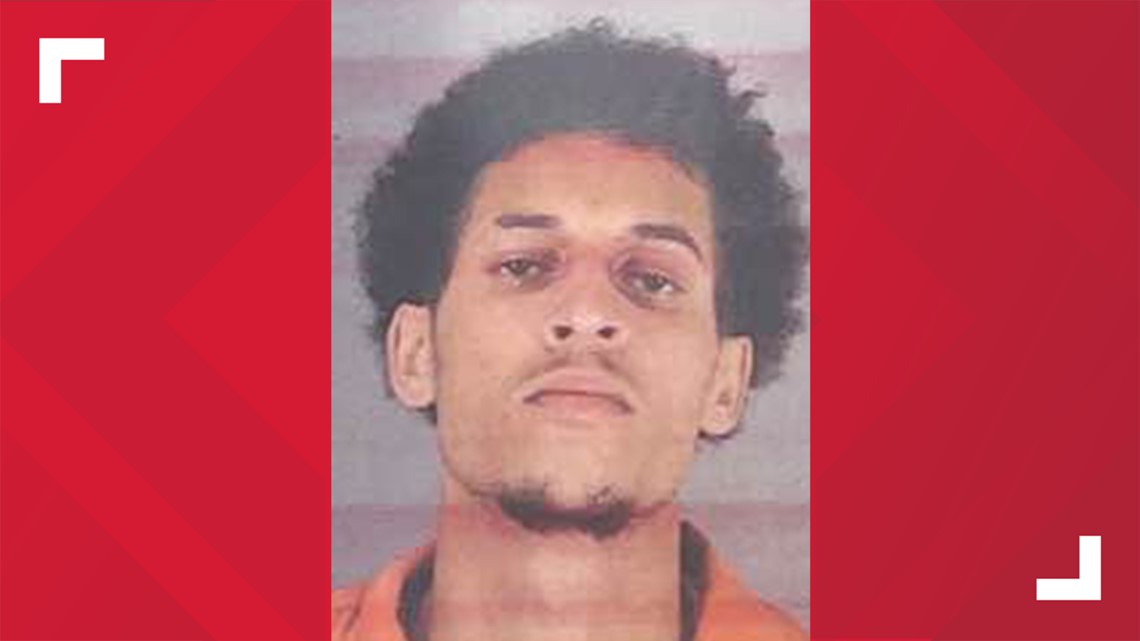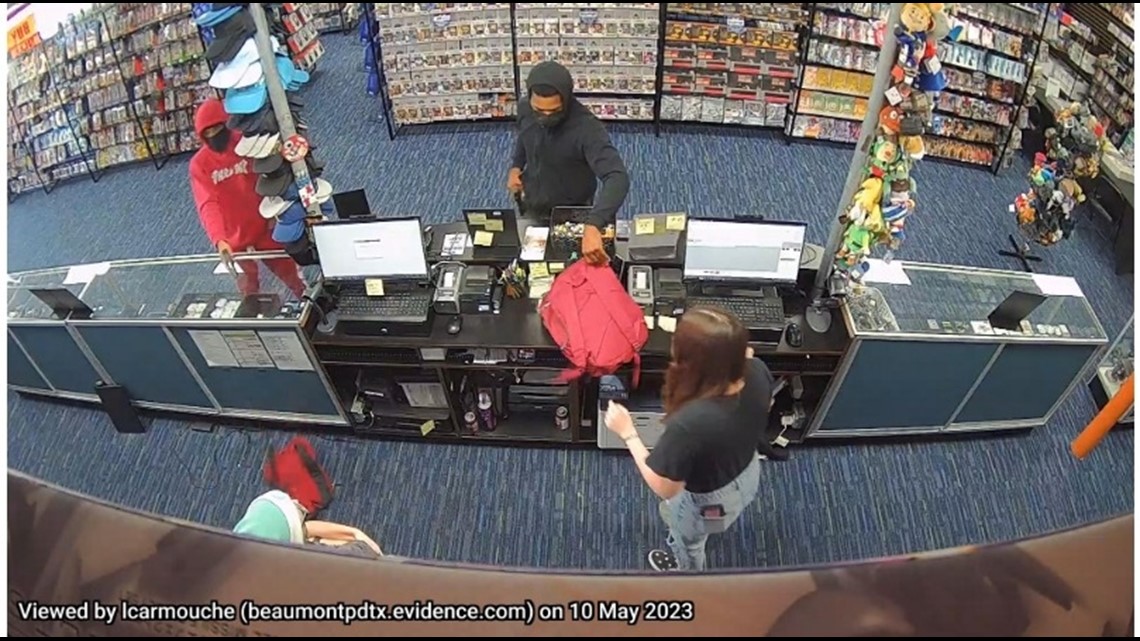 If you have information about a crime you could earn a cash reward of up to $1000 by providing an ANONYMOUS tip to Crime Stoppers of Southeast Texas.
Also on 12NewsNow.com…