AUSTIN, Texas — President Donald Trump and Apple CEO Tim Cook arrived in Austin Wednesday to tour a manufacturing plant currently working on Apple computers.
President Trump landed at around 1:45 p.m. and traveled to the Flextronics plant in northwest Austin off of U.S. 183 south of McNeil Drive, where Mac Pro computers are being manufactured.
When he deplaned, President Trump was greeted by a crowd of people who chanted, "four more years." Lt. Gov. Dan Patrick and Attorney General Ken Paxton were at the bottom of the plane's stairs where they shook President Trump's hand.
WATCH: President Trump arrives in Austin for tour of Apple facility
President Trump, Cook and other administration officials met with employees at the Austin facility as part of the trip.
President Trump and daughter Ivanka Trump shook hands with several staff members while touring the facility. Another employee also presented the president with a plate engraved by the same machine used to engrave the Mac Pros. It contained custom lettering to commemorate his visit.
RELATED:
Apple commits $2.5B to combat California housing crisis
Apple will continue to build Mac Pros in Austin after tariff concerns
How Trump's latest China tariffs could squeeze US consumers
Austin's facility is Apple's largest hub outside of its headquarters in Cupertino, California. The tech giant currently employees more than 7,000 employees in Austin. The new corporate campus will accommodate 5,000 workers when construction is complete in 2022, with the capacity to grow to 15,000 employees.
"It's an honor to be here," President Trump said. "We're seeing the beginning of a very powerful and important plant, and anybody that followed my campaign, I would always talk about Apple, that I want to see Apple building plants in the United States, and that's what's happening. Tim Cook is somebody that I greatly respect, a great leader, a great businessman, and it's a very special day. Our country is doing well, probably better than ever before, certainly from the standpoint of the economy."
He also took time to thank Cook for Apple's contributions to the job market. Cook thanked President Trump and went on to discuss the Mac Pro.
"What you're seeing here, the product, the Mac Pro, is 15,000 times more powerful than the original Mac and it can perform 56 trillion tasks per second," said Cook. "We could not be more proud of the product. It's an example of American design, American manufacturing and American ingenuity."
Cook also said more investments are likely to come after announcing earlier that day the groundbreaking of the new Austin campus.
"We view Austin as a very key place for the future of our company," said Cook. "It's the second-largest site in the world for us next to our home base in Cuptertino. So I'm hoping for, obviously, more investments to come."
President Trump and Cook then said they believe the U.S. has the strongest economy in the world.
The new computer's components will be built all across the United States, including Arizona, Maine, New Mexico, New York, Oregon, Pennsylvania, Texas and Vermont.
PHOTOS: President Trump arrives in Austin to tour Apple facility
PHOTOS: President Trump arrives in Austin to tour Apple facility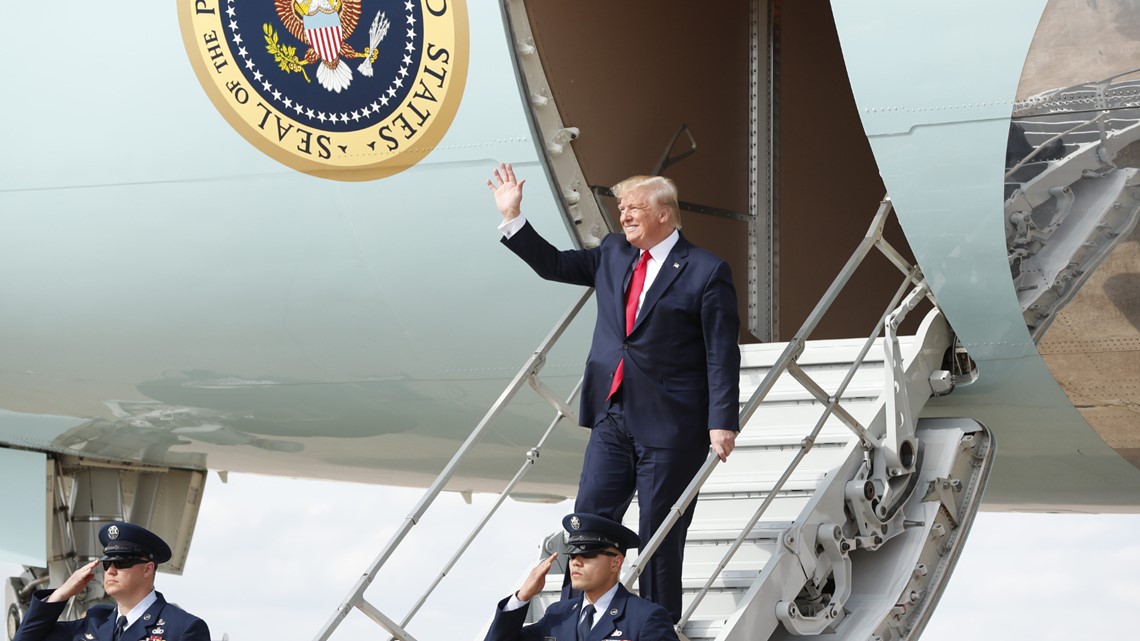 A question portion followed, where President Trump went on to call the ongoing impeachment hearings a hoax. He also called the whistleblower fake and the media dishonest.
Protests also took place at the manufacturing plant, in which at least one arrest was made.
In September, Apple announced Austin will be the new manufacturing home for redesigned Mac Pro computers. The announcement was made a few months after President Trump stated he would place tariffs on Apple if the company moved production efforts to China.
Apple asked the Trump administration to waive tariffs on Chinese-made Apple Watches, iPhone components and other consumer products, according to filings with trade regulators. On Wednesday, Trump defended waiving tariffs for Apple.
"The problem we have is you have Samsung, it's a great company but it's a competitor of Apple and it's not fair if, because we have a trade deal with Korea, we have a great trade deal with South Korea," the president said, "but we have to treat Apple on a somewhat similar basis as we treat Samsung."
Samsung also has a manufacturing facility in Austin. In October, the company notified the Texas Workforce Commission it will lay off 290 of its Austin employees by the end of the year.
RELATED:
At least 1 arrested in Trump protests ahead of his tour at Austin Apple facility
Ambassador Sondland says Giuliani pushed for Ukraine quid pro quo
President Trump addresses impeachment hearing during Austin trip
When asked if there will be a trade deal by the end of the year, President Trump said China is much more willing to make a deal at this point but he is not yet ready because they're "not stepping up to the level" that he wants. He said he plans to keep the U.S. economy stronger than China's, despite his "great relationship" with President Xi Jinping.
"I like it the way it is now because we're taking in billions and billions of dollars and we're giving some of that money to farmers and others," the president told reporters.
"I said someday we're going to see Apple building plants in our country, not in China. And that's what's happening. So it's all happening, it's all the American dream. Our country has never done better."
But there are some Democrats who disagree. Local and state leaders held a roundtable discussion Wednesday morning ahead of the president's visit. They said President Trump's economic policies are making the rich richer and leaving working families struggling to make ends meet.
"Texas is one of the few states that is actually seeing the income disparity gap increase. That's the difference between the rich and the poor," said State Representative Gina Hinojosa (D-Austin). "That gap is getting larger."
"In Donald Trump's America, these working Texans have been pushed aside for Trump's billionaire buddies at the cost of the American middle class," added State Rep. John Bucy (D-Austin).
However, during his Austin visit, the president pointed out the country has the lowest unemployment rate in recent history; since 1969 according to the White House.
Texas' unemployment rate is also at a historic low of 3.4%.
After departing from Austin, the president tweeted about his visit and addressed Speaker of the House Nancy Pelosi, as well.
"Today I opened a major Apple Manufacturing plant in Texas that will bring high paying jobs back to America. Today Nancy Pelosi closed Congress because she doesn't care about American Workers!" the President tweeted.
WATCH: President Trump visits Austin, tours Apple
PEOPLE ARE ALSO READING:
More than 100 Central Texas kids seeking adoption at annual Heart Gallery event
Cold rain returns to Austin area Wednesday night
Hays CISD substitute teacher fired for viral attack targeted 12-year-old 2 months prior, district says
Man who impregnated 10-year-old says he doesn't deserve the 160 year sentence