BEAUMONT, Texas —
TEXT 'FEED' TO 409-838-1212
Communities across Southeast Texas are struggling like never before, and there are local families going hungry in numbers not seen in generations due to the coronavirus pandemic.
Demands on the Southeast Texas Food Bank and local food pantries are huge
12News is teaming up with the SETX Food Bank to meet this historic demand, but we need your help to meet our goal of $250,000 by June 1.
That money will go directly to our community and help local families who need it most.
Did you know that as little as $1 can help provide up to three meals for those hit hardest economically by coronavirus? $25 can provide 75 meals!
Donating is super easy. You can text 'FEED' to 409-838-1212. You can also CLICK HERE for the SETX Food Bank Donation Form.
Getty Images
MORE | Southeast Texas Food Bank website
MORE | Sign up to volunteer
#feedSETX campaign aims to raise $250,000 for local families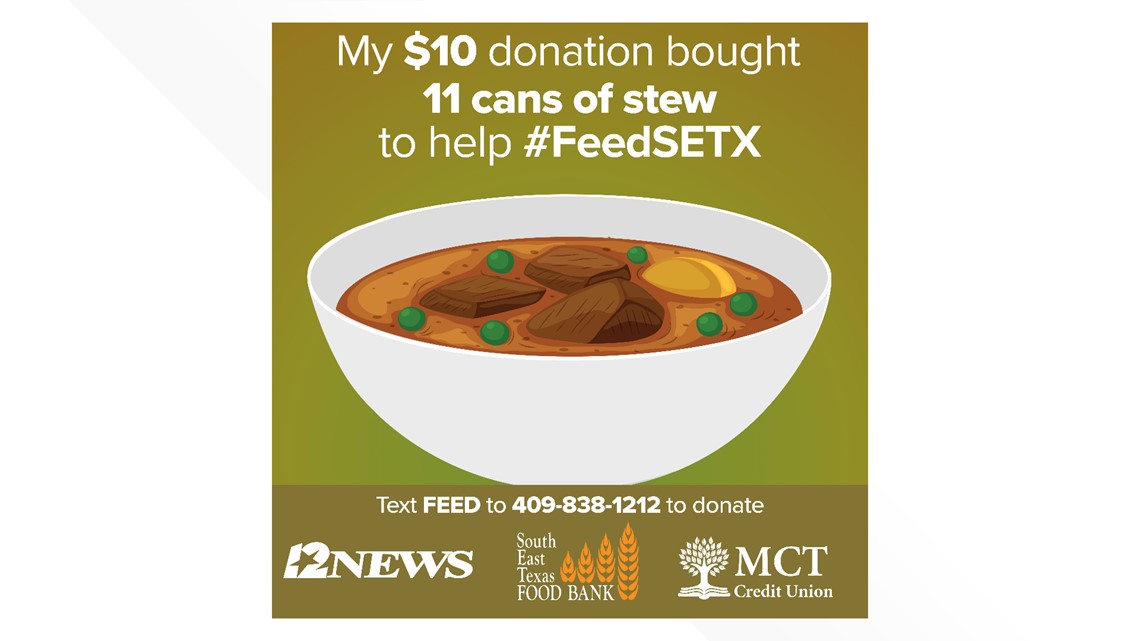 12News will team up with the SETX Food Bank for a virtual food drive on May 21. We will be reaching out to the Southeast Texas community virtually to boost our fundraising goals.
The Southeast Texas Food Bank ordinarily distributes enough food for more than 600,000 meals per month, but the potential demand for services in this food shortage climate may be unprecedented and could possibly double or triple that requirement.
RELATED: Pandemic puts strain on food bank to meet higher demand
RELATED: Boy Scouts donate $14K in popcorn to Southeast Texas medical facility staff during COVID-19 pandemic
RELATED: H-E-B donating 500,000 meals to Texas food banks
RELATED: VERIFY: Here's the basics of the food supply chain amidst COVID-19