ORANGE — (News Release) The Lutcher Theater for the Performing Arts announces it's 39th Season and season ticket packages of four or more shows are available now.
This season the Lutcher is featuring 14 Incredible Events including nine National Tours of Broadway shows, one "Pub Concert," one Christmas musical drama, one onstage radio play and two Grammy-winning recording artists! The lineup offers a world class experience to every audience member along with unforgettable memories.
TICKETS | Order tickets online starting Aug 15
Individual tickets will go on sale August 15, 2018.
Season ticket packages are on sale now! Visit lutcher.org for more information or call the Lutcher Theater Box Office at 409.886.5535.
Lutcher Theater 2018-2019 season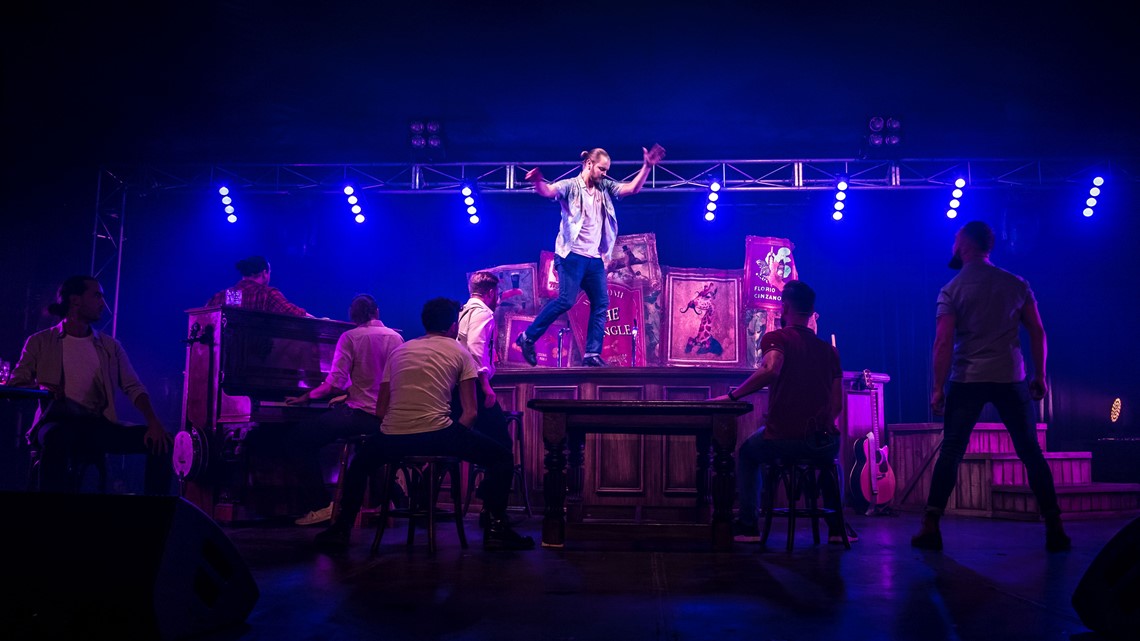 The Choir of Man
October 4, 2018 @ 7:30PM
It's a party. It's a concert. It's a pint-filled good time set in a working pub that combines hair-raising harmonies, high-energy dance, and live percussion with foot-stomping choreography. The multi-talented cast of nine handsome blokes sings everything – pub tunes, folk, opera, classic rock – all to roof-raising heights. It's the best singing, dancing, stomping, pub crawl of a concert you'll ever attend! CHEERS!
The Wizard of Oz
October 14, 2018 @ 7:00PM
There truly is no place like home as the greatest family musical of all time, the wonderful WIZARD OF OZ, twists its way into Orange. The entire family will be captivated as they travel down the Yellow Brick Road and beyond with Dorothy, Toto and their friends the Cowardly Lion, Tin Man and Scarecrow in this lavish production, featuring breathtaking special effects, dazzling choreography and classic songs.
David Sanborn
October 27, 2018 @ 7:30PM
After 24 albums, 6 Grammy Awards, 8 gold albums, and 1 platinum album, sax star
DAVID SANBORN is best-known for a signature blend of jazz, instrumental pop, and R&B. Having inspired countless other musicians, SANBORN has worked in many genres and recently assembled a stunning program of straight-ahead jazz tunes for his new quintet. Looking to share his approach and interpretation on his 2018 album, SANBORN is excited to collaborate and feature a band including saxophone, trombone, keys, bass, and drums.
A Christmas Story the Musical
November 19 & 20, 2018 @ 7:30PM
A CHRISTMAS STORY, THE MUSICAL, brings the classic 1983 movie to hilarious life on stage! Set in 1940s Indiana, a young and bespectacled Ralphie Parker schemes his way toward the holiday gift of his dreams, an official Red Ryder® Carbine-Action 200-Shot Range Model Air Rifle. An infamous leg lamp, outrageous pink bunny pajamas, a maniacal department store Santa, and a triple-dog-dare to lick a freezing flagpole are just a few of the distractions that stand between Ralphie and his Christmas wish.
Rock of Ages
November 29, 2018 @ 7:30PM
Broadway's Best Party is turning up the volume to ten! Nominated for five Tony awards, ROCK OF AGES captures the iconic era of 1980s Hollywood. Featuring the music of hit bands such as Styx, Poison, Twisted Sister, Whitesnake, and more, this Tenth Anniversary production will have you ready to rock!
Contains mature themes and language.
All is Calm: The Christmas Truce of 1914
December 8, 2018 @ 7:30PM
All Is Calm: The Christmas Truce of 1914 relives an astounding moment in history when Allied and German soldiers laid down their arms to celebrate Christmas together, sharing food and drink, playing soccer, singing carols and burying each other's dead. This dramatic re-telling weaves together firsthand accounts by thirty World War I soldiers and music including patriotic tunes, trench songs and Christmas carols.
Michael McDonald This Christmas, An Evening of Holiday & Hits December 18, 2018 @ 7:30PM
With a career of five Grammys, numerous chart successes and collaborations with some of the world's most prominent artists, MICHAEL McDONALD remains an enduring force in popular music.
A studio musician before becoming an integral part of Steely Dan, McDonald was invited to join the Doobie Brothers in the mid-'70s with McDonald serving as singer, keyboardist and songwriter on such Top 40 singles as "Takin' It To The Streets," and "Minute By Minute."
McDonald's forthcoming album, Wide Open, finds him collaborating with a number of special guests and is the first album of original material in 17 years.
Legally Blonde - The Musical
January 19, 2019 @ 7:30PM
Fabulously fun and international award-winning LEGALLY BLONDE-THE MUSICAL is the ultimate Broadway tribute to Girl Power! The story follows the transformation of Elle Woods as she tackles stereotypes, sexism, snobbery and scandal in pursuit of her dreams, and proves that you can be legally blonde and STILL the smartest person in the room. This contemporary, sassy musical moves at a breakneck pace driven by memorable songs and explosive dances. LEGALLY BLONDE-THE MUSICAL warms the heart by proving that self-discovery can be way too much fun and hilarious to boot.
Something Rotten
January 25, 2019 @ 7:30PM
*Director's Choice
SOMETHING ROTTEN! is "Broadway's big, fat hit!" (New York Post). Set in 1595, this hilarious smash tells the story of Nick and Nigel Bottom, two brothers who are desperate to write a hit play. When a local soothsayer foretells that the future of theatre involves singing, dancing and acting at the same time, Nick and Nigel set out to write the world's very first MUSICAL!
Jersey Boys
February 4, 2019 @ 7:30PM
They were just four guys from Jersey, until they sang their very first note. They had a sound nobody had ever heard… and the radio just couldn't get enough of. But while their harmonies were perfect on stage, off stage it was a very different story -- a story that has made them an international sensation all over again. Go behind the music and inside the story of Frankie Valli and The Four Seasons in the Tony Award®-winning true-life musical phenomenon, JERSEY BOYS. From the streets of New Jersey to the Rock and Roll Hall of Fame, this is the musical that's just too good to be true. FEATURING THE LEGENDARY TOP TEN HITS: Sherry" •
"Big Girls Don't Cry" • "Walk Like A Man" • "Can't Take My Eyes Off You" • "December, 1963 (Oh What A Night)"
Contains mature themes and language.
Steel Magnolias
February 19, 2019 @ 7:30PM
Making their Lutcher debut…LA Theatre Works, broadcast weekly on public radio, performs this modern classic with their signature audio theater format featuring actors of the stage and screen, live sound effects and a spontaneous, intimate experience.
Within the walls of Truvy's beauty shop, set in the deep Bayou of Louisiana, are six strong women whose lives increasingly hinge on the existence of one another. Together, they absorb the passing season, just like the weathered wooden structure of the salon "home" that they share. At turns, both laugh-out-loud funny and deeply touching, STEEL MAGNOLIAS reveals the strength of the human condition and our shared need for companionship.
The Sound of Music
March 7, 2019 @ 7:30PM
The beloved musical story of Maria and the von Trapp Family will once again thrill audiences with its Tony®, Grammy® and Academy Award® winning Best Score, including "My Favorite Things," "Edelweiss," and the title song. THE SOUND OF MUSIC enjoyed extraordinary success as a live television production when The Sound of Music Live! aired on NBC in December, 2013 and was seen by over 44 million people. 2015 marked the 50th anniversary of the film version which continues to be the most successful movie musical in history.
Finding Neverland
April 12, 2019 @ 7:30PM
Based on the critically-acclaimed Academy Award® winning film, FINDING NEVERLAND tells the incredible story behind one of the world's most beloved characters: Peter Pan. Playwright J.M. Barrie struggles to find inspiration until he meets four young brothers and their beautiful widowed mother. Spellbound by the boys' enchanting make-believe adventures, he sets out to write a play that will astound London theatergoers. With a little bit of pixie dust and a lot of faith, Barrie takes this monumental leap, leaving his old world behind for Neverland, where nothing is impossible and the wonder of childhood lasts forever.
Spamalot
April 26, 2019 @ 7:30PM
The Tony Award-winning Best Musical, Monty Python's Spamalot, begins its search for the Holy Grail in the Fall of 2018. This outrageous musical comedy is lovingly ripped off from the film classic "Monty Python and the Holy Grail" with a book by Eric Idle and music and lyrics by the Grammy Award winning team of Mr. Idle and John Du Prez, Spamalot tells the tale of King Arthur and his Knights of the Round Table as they embark on their quest for the Holy Grail. Flying cows, killer rabbits, taunting Frenchmen, and show-stopping musical numbers are just a few of the reasons audiences worldwide are eating up SPAMALOT!
Contains mature themes and language.
For more information about the 2018-19 Lutcher Season, visit LUTCHER.ORG, contact the Lutcher Theater Box Office at boxoffice@lutcher.org or call the Lutcher Theater Box Office at 409-886-5535.
About the Lutcher Theater:
The Frances Ann Lutcher Theater for the Performing Arts is a 1500-seat, state-of-the-art, world class performing arts facility and the prominent presenter of Broadway, national and international tours, award-winning artists, renowned dance and acclaimed children's performances for Southeast Texas and Southwest Louisiana. Lutcher Theater Inc. presents the largest performing arts series between Houston, TX and New Orleans, LA, hosting an annual attendance of approximately 30,000 adults and children.
Lutcher Theater is located at 707 Main in Orange, Texas, and is open Monday - Friday, 8:30 a.m. - 4:30 p.m. For more information, visit, Lutcher.org. droppable-1529611790503