You can watch the ENTIRE parade by streaming the replay right here or on YouTube or via Roku or FireTV on the 12+ app.
Scroll down a bit and watch the YouTube replay right now!
Mardi Gras Southeast Texas kicked off on Thursday, Feb. 16 and runs through Sunday, Feb. 19 in downtown Beaumont at the Great Lawn and around the Beaumont Event Center.
General admission tickets admit you into the gated area around the Beaumont Event Center. Prices range from $10 - 25 each depending on the day. Admission is free for children under the age of 12.
All concerts happen inside the gated area and are included in the price of your ticket.
You won't need a ticket to get into the carnival midway but you'll need tickets for each ride or a "Fun Pass" that offers unlimited rides for $25 in advance or $30 at the gate.
Photos from the Majestic Krewe of Aurora Grand Parade in Beaumont
General Admission ticket prices
Purchase general admission tickets and Fun Passes in advance at Market Basket, the Mardi Gras Store in Port Arthur, online (+fees) or at the gates.
Feb 18 - Saturday
5:30 p.m. Motorcycle Showcase
6 p.m. Total Krewe of Aurora Grand Parade

Starts at Beaumont Civic Center, travels north down Main St. to Crockett St. to Bowie to Magnolia to Calder to Pearl ending at Edison Plaza.

Music

5 p.m. - Fred Bell & Platinum Players
8 p.m. - Lil' Keke
9 p.m. - Baby Bash
10 p.m. - Slim Thug
11 p.m. - Paul Wall

12 a.m. Gates close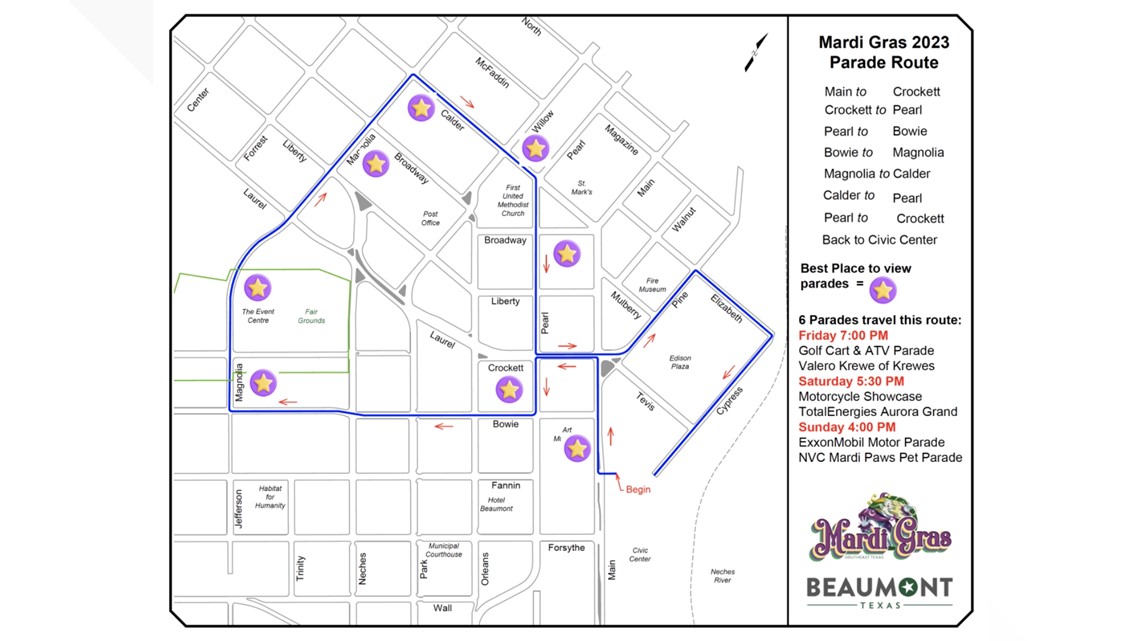 Wagner's Carnival will have more than 30 rides and attractions for all ages to enjoy. There is no admission fee to enter the carnival midway grounds.
Visitors can purchase a "Fun Pass" for $25 in advance or $30 at carnival grounds for unlimited rides on any one day of a their choice.
On Saturday and Sunday from noon - 6 p.m., Mardi Gras Southeast Texas will feature a free Kid's Zone. The zone will be open from noon to 6 p.m. and will feature a duck pond, bean bag, frisbee toss, football throw, hole-in-one, moon walk and more.
There will be increased police presence in downtown Beaumont while festivities are underway to ensure the safety of the community.
While police will work hard to make sure that everyone stays safe, officers said there are steps individuals can take ensure the safety of themselves and others.
Pay attention to posted signs in downtown Beaumont. Parking will not be allowed in some areas and other signs will indicate parade routes.
Do not leave valuable items in vehicles. Drivers should lock their doors and take keys out of vehicles.
Speak to children about safety concerning large crowds. Parents are encouraged to have a plan in place in the event they get separated from their children
Drink responsibly
If you see something, say something. If anyone in attendance sees a crime or other suspicious activity, they are encouraged to notify a nearby officer or call Beaumont Police at 409-832-1234
Also on 12NewsNow.com…