BEAUMONT, Texas — Mardi Gras of Southeast Texas is gearing up for a fun-filled weekend, and spent Sunday afternoon slowly bringing parade floats to Beaumont.
The organization shared a video on Facebook Sunday, showing a long line of floats traveling up toward Beaumont, ahead of the weekend's parades in Downtown Beaumont.
Mardi Gras will take place Thursday, February 20 through Sunday, February 23.
Tim Romero is chairman of the board for Mardi Gras Southeast Texas. He said it took about an hour to get all of the floats out of the barn.
"Our float barn is in Port Arthur, of course where we were previously, It's a pretty complicated thing," Romero said. "We put 30 floats in a building, so to get them out and get them up to Beaumont, it took probably an hour to get every float out of that barn the way we have them kind of wedged in there."
He said there were lots of excited folks along the way.
MORE | Complete schedule for weekend parades
"Then we took off and it was about 20 miles an hour up here in a line, and it was incredible to see the number of people stopping on the side of the road, taking videos, waving, honking horns," Romero said. "It's kind of like a little parade of itself, but it takes about 2 hours to drive up here and then to stage them in."
The floats will stay at the Port of Beaumont until it's time to stage for the parades.
Most of these floats are owned by Mardi Gras of Southeast Texas' Krewe Aurora. They'll be seen throughout downtown for Saturday's parade. Some of them might be featured on Thursday or Friday.
Romero said each one costs between $20,000 and $30,000 to build. They even have Porta Potties inside. He said there's a lot of work that goes into keeping them up.
"Making repairs, we have paint parties, we have crepe mache parties. Everybody gets involved, there's a lot of work that goes into keeping them looking just this good all year," Romero said.
The floats will go back to be stored in Port Arthur after the weekend, at least for now.
"Right now, we don't have any other place than our float den in Port Arthur. So, we're probably going to find a good location in Beaumont sometime this year," Romero said.
RELATED: Budweiser Clydesdales making appearance at Mardi Gras in Beaumont
RELATED: FULL SCHEDULE: Mardi Gras Southeast Texas marks first year at new home
Mardi Gras Southeast Texas floats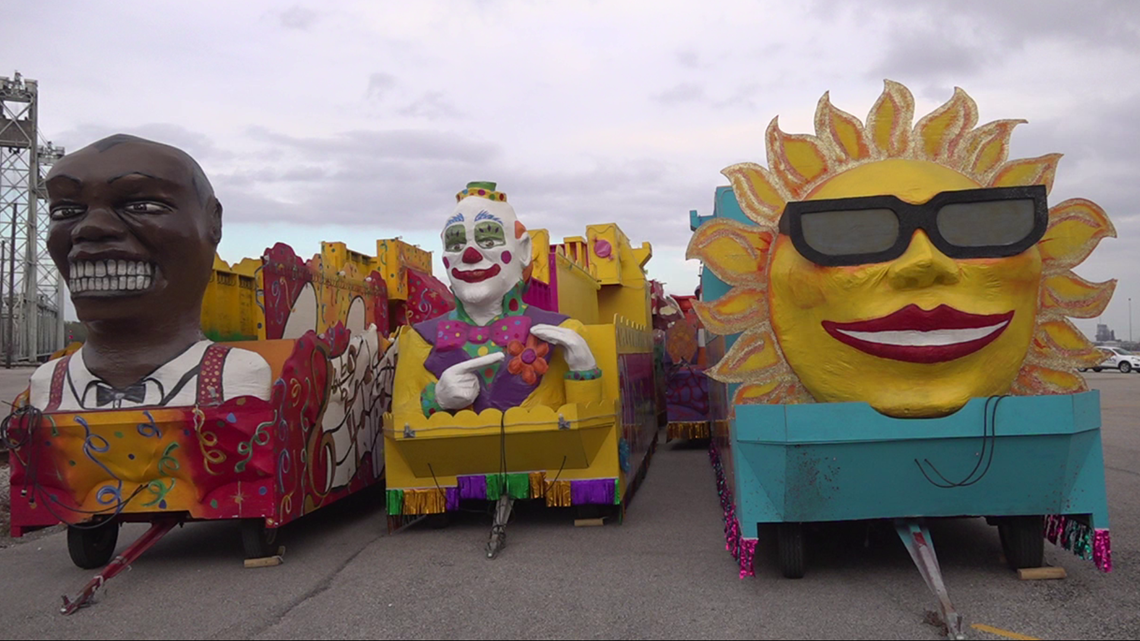 Also on 12NewsNow.com
Beaumont brew pub brews up Mardi Gras inspired beers
Hot air balloons to make glowing visit to Mardi Gras Southeast Texas