BEAUMONT, Texas — As first reported by The Beaumont Enterprise, financial struggles caused the recent closure of Willy Burger and Crown Pizza in Beaumont and Katy.
On Monday, owner Dallon James told The Enterprise, a media partner of 12News, that the closures are not permanent and were brought on by "poor performance" at the newly-opened Crown location in Katy.
"Unfortunately, as much as we like to think of these restaurants as an extension of our family, at the end of the day it is a business," he told The Enterprise. "Businesses cannot survive without adequate profits to sustain operations and there have been many circumstances that were unforeseen and out of all our control that happened all at once."
On Wednesday, a former employee told 12News the owner paid them their full check in cash, plus the bank fee and $20 extra.
James also gave them a printed letter.
To start off the letter, James express his apologies for those who've had to "endure the hardships of the current situation."
He says he is working "nonstop" to find a solution that will get the restaurants back open as soon as possible and promises that they will reopen, even if that means selling every last thing he owns.
"I hope you know that you have always been important to Laney and I and these very last thing that we ever intended was for you to get hurt. I will not pretend to know what each of you is going through and the pain this has caused your families. Please know that we are hurting with you," James said in the letter.
James says he is aware that things have "gotten bad" on social media and "ugly things" have been said and he understands the frustration completely.
"Those that have been with us since the beginning can tell you that if you come to us, we will give anything we can to help you, even if that's the shirt off my back," James said in the letter.
James clarifies that none of the issues that arose with the restaurants were because of the employees. He then goes on to say his employees have always been a "bright spot during any troubled times we might have had."
The owner says the difficulty in owning restaurants in today's world and current economic favors "may give opinions or make guesses about what has happened."
James says he has given everything he's had to keep doors open.
"I have worked tirelessly for the past 5 months to find a solution that would benefit all of you so that the situation we're in now would never come, and I failed you," he said.
The owner says he is asking for forgiveness and grace as they work through this to get to a quick solution
"I may not have much to give right now, but I am always here for you," James said.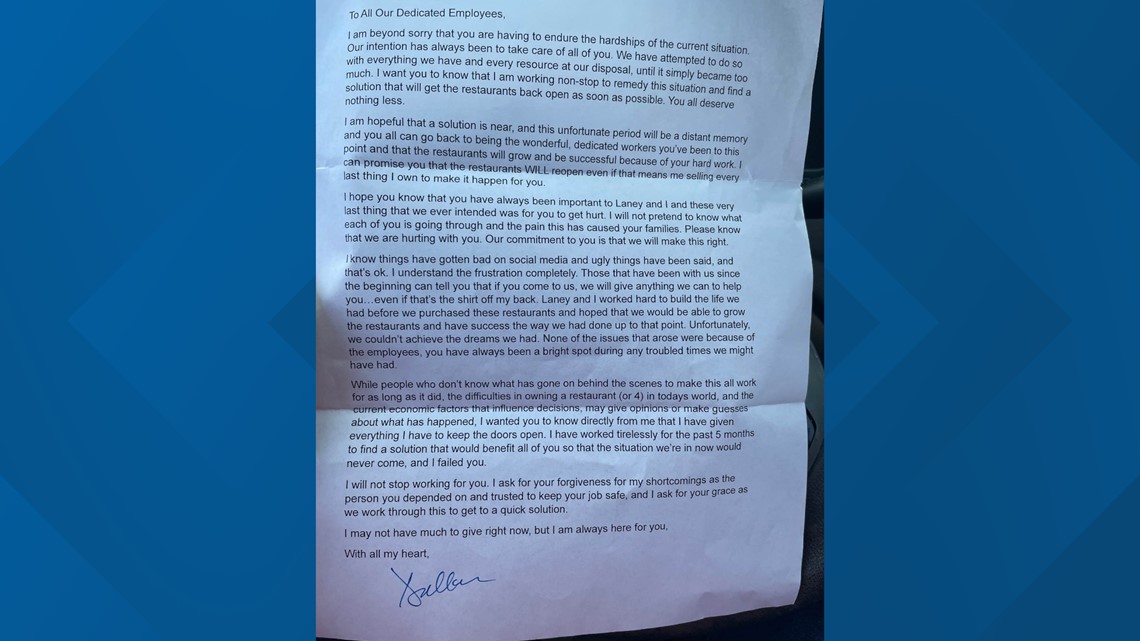 12News learned Neches Restaurant Group LLC, which is James' operations group, filed for Chapter 7 "voluntary" bankruptcy on Monday, June 5, 2023 according to federal court records.
Neches Restaurant Group is the parent company of Willy Burger and Crown Pizza, according to their LinkedIn.
A chapter 7 bankruptcy case does not involve the filing of a plan of repayment as in chapter 13, according to the United State Courts website.
In this type of filing, bankruptcy trustee gathers and sells the debtor's nonexempt assets and uses the proceeds of such assets to pay holders of claims, or creditors, in accordance with the provisions of the Bankruptcy Code, according to the website.
James previously told The Beaumont Enterprise the company is working to "make things right" for employees who have been impacted.
"There have many productive discussions to get the restaurants back up and running and back to full strength again and we believe this will be done with a strong and trustworthy leader at the helm who the employees and community can have faith in," James told The Enterprise. "Whatever the outcome, and even without our involvement in the future operations of these restaurants, we will continue to do what we can with whatever resources we have to try and be instruments for good."
James also told The Beaumont Enterprise he has explored selling the restaurants and continues to be in "active discussions."
The Beaumont Enterprise is a media partner of 12News.
This is a developing story. We will update with more if and when we receive more confirmed information.
Also on 12NewsNow.com...