Tropical Storm Hermine has strengthened and made an expected right turn to the northeast. The storm is located around 320 miles to the southwest of Tampa near Latitude 25.5 North...Longitude 87.4 West. Maximum-sustained winds are at 50 mph. Hermine is moving North-Northeast at 8 mph.
Satellite shows banding and deeper convection developing closer to the low so, it appears the storm is strengthening over very warm Gulf of Mexico waters.
Hurricane Watches and Tropical Storm Warnings have been issued from roughly around Destin to Tarpon Springs.
The consensus of the spaghetti models continues to track the storm to the northeast into Florida and then along the Southeast U.S. Coast. The storm is being steered to the northeast due to an approaching upper-level trough of low pressure moving southeast into the Mid-Atlantic Region. This is inducing a southwest flow tracking Hermine into Florida.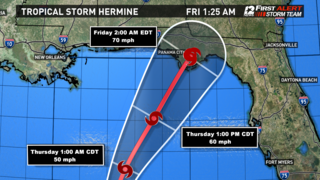 The National Hurricane Center Forecast Track of Hermine takes the storm to roughly Apalachicola Early Friday Morning as a strong Tropical Storm/Minimal Hurricane.