BEAUMONT - Beaumont born Jason's Deli is turning 40 this month and will be celebrating with a party at the restaurant's original location in Beaumont's Gateway Shopping Center.
The party will coincide with "customer appreciation day" on November 30th during the party featuring founder, Joe Tortorice, Jr. and special anniversary prices on items from the original 1976 menu according to a release on the Jason's Deli website.
Customers will be able to purchase one of eight original 1976 menu items at the original 1976 price with the purchase with the purchase of an adult entree off the current menu according to Jason'sDeli.com.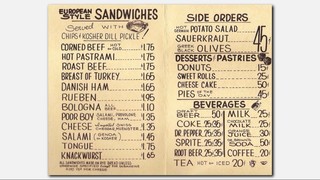 A few items from the original menu, bologna, poor boys, knackwurst and tongue, are no longer available according to the site.
"We are proud of our legacy of seeing our guests and employees as extensions of our family," Tortorice said in the release.
"A key factor to our success has been our unwavering commitment to serving the same high-quality meals in our delis as we do in our homes, with ingredients you can pronounce and feel good about eating."
"We look forward to many more years of providing bigger choices of better food for generations to come."
Jason's Deli started as a single deli in Beaumont and has now grown to 260 stores in 28 states according to the release.
Other notable milestones include:
The signature sandwich, the New Orleans Muffaletta, made its debut on the menu in 1978.

In 1980, the famous salad bar was created and a partnership with the Heart institute of St. Elizabeth Hospital was established to develop heart-healthy menu items.

In 2005, all partially hydrogenated oils – source of artificial trans fats – were eliminated and vegetarian items were highlighted on the menu for the first time.

In 2006, Jason's Deli was the first major restaurant chain to indicate all USDA-certified organic ingredients on their menu.

Artificial MSG and high-fructose corn syrup were eliminated from all food items in 2008.

In 2010, all dyes were banned, starting with the Kid's Menu. Gluten-sensitive and vegan menus were also introduced.

A Meatless Eats section was added to the menu in 2013.

In 2014, Jason's Deli was the first major restaurant chain to offer a gluten-free chicken nugget, J.D. Nuggetz, which has a cornmeal coating instead of flour. The chicken is also free of antibiotics.

The first menu item developed with MD Anderson Cancer Center nutritionists was in 2014. Since then Jason's Deli has helped raise $668,000 for cancer research.
SOURCE: JasonsDeli.com
© 2017 KBMT-TV